Local Artisan: Jole Nikac
Anyone who has lived in our city for even a short period of time has had a breath or two stolen away by our sunsets. They are a work of true art that bring with them a powerful and humbling feeling. Local artist, Jole, seeks to capture this brilliant amalgamation of color in our desert in his abstract paintings –from the ground to the lines of the horizon.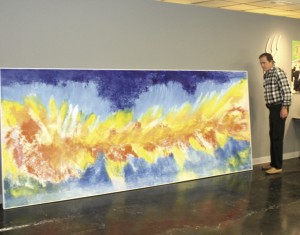 Zip Code Magazines Local Artisan – Jole
"I am an Abstract Impressionist Artist with painting on canvas sizes ranging from 8ft – 16ft that I stretch myself. My love for nature is the passion behind my paintings. It comes from deep inside of my heart and soul. I express myself best on a large canvas with explosive vibrant colors of nature. I allow viewers to see and connect with what the painting says to them personally. Everyone sees something different. This is what is so unique about my paintings and that is why I refuse to name them. I feel complimented when someone asks me, 'What is it?'"
Website: www.jolenikac.com
Q. Tell us a little about yourself
A. I was born in Yugoslavia, Albania in a family of seven children. I loved to play soccer, and thought that one day I would become a famous soccer player. When I was 9 years old, I painted a portrait of president Kennedy and won a local kids art show. I never thought that Art would be my true destiny.
Q. What made you interested in painting? How did your childhood in Yugoslavia affect your interest in art?
A. My beautiful hometown was surrounded by mountains, lakes, forest and flowers. I would sit next to the lake and draw pictures of nature but my paper was always too small to capture the scenery of the whole lake. My brother would point out to me that I was missing parts of the scene. That was when I knew I needed a large surface to paint on.
Q. What does your average day look like, and when do you find time to create your art? Do you have a process for creativity that you can share or is it something more impulsive?
A. I usually start my day by taking a walk and checking out our backyard, to see how the trees and flowers are doing. Sometimes I go to my friend's café, TrufflesNBacon, for breakfast. Cooking is one of my hobbies and I love to invite friends over to dine at our home. There is never a set time to create my art, it starts with a feeling to paint, whenever that is…
Q. What (or who) inspires you?
A. I see everything in nature, especially color.
Q. Do you have other artistic outlets besides painting?
A. Gardening, painting, cooking and playing soccer.
Q. What do you do for fun around town? What's your favorite part about living in Las Vegas?
A. I love wide-open spaces, warm weather, mountains and city views that I see from our backyard, which is very peaceful. Las Vegas has fantastic entertainment, like the Smith Center, one of my favorite places and also great restaurants. Most everything is open 24 hours, this reminds me of living in New York City.
Q. Does living in Las Vegas have an impact on your craft? If so, how?
A. The vibrant colors capturing the essence and beauty of the desert make for an inspiring canvas.