PetPourri: Keeping Up With the Jetson's: Gadgets and Gizmo's for Pampered Pets
Since the turn of the century, technology has exploded onto the scene unlike ever before. Everywhere you look, someone is sporting the latest smartphone, tablet, game or electronic gadget. You love it, so why not extend that passion to your pets and take them with you into the new age?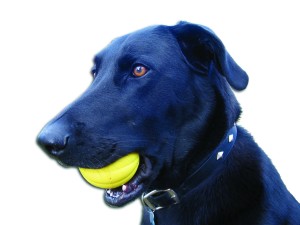 By: Hana Haatainen Caye
Spy Games
Have you ever thought about what your pet does all day while you're at work? Does she curl up and sleep or snoop around your office? Is your dog terrorizing your cat when you're not around? With Uncle Milton Pet's Eye View Camera (www.unclemilton.com), you no longer have to wonder. Simply attach the lightweight, compact digital camera to your pet's collar and get a spy's eye view of what he does in secret.
Available on Amazon for about $120, the Pet's Eye View Camera features auto-interval settings, internal memory for up to 40 photos, a 640 x 480 resolution, and a USB cable for easy upload on both PCs and Macs.
On the Road Again
More than 10 million pets are lost each year, but yours doesn't have to become part of that statistic. With the Tagg Pet Tracker (www.pettracker.com), you can monitor your pet's whereabouts from your smartphone, computer or other mobile device. The tracker attaches to your pet's collar, provided your dog or cat weighs more than 10 pounds and senses if Fido roams outside his boundaries. The smart accessory will send you a text or email right away, and it's one message you won't want to ignore! The GPS syncs with your device and leads you directly to where your little hobo has wandered.
Winner of multiple awards for innovative pet technology, including The Pettie Award as 2013's Best Pet Mobile App from DogTime Media, the Tagg Pet Tracker is a must-have for anyone with a dog or cat with wanderlust. The free iPhone® and Android® apps also help when you're on the road with your pet – leading you to local dog parks, pet stores, and veterinarians. Available online and at most retail pet stores, it's more than just a necessity… it's smart.
Hunger Games
It's late, and based on the pile of papers on your desk you're not going home anytime soon. But what about the dog? She's probably so hungry she's munching down on your new slippers by now. What can you do?
Petnet has the answer with their SmartFeeder (www.petnet.io). SmartFeeder is more than just an innovative way to feed your pet remotely. It actually is smart, with sensor technology that can figure out what your pet needs in terms of dietary requirements. Based on specific algorithms, it creates a feeding schedule tailored to your pet, which you can then control from nearly any smartphone, computer or tablet. It even lets you know when you're running low on chow for your Chow. And, as a bonus, the SmartFeeder has a record feature so you can call your pet to dinner even when you're stuck at work.
Available soon, you can reserve your own SmartFeeder for less than $200.
Fat Cat
Dogs aren't the only pets in need of special care when you're away from home. Mr. Kitty can
get awfully fat if he's just sitting around all day. The FroliCat™ DART DUO™ by PetSafe (www.frolicatcom) is the answer. With two lasers flashing from an automatic rotating light, your cats (and even your pups) can spend their time chasing and pouncing on little red dots. The DART DUO™ has multiple speeds and timer settings, so your pets won't be bored with predictability. The downside? You can't control it remotely. But you can set it for 20
minutes right before you walk out the door and at least let your furry friends burn off their
breakfast calories.
Ding Dong
Have you ever let your dog out and forgotten to let her back in? The Lentek Pet Chime, available on Amazon.com and at local retailers, is the answer. Yes, there is now a doorbell for your neglected pooch. No more scratching at the door, or annoying neighbors with endless barking. When Sasha's done with her business, she simply pushes the Lentek Pet Chime paw and alerts you that she's ready to come in.
Dogs can be easily trained to use the Lentek Pet Chime paw either to let you know when they want to come in, or when they need to go out. No more puddles by the door when Sasha's better able to call the shots. And if you don't like the thought of a doggy doorbell with a ding-dong chime, simply switch it to the bark setting. It's portable, it's wireless, and it's a game-changer.
Pets Just Want to Have Fun
While much of the technology out there has a real purpose and a hefty price tag, sometimes
it's good to just sit back and watch your pets have fun for fun's sake. For less than $20, you
can entertain them with the PetQwerks Talking Babble Balls® (www.petqwerks.com), available for dogs, cats, ferrets and birds. These interactive balls talk or make other sounds when touched or activated from vibrations caused by movement. Your pet will be startled, fascinated, amused and entertained day after day with this innovative toy, available online and in retail stores like Petco and Walmart. The best part is you can turn it off when the sounds of "Here kitty, kitty," "Grrrr," or "Rock 'n' Roll Big Doggy" overstay their welcome.