Haute Spot: Lola's: A Louisiana Kitchen
By Aly Wagonseller
There's something about the sound of a rockin' accordion pumping out some serious Louisiana Zydeco that just says party.  Add to that a dose of ragin' Cajun cuisine, a sprinkling of purple, green and gold plastic beads and a fleur-de -lis or two and you'll all but have transported yourself to Mardi Gras in the French Quarter streets of the Big Easy.  Sounds fun, don't it?  It's a good time that can be had six days a week at Lola's: A Louisiana Kitchen, located at 241 W. Charleston Blvd., Ste. 101, near the I-15.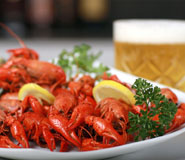 A quaint little haute spot situated in the heart of the downtown arts district, Lola's is the brainchild of  Lola "Beth" Pokorny, a charming woman who draws her culinary flair from a long line of down home "Looziana" cooks and restaurateurs, as well as her own endeavors as a successful caterer.   Beth brings a homey, soulful sensibility to Lola's; a little slice of Southern pride and hospitality that's as evident in the comfy, yet stylish décor as what's cookin' in the kitchen.   She's there to greet you most days and is happy to share the skinny on house specialties, personal faves or what's new on the menu.   
Cajun cuisine can certainly be a mixed bag, running the gamut from a humble dish of Red Beans and Rice to spicy seafood, Jambalaya and a variety of Po-Boy sandwiches.  Lola's has them all, including a seasonal crawfish boil that's offered on Fridays and Saturdays from noon until there's nothing left but empty heads, shells and tails. They're flown in fresh from Louisiana and are so popular that you need to call and reserve your stash ahead of time to avoid missing out on the fun.  For starters, you can't miss the Charbroiled Oysters.   Broiled in an open view kitchen adjacent to the small bar area, Lola's version is tender and only slightly smoky; a good thing, as it doesn't overpower the freshness of these tasty little mollusks.  Wisely restraining the amount of fresh lemon juice, garlic and cheese served atop the oysters only does more to highlight the clean flavor, making for a balanced dish that's hard to stop eating.  A Blue Lump Crab Cake was less successful, but still enjoyable.  I just would like to have had the outer crust more caramelized and the temperature of the cake closer to hot than lukewarm, something that could be attributed to the thickness of the cake.
A Cajun kitchen wouldn't hold its weight in Louisiana hot sauce without Catfish and Grits on the menu, a dish that truly shines here at Lola's.  Dubbed as bronzed rather than blackened, the spicy seasoning on this tender and flakey fish wasn't overly aggressive, something lovers of the more potent version may want to take note of.   Still, the flavors were vivid and complex served atop a nice helping of creamy grits, somewhat reminiscent of an aromatic risotto, aptly spiked with flavorful Gouda cheese and surrounded with earthy mushrooms and smoky chunks of andouille sausage.  This, to be certain, is a five star winner of a dish.   The New Orleans Style BBQ Shrimp was also quite tasty–large, perfectly cooked prawns swimming in a rich and somewhat spicy sauce with hints of cinnamon, cayenne and, I suspect, a pop of allspice.  Delicious it was with accompaniments of white rice and toasted, buttered French bread made for soppin' and washed down with the refreshing raspberry undertones of an Abita Purple Haze lager.  And, although we couldn't possibly eat more, we had to try the amazing Bananas Foster Bread Pudding. Beth's own secret recipe, the homemade banana bread and custard were artfully elevated with the addition of a sublime, cinnamon infused caramel sauce and vanilla ice cream.  Foodie dreams are made of this stuff.  
Lola's may be a bit out of the way, but the music, food and atmosphere feel miles away from anything else here in Vegas.  It's the magic of New Orleans in our own backyard.   To reserve your crawfish or make reservations, call them at 227-5652.