Haute Spot: A Looker With Promise – The Sparklings Barstaurant
By Aly Wagonseller
People go to restaurants for different reasons. Sometimes we journey out for linen tablecloths, glowing candles and the hautest cuisine that money can buy. Other occasions call for great happy hour drinks and appies, or a casual chain establishment that serves up ample portions of decent tasting food at a price point we can live with. The newest venture of restaurateur Sophia Hwang, owner of both Soyo Korean Barstaurant and Oyshi Sushi, is none of the above. It's an eclectic combination of them all. The Sparklings Barstaurant, located at 8310 So. Rainbow Blvd, is a Strip worthy neighborhood restaurant and bar that's polished and pretty to look at, with food that, while at times may be a bit underwhelming, manages to satisfy the need for a chic evening out on a relatively low budget.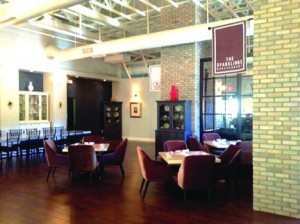 Sophisticated and quite stylish, this is the kind of place you want to linger and hang out. Clean lines dictate the mood with white, open beam ceilings, wood floors and marble-like tabletops. Chairs are a shabby mix of upholstered club style or wood, and unique alcoves are outfitted with charming china cabinets filled with country-chic tableware and a sprinkling of random red ceramic roosters and similar paraphernalia. The focal point of the room is an enormous crystal chandelier that hangs above a grouping of eye catching floral arrangements, suitably purposed to add color and refinement to the otherwise monochromatic space. A separate bar is very much in keeping with the clubs on LV BLVD with sexy lighting and intimate banquette seating, while an outdoor patio area that's yet to be utilized adds additional space for future, springtime al fresco dining.
Conversely, The Sparklings sparkling interior is clearly more refined than their menu offerings. I'm not saying that this is a bad thing; after all, creamy pasta dishes, sandwiches and Caesar salad are diner staple items for a reason. There are no $40.00 entrees –an excellent rendition of pan seared Atlantic Salmon can be had for half that price. In fact, the most expensive items on the menu are Filet and Rib Eye steak with all the trimmings, both priced at a reasonable $25.00. What I am saying is that they could do just a tad bit more with what they have and score a grand slam home run as opposed to a one run selfie. Take the Grape, Arugula and Ricotta Flat Bread that, while tasty, was served on the soggy equivalent of undercooked pita bread instead of a crispy shell that would have provided the necessary texture to showcase the delicious toppings. Easy fix. Or the bacon wrapped date meatballs, which lacked texture and taste due to bacon that appeared to have been boiled with meatballs in a very lackluster, I'll say watery, tomato sauce. Great idea – just sub out a tasty sauce and crispy bacon and you've got a winner.
Not to say that bright spots didn't make an appearance. The Crispy Gnocchi appetizer presented with nicely charred pasta and crispy Italian sausage, served in a rich and decadent pesto sauce that was quite nice. A Roasted Beet and Apple Salad was a table fav – really delish – the crunch of candied walnuts, the earthy vegetable and spicy arugula dressed with balsamic vinaigrette a fresh choice to pair with some of the richer offerings. The aforementioned salmon was perfectly cooked with expertly crisped skin that was to die for, and the Cajun Chicken and Shrimp Pasta was also executed well, again with a diet busting cream sauce (but tasty none the less).
To be fair, The Sparklings is a newcomer, and based on the success of Hwang's other two ventures, along with the detail and thought that went into the design of this space, I feel there's a lot of promise. And even as it stands now – a marriage of chic decor, trendy cocktails and mainstream food choices -it's a great new addition to the neighborhood restaurant scene. For information, call them at 293-5003.