Haute Spot: Lucio Ristorante – Rock Solid for the Regular Guy
By Aly Wagonseller
It's hard to keep up with what's hot and what's not on the Las Vegas dining scene. Small plates, molecular gastronomy, ChinaMex fusion and other chic eats can all be more than intoxicating to the star struck foodie. Still, despite the emergence of these latest and greatest trend spots, places a culinary hipster might perceive as the quintessential dinosaur continue to survive. Why? Because the food, while nothing fancy, simply tastes amazing. Dishes like buttery risotto, full bodied lasagna and fresh cioppino; these are the homey, go-to dishes that, when prepared correctly, have diners coming back time and again. This is the stuff of Lucio Ristorante. And, while you may not find tomato foam on your Sous Vide Osso Bucco, what you will find is rock solid food and great service in a setting where old Vegas cheese meets classic fine dining…and I mean that in a good way.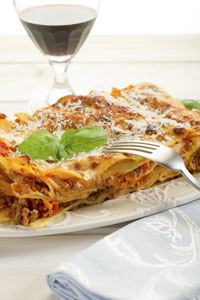 Recently expanding their operation to a second location found at 5900 E. Flamingo (previously Ferraro's), the décor is classic old school.  As you might expect, beautiful dark wood wainscot, marble flooring and linen tablecloths are all present, along with a large bar and…ba-dump-bump…a stage with backdrop curtains, a grand piano and song stylings reminiscent of many a Vegas lounge show gone by. Kitschy…well maybe, but it's also oddly comforting and a welcome departure from the drone of clubby music found in many newbie restaurants these days.  An added plus is that the place is quiet, despite being large, and has many nooks and crannies for secluded and romantic dining.    
Like the surroundings, the food is traditional, the menu inspired by classic Italian staples including Veal or Chicken Parmigiano ($17-23), a hearty Lasagna made with béchamel and meat sauces ($15) and Spaghetti con Polpettine ($15) served with flavorful, yet delicate meatballs.  Based on a friend's suggestion, as well as the recommendation of our charming and, yes, clearly Italian waiter Claudio, we chose the Gnocchi Quattro Formaggi ($16) and the Salsiccia e Spinaci risotto ($20).  There are times when the substitution of massive quantities of butter, cream and cheese to save calories could be considered criminal, and this was definitely one of those occasions, especially in the case of the decadent gnocchi dish. Light, pillow-like dumplings of pasta and potato were generously glazed in a sublime fontina, mascarpone and Parmesan cheese sauce, balanced with just enough gorgonzola and a sprinkling of fresh sage to add a nice bite.  I was impressed by the integrity of the gnocchi themselves, blissfully lacking that lead-like, stuck in your stomach quality that poorly executed gnocchi so often exhibits. These were as melt in your mouth airy as gnocchi gets…delicious.
Lucio's menu touts their risotto as being the best in town, and they certainly are in contention.  Much like gnocchi, this is a dish that requires expertise and a skilled hand to avoid the pitfalls of rice that's gooey or mushy as opposed to creamy, yet textured.  The sausage and spinach version we ordered was nothing short of outstanding; the sausage nicely seasoned, the spinach not overly wilted, and the arborio rice perfectly cooked.  The presence of butter was obvious, but it didn't overpower the other ingredients, adding just enough flavor and creaminess to elevate the dish to comfort food perfection without feeling greasy or over the top. One tiny pet peeve:  I would have liked my risotto to have cooled a bit longer before serving, as the flavors in the piping hot dish hadn't quite developed yet. No matter though; exhibiting an uncharacteristic five minutes of self control while the food cooled down proved well worth the wait.  
Lucio Ristorante has a modest wine selection, many served by the glass, imported and domestic beers, as well as full bar service. It may not be the newest kid on the block, but sometimes tradition trumps the trends.  For reservations, call them at 207-1008, or their original location on West Sahara at 233-2859.