A Step Above: Mason Scott
Cimarron–Memorial High School
Class of 2014
Mason Scott is a doer, plain and simple. If the senior at Cimarron—Memorial High School sees something that can be improved, expanded upon or built (literally and figuratively), he'll do it without so much as a blink. With "Founder & President" already under his belt, Mason's aspirations know no limits, and the high bar he places for himself only serves as inspiration for any challenge that awaits him. With a matter-of-fact viewpoint, pragmatism well beyond many his age and a motivating outlook on changing the way the world works, Mason rises – A Step Above.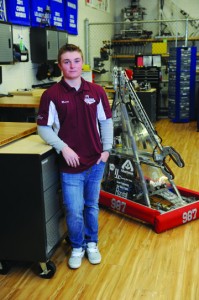 Work/Community Service
Nikkiso Cryogenics, 2013-Present
United Students of FIRST: The Las Vegas Chapter – President & Founder, 2013-Present
Nevada FIRST FLL Student Advisory Committee – Leader, 2011-2013

Nevada FIRST FLL Tournament Student Host, 2011-2013
Nevada FIRST FLL Coaches Workshop – Lead position & presenter, 2011-2013
FRC Workshop Host, 2012-2013

Sports/Clubs/Awards
Cimarron – Memorial High School Robotics Team 987, The HighRollers, 2011-Present; Vice President, 2012-2013; President, 2013-2014
FIRST Team World Championship, 2007 and 2012-2013; Winners, 2007; Finalists, 2012; Division Finalists, 2013

Your goals focus around mechanical engineering? I would say my biggest goal in life is to be successful to my standards. I am pursuing a career in mechanical engineering and I aim to have my masters before I turn 25. Mechanical engineering will always intrigue me, and somebody will always need something built! I would say my biggest aspiration is to start an engineering firm at some point in time.
Tell us about the United Students of FIRST Chapter You Founded Here: Here in Las Vegas FIRST robotics is trying to grow, but FRC (the high school section of FIRST) is very costly and many teams find it hard to be self-sustaining or willing to put in the amount of work it takes to build a good team. I noticed that even when teams did communicate, it was never student to student. It was always mentors just emailing mentors, and no one was really working together. I wanted to start an organization specifically for students, by students. We host meetings where students on all of the teams in Southern Nevada can get together and discuss different things ranging from finances, robot designs, all the way to leadership and team construction. Most people don't realize that students on FIRST teams are the ones who run the team. Mentors work with us, they're not doing the work for us. This was a way for everyone to collaborate and build off of each other in order to create a stronger community.
You have a great outlook on failure. Failure is something to learn from and it inspires me. Everywhere I look there's a reason to continue pursuing my career, my personal aspirations, and the things I want as strongly as I do. An object in motion tends to stay in motion, right? Inertia? That means if I stop doing what I'm doing, it'll just be that much harder to try again. So, why let a little failure stop me dead in my tracks when I can use that failure to fuel myself? Nothing is too difficult until you give up.
Picture this: You're the President of a non-profit…what would it be? I would love to be the President of a charitable organization that helped get young people on their feet when they have no other support, like young adults who have lost both their parents, or don't have the funds to go to college and pursue a better career and better themselves. I believe everyone should have the opportunity to better themselves, as long as they are willing to work for it. But how can somebody pursue something if they can barely make ends meet?