Haute Spot: Monta Chaya – A China Town Icon Comes to the Neighborhood
By Aly Wagonseller
Ask any hometown, die hard lover of Japanese ramen where "the" go to place for the best noodle bowls this side of Tokyo can be found, and you'll likely be steered to a tiny joint in China Town called Monta Ramen. Established in 2010, this twenty seater hole in the wall has garnered a following so loyal, many patrons routinely wait in winding lines out the door for more than an hour, rewarding their taste buds with Monta's authentic version of this Japanese comfort food and hangover cure classic. Now, thanks to a convenient second location at 9310 S. Eastern, adjacent to Gold's Gym, there's no need to arm wrestle tourists enamored by Trip Advisor reviews or suffer through that pain in the butt drive to Spring Mountain and Jones. Customers both old and new can now experience incredible food that's quick, inexpensive and just plain addictive.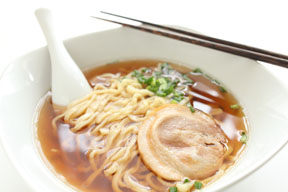 Unlike many ramen joints, where there's little to be said about the ambiance or decor, Monta Chaya feels upscale yet warm and friendly. Tiny like its predecessor, seating thirty to forty people max between a few tables and a decent size bar that surrounds the open kitchen, the restaurant boasts beautiful finishes including an unusual, petrified wood like bar that's a work of art in itself. The staff is super attentive, acknowledging all who enter with a friendly Japanese welcome while being extremely efficient. This helps keep the wait time short, even if the restaurant is busy, as it often already is.
The menu and quality of food is identical to their flagship location, with Monta Chaya offering a few extra items in the appetizer department. Favorites included blistered shishito peppers, nicely dressed in a mildy sweet miso sauce and finished with a sprinkling of toasted sesame seeds; and Chicken Karage, a Japanese version of fried chicken using delicious little nuggets of marinated chicken thigh, flash fried in a potato starch coating that keeps the meat exceedingly juicy while maintaining a delicately crispy outer crust. Not too heavy, very flavorful, and a nice option for the picky eaters in the party. Another standout worth mentioning is the Mini Mentaiko Bowl. A bargain at only $2.95 with seasoned rice, chopped scallions, shredded nori and spicy cod fish roe, it feels much like eating a deconstructed sushi roll. Fresh and super delish. Other classics include several varieties of fried rice, all superstars in their own right, and a Pork Belly rice bowl that is out of this world porky goodness. A must try if you're a fan of the belly.
And then there's the ramen. Once that first sip of rich, Tonkotsu broth and perfectly prepared noodles head down the hatch via the collaborative effort of chopsticks, spoon and individualized slurping techniques, you'll discover why this place has risen to rock star status. The broth has just the right amount of fat content, evidence they've boiled down those pork bones, collagen and fat for hours to produce a decadent soup that's buttery rich yet perfectly balanced and not overly salty. Two slices of impossibly tender Chashu pork float over top, with tender bamboo strips, shredded green onion, and kikurage mushrooms adding texture and earthy flavor. There are also several sides you can add to your bowl; the nitamago, soy flavored soft boiled egg and nori sheets were personal favorites. Some of their other broths aren't quite as indulgent, such as the Tonkotsu-Shoyu, which tames the meaty richness of the original by adding chicken broth, as well as miso and straight chicken broth versions. All are blessed with intense flavor that elevates this simple Japanese staple to something memorable and special.
Having a China Town transplant in the neighborhood goes to show that restaurateurs are finally taking notice of the burgeoning local foodie crowd who love great eats but often don't have the time or patience to drive across town to get it. I suspect Monta Chaya will soon have the same following as the original location; I, for one, will wait in line. For information, call them at 331-5151.