Haute Spot: Not Your Average Take Out – China MaMa Restaurant
By Lisha Ross
Given the sheer number of Chinese take-out kitchens in Vegas, one needn't travel far, if at all, for a helping of Mongolian Beef over steamed rice. Unfortunately, Chinese choices are more often based on convenience rather than authenticity. Take it from someone who lived in China long enough to experience the true, honest flavors of the country's cuisine, if you've never branched away from your nearest China Hut, you've been missing out on a world of flavor. What's absent are the regional spices and preparations that make each type of Eastern cuisine so unique–pungent peppercorns and dried red chilis of the Szechwan province; noodles and steamed buns from the Northeast region; mutton seasoned with cumin and five spice from the western province of Xinjiang. These bold flavors are scarcely found outside of the mom and pop joints of China Town, so if you want it, you'll have to go out and get it, but when it's from a friendly, casual restaurant like China MaMa, you'll be glad you did.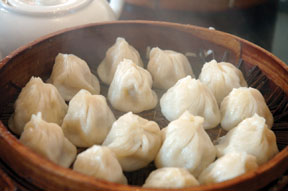 Located at 3420 S. Jones Blvd. just north of Spring Mountain, China MaMa is, like most of its kin, unassuming. Weathered façade notwithstanding, inside is a delicious treasure trove of both well-known and unusual dishes prepared in the tradition of two separate regions of China. You'll know the difference from the menus: green for DongBei (Northeast) and red for Szechwan offerings. Yes, for a rookie it can be intimidating to navigate through vague descriptions; you may even be frightened by some of the more unusual dishes like Flambeed Chitins. Not to worry. Their friendly staff is happy to help, and those not feeling adventurous can stick to familiar options like their outstanding Kung Pao Chicken (9.95), coated modestly in a light sauce and tossed with peanuts, green onion and red peppers.
If you prefer to venture into new gastronomic territory, let China MaMa lead you down the road less traveled. Craving some of my all-time favorite staples from the East, we started off with China MaMa's renowned Xiao Long Bao, or steamed juicy pork buns (7.95), and Green Onion Pancake (4.95). More like a dumpling than a bun, Xiao Long Bao is essentially a gingered pork meatball and a spoonful of garlicky broth contained in a thin pastry sheet and served with soy and chili garlic sauces for dipping along with fresh ginger strips. Green Onion Pancake was just as it should be–crisp and flakey on the outside, soft in the middle. Delicately fried without being greasy, it's perfect all by itself, but dipped in soy or vinegar and chili sauce it's immaculate.
You'd be remiss not to try the hand-pulled noodles, made in-house. Slightly softer than al dente, yet full of body, these supple noodles are served both in broth and dry. For a tepid foray outside the box, try them with Sesame Sauce (7.25), a creamy paste reminiscent of peanut butter, or as a chow mein with your choice of meat.
Crispy Chicken w/Szechwan Hot Sauce (12.50) is a novel alternative to orange chicken–tender white meat coated lightly in bread crumbs, deep fried and topped with a savory gravy, it's subtle sweetness offset by a hint of tangy vinegar. Vegetable dishes abound, Spicy Stir Fried Eggplant (9.95) and String Beans w/Chef's Special Sauce (9.95) topping the flavor charts. We all but inhaled the Cumin Spiced Lamb on Sizzling Plate (16.95). Unlike some cuts of lamb that can be fatty and difficult to chew, these thinly sliced bits were melt-in-your-mouth tender and seasoned to the extreme with zesty peppercorns, red chili and cumin. Beware! This dish is hot enough to make you sweat; cool the palate with a sweet and savory plate of Pineapple, Shrimp & Sausage Fried Rice (8.25)–delicately wok fried rice laden with chunks of juicy pineapple, small shrimp and sweet sausage akin to soft jerky–in a really great way.
 Ending with a sweet Red Bean Pancake (4.50) for dessert, you'll never look at take-out the same. China MaMa is open 7 days a week from 11 a.m.-10:30 p.m. For more information, call 873-1977.