Haute Spot: Not Your Father's Steakhouse – Embers Steaks Ribs & Spirits
 By Aly Wagonseller
Sometimes a restaurant, especially one that's only been open a little over a month, isn't quite sure what it wants to be when it grows up.  On one hand, a name and concept has painstakingly been chosen; an experienced chef (ala Becker's Steakhouse) capably creates respectable dishes in the kitchen; and a good amount of cash has been pumped into sleek and inviting décor.  On the other hand, though, is what people actually perceive the place to be.   Is it a date night restaurant where you'd order $30+ steaks while sipping hand crafted martinis in a secluded and romantic setting? Or are the vibe and decidedly bar-centric surroundings more conducive to appies, casual fare and cocktails? For me, Embers Steaks Ribs & Spirits was most certainly the latter, and judging by the crowd on a somewhat lively Thursday evening, I'm not alone in my thinking.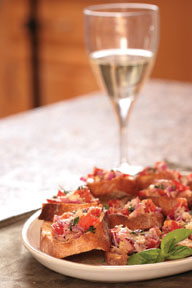 I will admit that I may be old fashioned when it comes to steakhouses, and maybe the younger crowd doesn't have the same expectations I do. All I know is that I can grill a pretty darn good steak on my backyard barbecue, so intimate ambiance and some extra TLC by experienced staff is paramount when I'm dropping 100+ bucks on dinner for two. I also want an ample tabletop that doesn't require a plan-o-gram to simultaneously support a cocktail glass, salad and entrée plate without fear of it toppling to the floor with one wrong move of my fork.  Not being able to hear your neighbor's conversation because the tables aren't right on top of each other is also a plus.  These are the little details that would keep me from revisiting Embers for a quiet steakhouse experience. Thankfully, it has so much more to offer the casual diner.  
We started with cocktails and appetizers–a delicious Dirty Girl Martini made from Pear Vodka, St. Germaine, fresh pear and lime juice, and a kind of bruschetta known as the Eggplant and Fresh Mozzarella Melt.  The cocktail was slightly sweet, yet surprisingly refreshing, balanced with delicate floral undertones of elderflower liqueur and a somewhat fibrous texture from the macerated pear.  The melt was one of those dishes that, while simplistic, capitalized on clean and pure flavor combination. Crispy, buttery crostini topped with smokey, wood grilled eggplant provided heft, while the soft, mellow cheese and fresh tomato relish served to brighten the heavier elements on the plate.  A must try, eggplant lover or not.
We opted to forego the typical steak entrées, partially because of the price tag, but also because the more modest food we saw being served to the majority of patrons looked so incredibly delicious.  I literally wanted to steal the gargantuan hamburger out from under our neighboring diner's nose, his unabashed devouring of it a testament to its appeal.  Instead, I chose the Short Rib sliders, which satisfied my craving for a sumptuous homey dish while keeping the portion to a minimum.  Served on two exceptionally fresh buns and spiced up by a dollop of horseradish that did well to tame the richness of the meat, this was glammed up bar food at its best.  Next up, the tri tip and baby back rib combo. While the meat was tender, flavorful and properly prepared, it was the side of cream corn that made the biggest impact.  Why it took a chef so long to create creamed corn that's sweet and earthy, yet maintains that fresh-from-the-cob crunch, I'll never know. Kudos to Chef Brett.    
The service at Embers was quite friendly, and I'll definitely be back for inspired selections that include a California Guacamole and Brie Melt, Rock Shrimp Tacos with Corn Salsa, or a Mahi Mahi Panini with grilled pineapple and chipotle mayo.  It may not be the steakhouse experience of times gone by, but it is the perfect place for a fun, lively dinner or happy hour spent in a hip, neighborhood restaurant that's close to home. Embers is located in Boca Park at 740 So. Rampart Blvd. Call 778-2160 for info or reservations.