Haute Spot: On the Verge – Poppy Den by Angelo Sosa
By  Aly Wagonseller
 Having been victim to some disastrous restaurant openings, I generally don't frequent the new guy on the block until they've had ample time to find their groove. Granted, there are some very experienced restaurateurs that seem to possess the golden touch from day one. But with too many hiccups to be had in terms of staff and service, menu options and food execution, they are most definitely the minority, especially if the patriarch of the restaurant lives and works a countryside away. That's what makes my visit to Poppy Den by Angelo Sosa, the newest addition in the massive restaurant revamp currently taking place in Tivoli Village, so bittersweet. Do I want to adore this place because I see its massive potential? Absolutely. But much like the relationship between a growing adolescent and a loving parent, you may have to cut them some slack while they learn from mistakes you both totally saw coming.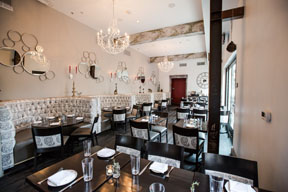 Sosa definitely has personality and wild creativity, something that any fan who's seen him compete on Top Chef can attest. These traits transcend themselves in both the conception of the menu and the atmosphere at Poppy Den. Billed as an Asian Gastropub, the décor is more sophisticated than theme-like, a blend of beautifully crafted paisley textile, distressed beam ceilings, dark hardwood tables, repurposed steel architectural details and a collection of rustic yet modern accessories that create a homey comfort zone. Not what you might expect… but this is Angelo Sosa. The second dining room upstairs is also available to rent for private parties and owns a sexier, loungy vibe with vibrant red walls and flowing fabric that's vastly different from its downstairs counterpart, and yet probably more predictable in terms of what a poppy den might conjure in the imagination.
Equally exciting is a menu that builds upon Sosa's clear understanding of Asian flavor combinations, while indulging a love for taking a ride on the fusion wild side. Herein lies the root of some of Poppy's growing pain issues. The flavors rocked in all but a few of the several small and large plate dishes we ordered, yet somehow more than a few suffered from at least one element of improper execution. Silly issues that, while not egregious, stripped perfectly conceptualized dishes of their deserved five star status. Cases in point: unforgivably chewy crostini served with an otherwise delicious Jarred Tuna, or painfully overcooked meatballs that marred the brilliantly conceived Korean chili paste, basil, ginger and Parmesan cheese tomato sauce that accompanied them. Shrimp and Grits were troublesome as well, the turmeric marinated shrimp taking on a kind of mushy, tandoori like consistency that did nothing to add interest to the sublime, velvety white polenta elegantly flavored with yuzu, lemongrass and coconut milk. Finally, a delicately flavored Green Tea and Mint Crème Brulee fell victim to unevenly bruleed sugar that either stuck to your teeth from being undercooked or permeated the palate with the bitter taste of singed caramel; a shame, as the flavors in the custard were incredibly well thought out.
Still, there were many bright spots to be had during our meal, including the Tuna Deviled Eggs, an addictive bite of chopped egg white and sushi grade tuna bathed in just the right amount of smoky paprika oil, cilantro and scallions. Or the Watermelon Salad with Goat Cheese, a refreshing, textural superstar that paired crispy fruit, mild and creamy goat cheese and a sweet and spicy topping of candied wasabi. Super creative. Miso Salmon with charred Shishito Peppers was also nicely prepared, the charred peppers a delish, somewhat bitter contrast to the sweet, melt in your mouth salmon.
All cards on the table, the food and craft cocktails being served at Poppy Den by Angelo Sosa are truly inspired, with more than a glimpse of remarkable potential once the kinks of the restaurant are worked out. It's a place on the verge of becoming a great neighborhood eatery; you just may have to be a little patient in the upbringing. For reservations, phone 802-2480 or visit www.vegaspoppyden.com.