A Step Above: Parker Rost
Palo Verde High School
Class of 2014
Parker Rost is serious about two things: football, and his plans for the future. As the quarterback and Offensive MVP for Palo Verde High School's football team, Parker has earned respect and developed character beyond his years. As a student and philanthropist, he has honed his goals for years to come, including serving the United States with his focus, passion and abilities. Parker's dedication and hard work are impressive, and will no doubt take him where he wants to go; however, his loyalty and passion for the bigger picture and the world around us place him – A Step Above.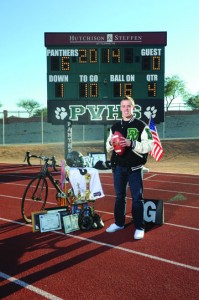 Sports/Clubs/Community Service
Varsity Football, 2011-2013; Captain, 2012-2013
Junior Varsity Football Captain, 2010
Palo Verde Student Council Representative, 2011-2012
Summerlin's 4th of July Parade Volunteer, 2010-2013
HOPE Scholarship Basketball Game for PVHS, 2011-2013
Assisting Palo Verde High School coaches at the Freshman and Junior Varsity levels, 2011-2013
Collecting and donating clothing and miscellaneous items to a family in need, 2011-2013
Stocking Stuffers for US Soldiers, 2013
Dental hygiene bags for Impoverished Youth with PVHS Student Council, 2013
Spooktacular Loomis Elementary School Fall Carnival volunteer, 2012
Patriotic Posters for US Veterans, 2012
Scholarships/Awards
Northwest League Offensive MVP – 2013
Northwest League 1st Team Quarterback – 2013
Football Varsity Letter, 2010-2013
Scholar Athlete, 2010-2013
Honor Roll, 2010-2013
Northwest League Champions, 2011 and 2013
NIAA Scholar Athlete, 2011-2012
Panther Award
We see you have very noble plans for after graduation. I aspire to attend the United States Naval Academy with the ultimate goal of becoming a US Naval Officer. I am interested in pursuing a degree in the fields of Cyber Warfare or Operations Research. I see myself defending our nation and providing humanitarian aid to those in need.
There is a person in your life who has made a profound impact on you. I look up to my father as I have watched him work hard to become a prominent coach in Southern Nevada. My father comes from humble beginnings and has modeled a work ethic that I aspire to emulate. I have been lucky to be a part of the Palo Verde High School Football program for many years and have learned that hard work pays off.
Your sport has influenced a lot of your character. Being the quarterback for a football team has greatly influenced who I am as a person at this point in time. Oftentimes, the quarterback gets the blame when things are not going well for a team whether he deserves it or not. I have elected to live by the mantra that regardless of what others may think or say, keep your head high, keep working hard and eventually results will come.
Picture this: You're the President of a non-profit…what would it be? I could see myself as the president of a nonprofit organization targeting our nation's military and their families. The servicemen and women in our Armed Forces make daily sacrifices to protect our nation and the freedom of others. Unfortunately, some end up giving the ultimate sacrifice – their lives – and I strongly feel we owe them more than we currently give to them.