PetPourri: Pet Fostering – A Temporary Home for Permanent Well-being
By Ashlee Verba
When 36-year-old Laurie of Missouri discovered fostering, she first asked for a friendly, house-broken dog to keep her Great Dane, Remi, company. Two years later, the self-proclaimed Dog Foster Mom (as she rightfully named her blog) fosters multiple animals at once and has developed a special affection for blind and deaf dogs, one of whom she adopted for her own.  Without fostering, Laurie would have never learned she wanted to help deaf dogs. And without people like Laurie, many amazing animals would remain homeless, or worse, get euthanized.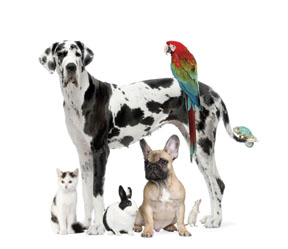 Overcrowding is the most prominent issue facing shelters. Without fostering programs, approximately 4-5 million homeless cats and dogs will be euthanized by the 5,000 shelters that span the nation. Fostering can and does decrease this number by thousands each year. Consider it a life-saving cycle, of sorts.
If you're the type who loves animals, but don't necessarily have the means or desire to adopt a pet as a lifelong companion, pet fostering is a way you can save an animal's life while contributing to their well-being for a short period of time.
Fostering 4-1-1
In the animal world, to foster is to provide a temporary home for domestic pets ranging from cats and dogs to horses and rabbits. A general "foster period" lasts until the animal receives a permanent adoptive home, usually an average of one week to three months, although in some cases it may take up to a year or longer. Younger animals usually get adopted more quickly than older ones, so when gauging how long you may be interested in helping, keep in mind that age is certainly a factor. If a situation were to arise where you simply couldn't wait for an adoptive family, however, the organization will find a new foster family.  
What's important to remember is that just because fostering is temporary doesn't mean it is a quick pet fix or a pet ownership trial period. It requires a solid commitment and effort on your part, regardless of time frame. Much like children, bouncing from home to home is never positive for an animal, so please don't commit yourself unless you're positive that you are willing and able.
What's Expected of You
Being 'able' stems largely from dedication and consistency; both are important factors in caring for a pet. Before fostering, make sure your lifestyle will allow about three to four hours of free time each day to dedicate to your companion, though more time together is always better. These four hours include feeding the animal and letting it outside two to three times per day, in addition to an hour or two of exercise, ranging largely on the type of animal, breed and socialization. A two year old Chihuahua certainly won't require the exercise an eight month old Australian Shepherd would. Nor would a Lab pup require the extra training an anti-social Akita might. And cats and rabbits, well, they don't do well on leashes. These are all very important factors in deciding which type of pet is right for you.
Like adoption, the potential foster parent usually has to fill out an application and, in some cases, have their home surveyed for pet friendliness. If you have other pets at home, a meet-and-greet is required as is proof that your other animals are vaccinated. Other conditions may apply depending on the animal, but the basic protocol is to make sure you and your home are safe, ready and pet friendly, including a positive living environment and ample backyard space for larger breeds. If you are a first-time fosterer, you can find peace in knowing that the organization for which you're fostering is an excellent resource when it comes to any questions, comments or concerns about whether or not your home is a good fit.
While fostering, you are responsible for providing food, water, shelter, guidance and any necessary veterinary care for the animal. Many organizations provide funding for vet bills, but not all. It is important to be aware of your financial responsibilities before you make the decision to foster.
What You Can Expect
Taking in an unknown animal can yield a lot of apprehension. Will it be mild mannered and trusting or yappy and hyper? The fact is, homeless animals come in all shapes and sizes, ranging from the naïve puppy that knows people only as loving food providers, to the feisty veteran that has had only negative experiences with humans or other animals. You can breathe a sigh of relief that your efforts won't be taken for granted by an organization handing you a Tasmanian devil and telling you to figure it out.
In addition to providing free pet care and training classes, as well as "counseling" to address any questions or concerns, rescue organizations do their very best to match you with a pet they feel will suit your lifestyle and time limitations. If you have a holiday trip planned six months from now, have no fear; the organization will find you a pet that they feel will be adopted in that time frame. If you're frigid about your furniture, the organization will match you with a short-haired companion who doesn't show an interest in chewing. Furthermore, as a foster parent, you can enroll your temporary pal in as many training courses as you'd like; the possibilities really are endless for the lucky pet whose life you're changing.
New Besties
One particular challenge to fostering for most people is having to say goodbye to the cuddly furball you've cared for over the course of weeks, months and sometimes years.  You will naturally form affection for the animal you foster, but the best part of your newfound love is that, though the organization gets the final say, as the foster parent you have a big part in deciding who adopts the animal. It may even be you! Temporary parents are encouraged to adopt if they so choose, so you may not have to part ways after all.
Among the multitude of warm fuzzies you'll feel daily, the biggest reward in fostering is knowing that you gave an animal a shelter, a warm bed, and the biggest possible advantage for having a happy life. If you have the space in your home and love in your heart for any type of animal, reward yourself by changing your life and theirs: foster.
Fostering Resources
Ok, you've decided you want to help…now what? You can start by visiting Vegas Animal Rescue, a cumulative source for shelters and rescues in the Las Vegas area at http://vegasanimalrescue.giving.officelive.com or head down to PetSmart, PetCo or one of the following shelters and talk with someone about getting started.
Nevada SPCA No-Kill Animal Sanctuary
702-873-7722
Foreclosed Upon Pets Rescue
702-272-0010
Heaven Can Wait Sanctuary
702-227-5555
Las Vegas Valley Humane Society
702-434-2009
Henderson Animal Control and Care Facility www.cityofhenderson.com/animal_control/contact_us.php
702-267-4970
Boulder City Animal Shelter
www.petfinder.com/shelters/NV27.html
702-293-9283
Noah's Animal House
702-385-0072
Adopt a Rescue Pet (Amargosa Valley)
702-798-8663
If you have a strong liking toward a certain breed, multiple rescues with foster programs exist for that breed. One search on the Internet will take you where you want to be. Just type the breed + fostering and you'll be well on your way.
2 Comments