PetPourri: Precious Cargo – On the Road with Biggles and Buddy
By Lindsay Minor
A lot of thought goes into planning a summer vacation: where to go, what to pack, which tours to book. Having pets just adds a whole new set of questions, the first being to bring or not to bring the family mutt. Airline regulations and requirements add time and, for some, frustration, to the trip. Those traveling by car will have to make extra stops and clear a spot in the backseat. Then you must consider your itinerary. Your fun-loving Chihuahua might love long strolls in the country, but he may not be so excited about, or even welcome at, a Broadway review. On the other hand, taking your pet along on suitable family trips can be a fun way to enrich your journey and even strengthen your bond. And with more and more destinations adopting pet-friendly policies, it's relatively easy to bring Biggles and Buddy along for the ride of their lives. As with most endeavors, preparedness is your ticket to jet-set pet paradise.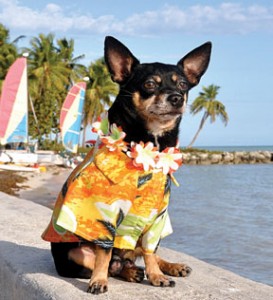 Preparing for Take-Off
First and foremost, you'll want to make sure your pet is healthy and up to speed on vaccinations, so a chat with your vet about your pet's medical history and pertinent information for safe travel is the best starting point. As your travels may take you to an area that hosts creatures very different from those in your own yard, Dr. Sumit Sabharwal, DVM at Seven Hills Pet Hospital suggests, "Ask about the risk of heartworm disease, ticks and fleas in the area you"re traveling. Most pets here are not on preventative medications for these diseases." Additionally, if you are traveling by plane, you'll likely need to acquire current health and rabies certificates dated no more than ten days prior to your departure. No matter how you travel, carry a copy of your pet's medical history in case of an emergency.
Up, Up and Away
Airline policies vary greatly in their willingness and ability to accommodate pets. Most airlines only allow a limited number of pets on board per flight, and certain types of breeds are prohibited from flying altogether. Snub-nosed breeds like Bulldogs or Persian cats are not always permitted due to their hindered respiratory systems, and some aggressive breeds are not permitted as a safety precaution. For these reasons and more, it's absolutely essential to call in advance of booking flights to inquire about specific pet policies, including security procedures, crate and carrier regulations, breed restrictions and plane changes.
Security
According to the Transportation Security Administration (TSA), "You will need to present the animal to the security officers at the checkpoint. You may walk your animal through the metal detector with you. If this is not possible, your animal will have to undergo a secondary screening, including a visual and physical inspection." Not to worry, the TSA never places pets through the x-ray machine, but you will be asked to remove them from their carrier so they can be scanned. In order to avoid delays and mishaps, arrive early, carry less (you don't need to deal with shoelaces, carrier, pet and camera bag all at the same time), and bring a leash and a treat for good behavior.
Carriers, Crates and Kennels
Ultimately, most pets are turned away at the gate for improper carrier fit. Requirements vary, but usually include waterproof flooring, good ventilation and secure clasps. Many of the airlines have an eight to nine inch height requirement for cabin carriers, but all of them insist that your pet be able to stand, turn around and lie down in the carrier. A soft-sided carrier is required for carry-on, as it can mold more easily when you place it under the seat in front of you.
Pets traveling in the cargo area of a plane require a hard-sided kennel, and your pet will be checked along with your baggage. You'll be glad to know that the pet area is separate from the baggage area, pressurized, well lit, temperature controlled and loaded only by airline employees specially trained to handle pets. 
Plane Changes & Layovers
Airline rules also change depending on the type of aircraft and the airport. Puddle jumpers, for example, may not allow pets on board at all or have a cargo area suitable for animals. Just as well, some airlines won't allow extended layovers for travelers with pets. The USDA (United States Department of Agriculture) also has requirements for animal transport regarding temperatures and time. Some airports have heated and air-conditioned tarmac vehicles while others don't. Better to ask and be safe than not and be sorry.  
Driving Miss Kitty
Auto travel with your pet can be fun for you both, so long as you take a few good measures. Try to stop every two to three hours for short walks, water and nature calls. Just be sure to keep your friend leashed for safety. On long trips, feed your pet when you stop but only give him about 1/3 of what he normally eats, leaving plenty of time before returning to the road. Most likely, your buddy will sleep while you're driving, but here's a checklist to consider when traveling by car:
Never leave your pal unattended in a car, ever.
Secure your pet firmly in a harness, carrier or pet seat, never in your lap.
Make sure he can see out the window and has water available.
Place him where you can reach him for reassurance and comfort.
Add a loved blanket or pet bed so he feels more at home.
For cats, be sure to place a travel litter tray on the car floor.
Much like booking a flight, if you plan on renting a vehicle, ask about pet policies before hand to avoid any unwanted fees or penalties. Most rental car companies allow pets as long as the vehicle is returned in clean condition, although some are a bit stricter about pet dander and such.
Bunking with Buster
The good news is, pet-friendly lodging is fairly easy to come by. The bad news is, it usually comes with a nominal deposit, but if you follow the rules, you should have no problems. Upon check-in, ask for areas to walk your pet and also for any areas where he is prohibited. Allow your furry friend to explore his temporary digs, including your room and the surrounding area. Show him where he can find his bed, water and food. Don't forget to bring a kennel! Even pet-friendly hotels require your pet be crated if left alone in your room. Finally, think about throwing the housekeeping staff a little something up front; it's always nice to let them know you appreciate the extra effort.
Vacationing with your best pal can be fun for everyone, and websites like www.tripswithpets.com and www.petswelcome.com make planning a cinch. Each offers an easy way to search for pet-friendly hotels, activities, restaurants and the like by city, state and even route. So, next time you begin planning a trip, think about bringing along your four-legged friends. You'll probably find you both enjoy the time together.
Have Pets, Will Travel Tips
By air, land or sea, here are a few extra tips for a carefree vacay with the family dog or cat.
Never sedate or tranquilize your pet when traveling. These medications can interfere with equilibrium and intestinal stability in cars and severely interfere with respiratory and cardiovascular systems when flying. Talk to your vet about natural solutions, such as Dog Appeasement Pheremone (DAP) sprays and collars.   
Get your buddy accustomed to his crate before you embark. Start by taking shorter drives to fun places like the park.
Take a quick snapshot of your pal in case you get separated. Also make sure your furry friend has a collar that features your cell phone number or, even better, have your pal micro-chipped.
Try to have your pet groomed before you leave so he'll be clean, comfortable and more likely to endear himself to those around you. 
Lightly feed your animal a few hours before you leave and then take him for a hearty stroll before heading out.
Bring along food, water, travel dishes, treats, a favorite toy and maybe even a new one to spice up the adventure.