PetPourri: Preventing Pet Projectiles: The Importance of Pet Restraints
By Ashlee Verba
When people think about a road trip, they typically wouldn't dream of letting their son or daughter ride in the car without a seatbelt, right? But what about their furry family member(s)? In a recent study conducted by the American Pet Products Association, one-third of dog owners bring their pet along in the car when traveling for two or more nights. The same study revealed that nearly half (48 percent) of owners use no method to restrain their dog when traveling in the car. While this number has been steadily declining, when considering there are 83 million dogs owned in the United States, it's safe to deduce that there are literally millions of dogs on the road that could become lethal projectiles in the event of an accident.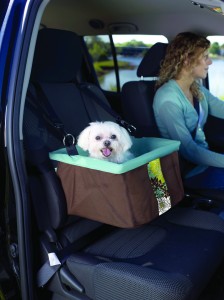 Accidents Do Happen
People are involved in car accidents every day. While clearly no one plans or anticipates these occurrences, at least with human passengers it's mandated by most states that we wear a seat belt or secure our children in a car seat in an effort to proactively prevent bodily harm. Consider what your pet may experience if involved alongside other, buckled-in family members. When traveling 35 miles per hour, a 50-pound dog can be ejected from a vehicle with a lethal force of 1,500 pounds; it only takes three pounds to break a human bone. It certainly makes you think. It's not exactly rocket speed, yet can present with lethal consequences.
Not only are the lives of our pets in danger in the event of an accident, they can also serve as powerful distractions. Distracted driving accounted for ten percent of fatal crashes and 17 percent of injury-causing accidents in 2011, according to the US Department of Transportation. The AAA Foundation for Traffic Safety says that looking away from the road for a mere two seconds can double the chances of an accident. From making the lunge towards the front seat, wanting to be in your lap, or having a random bark outburst, chances are you pet can or will divert your attention from the road.
What to Do
Since our pets are becoming more like family members, leaving them at home seems like a moot point. The trick is to find a way to travel with our pet in a safe manner. Animal car restraints are the answer.
While many types of restraints exist in the market place, finding a safe one can be a bit of a challenge. The Center for Pet Safety has recently made an attempt at establishing set guidelines for companies to meet when manufacturing these types of restraints, as currently there are none in place. Its goal is to ensure that all pet restraints keep vehicle passengers safe while maintaining the dog's stability and restraining its movement. Additionally, a product that can help to stabilize the spine of the dog and limit rotation in the event of an accident will likely reduce the chance of injury of the dog in the case of an accident. The snag with establishing guidelines is that every dog is different – from breed sizes and ailments to how they comfortably sit in the car.
A New Breed in Buckling Up
The good news is, many pet companies have dedicated themselves to providing a variety of safety products for owners who love having their dog with them on the road. Kurgo® (www.kurgo.com) recently created the Tru-Fit Enhanced Strength 3085 Harness, the first-ever harness to be crash-tested for large dogs up to 85 pounds, making it a useful safety tool for owners of large breeds. Like the car industry, safety features have progressed over time and are always improving. Kurgo maintains that this particular harness has evolved over time and will continue to evolve as more research is made available.
Crash-tested harnesses are rare, but they aren't the only solution to doggy distractions:
For small dogs, the pet travel experts make sturdy, easy-to-use booster seats that attach directly onto their walking harness, giving them a view of the road while securing them in place (check local pets stores or visit www.petco.com).
From Bergan® Pet Products (www.berganpet.com), the Pet Travel Barrier is aptly named for serving as a wall between the front and back seat, preventing Fido from making a dangerous dash to the front. This simple, non-invasive product simply hooks around the front seats and still allows pets to see the road ahead.
The Direct to Seatbelt Tether is as easy as it gets. For use with any walking harness, the adjustable Direct to Seatbelt Tether hooks onto harnesses and clips directly into the vehicle's seatbelt, with no risk of misuse (check local pets stores or visit www.kurgo.com).
Cat owners don't have as many options, seeing as cats aren't usually ones for catching the wind in their fur. However, Bergan® also makes Comfort Carriers with well-ventilated sides, washable fleece beds and a Pet Connect™ feature that allows owners access to their pet without the risk of an escape.
It's easy to get caught up in the rush of the day and load pets into the car haphazardly, but integrating just one of these great safety products into your pet's car ride can greatly reduce the risk of distracted driving or pets being ejected from the vehicle. Remember that saving your pet's (and passenger's) life is as easy as getting into the same habits you do for your family…buckle up!