Haute Spot: Really… Really Good – Chada Thai & Wine
By Aly Wagonseller
Something special happens when you pair young, creative and energetic siblings with a mother willing to travel all the way from Southern Thailand just to make sure her recipes are prepared the way they were intended. It's all that and more that make Chada Thai & Wine a restaurant and wine bar that, even without the wine (the plight of a pending liquor license), provides a startlingly good choice for Thai cuisine.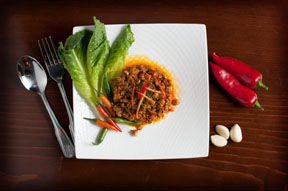 Located at 3400 S. Jones in a non-descript strip mall adjacent to China Town, the modern décor, eclectic red crystal chandelier and cool display of framed wine labels procured from the collection of co-proprietor Bank Atcharawan (former Director of Wine at Lotus of Siam) set the scene for late night Thai tapas and wine pairing. Yup, it's very much a hangout for the young and hip set, especially since they're open until 3 am. Still, being neither hip nor young should keep an Asian food lovin' aficionado away from visiting during dinner hours, where some of the most exciting Thai cuisine I've recently eaten in this city can be found at affordable prices.
Offering a decidedly smaller menu than most Thai restaurants, the flavors speak volumes in terms of authenticity thanks to sister and co-owner Aime Wanmaneesiri's mother Ampon taking charge in the kitchen. It's a temporary gig where mom has carved out a few months' time to teach the Chada chefs the ins and outs of preparing family specialty recipes handed down for generations, after which she'll be heading back home to Phuket. This is the food of love they grew up eating in Thailand; spicy, clean flavors that are wildly tasty when compared with much of the bland, watered down stuff offered by many American Thai eateries. They grind their own spices by hand, making the necessary staple ingredients, including curry paste, from scratch, forging an incredible difference in the intensity and depth of flavors presented. The typical 1-10 spice gauge is also absent at Chada; here, everything is prepared per mom's specifications, and that means it owns a nice kick.
Portion sizes are smaller than family style, yet larger than you'd expect in a tapas environment, so four or five dishes suffice for two diners. Selections run the gamut, from the daring fried pig ear, tongue and heart dish known as Lo-Ba ($8) to Miang Pou ($9), a crab meat, ginger, coconut and peanut lettuce wrap. The curry dishes are outstanding and shouldn't be missed. Slow cooked beef in Panang Curry ($9) lived up to Asian comfort food standards yet was anything but ordinary, but the Sen Mee Kang Pou ($12) was over the top delicious. The fresh, sweet flavor lent by a generous helping of crabmeat managed to stay relevant in the vivid coconut milk and lemongrass curry sauce. Served with three swirls of delicate rice noodles that added a nice textural contrast, it's a dish I will crave until next time. Per Aime's suggestion, I mixed and matched it with the Moo Hong ($8), soy sauce braised pork belly, the richness of which paired beautifully with the tart, fresh flavors of the curry. All I can say is… I want more and I want it right now. Other notables included the Sua Rong Hai ($12), tender ribeye steak served with a tart and spicy fish sauce, and a very flavorful rendition of Pad Kra-Pow ($8 for a very healthy portion), a stir fry of ground pork and chilis with the licorice undertones of Thai basil. Even though this is a popular dish in many Thai restaurants in town, this version had so much more flavor than I'm used to getting, making it a clear standout in the crowd.
Chada just opened, and even though they weren't able to serve wine at print time, they expect to be able to in the next few weeks. In the meantime, get in before the word gets out. It may be the last time you can do so without a reservation. For info, call 641-1345.