Haute Spot: Sammy's Restaurant, Bar & Grill
"Food is like fashion. You shouldn't sit still or you might find yourself out of style." This is the philosophy of Sami Ladeki, the founder of the original Sammy's Woodfired Pizza and now his newest venture, Sammy's Restaurant, Bar & Grill located at 1501 N. Green Valley Parkway. It's an interesting analogy because food trends, like clothing, certainly come and go. Keeping up with the Joneses requires not only a well-managed business, but the creativity and vision to consistently determine just what it is that keeps customers coming back for more. Judging by the crowds that Sammy's is experiencing pretty much every day of the week, I'd say Ladeki's got the right stuff on the runway.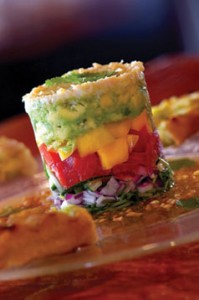 Personally, I enjoyed the "old" Sammy's that once resided near the now buzzing Galaxy Theatre. The pizza and salads were always delicious and the interior, while starting to age a bit, a reliable choice for outings with fam and friends. Still, this new concept incorporates all that was good about the former, with changes that equate to a leap from off the rack to casual couture. Esthetically, the décor is still relaxed, yet sleek and modern in a very good way. Thoughtful touches of organic materials and room dividers keep the look clean, and airy, while serving to avoid the sterility you sometimes experience in a very large restaurant. Oversized, leather couches cleverly purposed as booth seating provide an intimate, loungy feel, and although the place is somewhat noisy, the overall vibe is comfortable and inviting. The hub of the restaurant is an open bar that resides in the center of the space, a great area to hang out if the wait's too long or you just want to eat and drink while watching the game.
From a menu standpoint, Sammy's has added some global spice to more typical Italian and American inspired cuisine. A product of Ladeki's expansion of the brand to Tokyo in the mid 90's accounts for predominantly Asian flavors in many of the menu items, with other additions including Mexican Fusion, Middle Eastern and even Indian Papadam wafers garnering relevance via – what I suspect – is what's fashionable for the times. This is all a great thing as it culminates in a menu that pretty much has something for everyone. We (of course) had a pizza, and it was (of course) still delicious, but although they serve a vast selection of salads, entrees, burgers and pasta, we chose to imbibe in their extensive Tapas menu that, while not authentic from a Spanish standpoint, dished out some pretty good eats. Mini Duck Tacos topped my list of favs, the miniature corn shells perfectly light and crispy, stuffed with rich duck, feta cheese and a superb cilantro crema that pulled it all together. Kung Pao Calamari, prepared with the heartier steak of the squid as opposed to rings and tentacles, could have been spicier in my opinion, but the creative additions of hazelnuts and a caramelized rice vinegar glaze gave this dish promise. Other Pacific Rim winners on the menu included the Hot Rock, an interactive dish that requires you to cook thinly sliced, ponzu marinated beef on a 600 degree rock delivered to the table; Vietnamese Crab Stack, a refreshing salad designed to be eaten on a garlic crostini which, for our table, were unfortunately cold and soggy yet still had good flavor; and Miso Glazed Japanese Eggplant, a delightfully creamy dish whose sweet and earthly flavors paired nicely with the slightly acidic cucumber salad that accompanied it. Lebni Mediterranean Soft Cheese, Lobster Mac and Cheese, Wok'd Sesame Shishito Peppers…I could go on, yet it would be irresponsible to not mention the Yummy Honey pizza as a must try dessert. Savory, sweet, crunchy, creamy…seriously perfect!
Judging by the crowds, the new Sammy's menu and decor fits the bill for the masses. Whether donning Escada or Levi's no matter, Sami Ladeki has discovered and executed an idea that's sure to stay in style for seasons to come. For happy hour times or info on their Bottomless Mimosa Sunday's, call 567-4000.