A Step Above: Shane Cashin
E.W. Clark High School
Class of 2014
Shane Cashin shoots for the moon…literally. Meeting the intensely ambitious senior at The Academy of Mathematics, Science and Applied Technology (AMSAT) program at E.W. Clark High School is like meeting Juggernaut from X-Men, except on the "good" team and ready to make a tangible, positive difference in our world. And we believe him. Academically he's at the top of the district, and he's an award-winning cross country runner and musician, but what's most notable about Shane is his passion – for life, for positive influence and for being the best. His big dreams put him – A Step Above.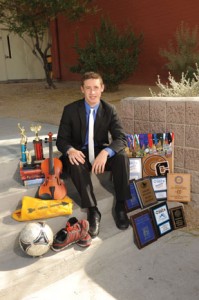 Sports/Music/Clubs
Varsity Cross Country, 2011-Present
Las Vegas Premier Soccer Club, 2010-2012
Freshman Football, 2010
Clark Philanthropic Orchestra, 2012-Present
Zion Youth Orchestra (Violin), 2011
Temple Beth Shalom Youth Group (Piano), 2010
Forensics Club, 2011-Present; Platform Captain, 2012-2013; Captain, 2013-Present
DECA/FBLA, 2011-Present; Vice President, 2012-2013; President, 2013-Present
Key Club, 2011-Present
National Honors Society, 2011-Present
Scholarships/Awards/Community Service:
AP Scholar with Distinction, 2013
Harvard Prize Book Winner, 2013
National Merit Commended Scholar, 2013
Top 25 Individual Runner – Nevada State Cross Country Championships, 2013
Financial Services Nevada State Champion – DECA, 2012-13
Award of Excellence Top 25 International Competition – DECA, 2012-13
National Qualifier, Varsity Original Oratory, 2012
La Cost Tournament of Champions in California, Champion – Varsity Original Oratory, 2012
Gan Alonim Volunteer Day, 2012-2013
Summerlin Hospital Volunteer, 2011-2012
You have a unique way of tackling a challenge. My ability to envision the results is what has driven me my entire life. If I am at a race, the beginning may be the toughest part, but as soon as I envision crossing the finish line I begin to work harder to improve my time. When I might not feel motivated to study for a big test, I imagine getting my test results back, and then I begin to work harder. If I want to feel successful when it's over, I know that I need to put in the effort from the beginning.

What's your take on our community's youth? Young adults often find school boring and dull as opposed to what school should be viewed as: the chance to open their minds. I believe that the use of today's technology can be implemented more closely into schools all around the globe and used to make classes more interactive and interesting to students. One day I hope to work to create a more efficient process for students to participate and learn in the classroom through the use of technology.
We see you have big plans. I have always dreamed of standing up in front of a crowd of hundreds of thousands of people and influencing them. Growing up I was always the short one, but when I stand up in front of an audience I feel bigger than ever. In the more unrealistic zone: being an actor, opening my own smoothie/sandwich shop, visiting every continent at least once, and traveling to space since I have a bet with my younger sisters on who will make it there first.