Local Artisan: Local Artisan: Suz Hinton
Wire cutters, round nose pliers, chain nose pliers and crimping pliers all grace the list of traditional jewelry making paraphernalia. Except if you're Susan Hinton. Suz, for short, makes jewelry (and more), but not with the type of tools you would expect. Instead she uses technology for a look all her own.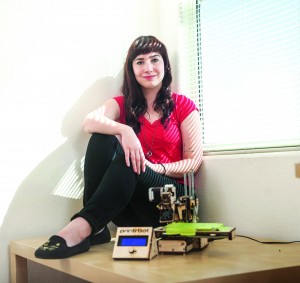 I'm passionate about making things, whether virtual or real. In particular, I love 3D printing and other CNC manufacturing techniques. The design process starts out digital, and the final result is something that you can hold in your hand. I think there's a certain magic to that. I make 3D printed jewelry, from materials such as stainless steel, gold, silver, plastic, and resin.
Website: owlposse.com, noopkat.com
Q: How did you get where you are now?
A: I was always that kid who was recycling toilet rolls into rockets one moment, and learning to code on a Commodore 64 the next. Somehow that manifested into becoming a professional front-end software engineer. I love the problem solving aspect of it, and it pays well enough for me to pursue other hobbies and endeavors in my spare time. I cannot remember a time when I didn't have something I work on outside of my day job. I spent a few years sewing, some time in print design. Nowadays I'm mostly interested in 3D printing, and hacking hardware.
Q: What got you interested in 3D printing?
A: I was making laser cut wooden jewelry for fun a few years ago, but I quickly became frustrated with the flat limitations of the material. Around that time (2009), I first heard about 3D printing, in the context of medical advancements. It was causing waves in the medical world due to cost saving and improved recovery times for patients. After some online research, I discovered services that made 3D printing accessible to anyone.
Q: You're a hobbyist. Any other creative outlets besides jewelry making?
A: These days I'm doing more hardware hacking than jewelry, so I'll often be coding something that talks to a real piece of hardware. Right now, my spare time is split between a few projects. One of them is a bracelet that measures your pulse periodically, and sends you a picture of a kitten to your phone if it senses you're getting anxious or stressed. I guess this is technically a piece of jewelry! Another is a pair of shoes that let you sequence sound loops into music via pressure sensors. You can dance out a song with your feet, which is pretty fun.
Q: What do you do for fun around town?
A: Oh man, wrong girl, wrong town! Las Vegas is great for introverts like myself too, though. I love spending time in SYN Shop, the local hackerspace. They have awesome classes and tools to use. Sunrise Cafe near the airport is a great mecca for bumping into creative and interesting people, and for getting work done in a relaxing environment. I love spending a long Sunday afternoon there. I also love catching up with a best friend over some boba tea and sweet butter toast, that's a real treat for me as we make funny jokes about our week. Tea Station on Spring Mountain is delicious for this!
My favorite part about living in Las Vegas has to be the now thriving and welcoming tech community here. It's fledgling, in that beautiful stage of opportunity and fresh leaders. Everyone wants to keep it that way as it grows, so it's really encouraging to see that.
Q: Does living in Las Vegas have an impact on your craft?
A: Las Vegas has definitely opened my eyes to a lot of new things. Color is one of them. I tend to like neutral colors such as black, white, grey and brown. Since I started living here, the vibrant entertainment scene and hodge podge style of downtown Las Vegas has really bled into everything from my fashion sense, to my creative endeavors. I definitely include more color into things I make these days, and no longer dislike fluorescent colors either. I am terrible at color theory, but having fun learning!