Haute Spot: The Dishes You Can't Miss – Eating Local Has Never Tasted So Good
By Aly Wagonseller
In recent years, Las Vegas has become a culinary Mecca for the discriminating food enthusiast.  Some of the most talented chefs from all over the world have set up shop in trendy locales on the Strip. Astounding food, spectacular service and somewhat hefty price tags have become commonplace all over town, carving out a niche in our city for some of the biggest and best restaurants in America.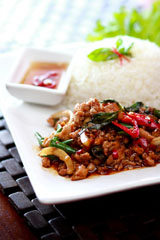 Still, some of the best dishes our city has to offer can be found in tiny hole-in-the-walls in the nooks and crannies just off the Boulevard. Places where family recipes are born of sweat and tears, where independent restaurateurs struggle to survive in a cruel industry and manage to triumph over incredible odds. These are the places that give neighborhood dining a good name.  Whether you live in Anthem, Summerlin or somewhere in between, here's a few standout dishes you shouldn't miss. You'll get to take advantage of some amazing food, help support grateful local business owners and inject some livelihood into our community and economy.
With the growth of our city comes diverse world cuisine; dishes with names you can't pronounce, ingredients you can't decipher and presentation that some might consider less than appealing.  One must-try example is a dish called Adjarski Khachapurri, found at Forte European Tapas, 4180 So. Rainbow Blvd.  Piping hot, impossibly crusty bread that's shaped like a hollowed out canoe is filled with mildly salty pickled cheese and a raw egg.  Twirl your fork through the egg, cooking it with the heat of the bread as the cheese melts underneath. Savor that first delectable bite as you listen to other patrons speaking in heavy, Eastern European accents, which only adds to the allure of this tiny little haven.
Not as mysterious yet equally delicious is Yia Yia's Pasticcio, made at The Great Greek Grill, 1275 W. Warm Springs #160. Chef Girair "Jerry" Goumroian calls upon his experience working at several fine dining restaurants on the Strip to transform this otherwise gut busting ground beef, pasta and cream sauce casserole into a soufflé-like alternative that preserves all the same flavors yet doesn't weigh you down like a brick.  Modern-day cooking has never tasted so good. 
On the Thai scene, there's nothing better than a humble Pad Kapow, a spicy and savory ground beef, vegetable, chili and Thai basil infused concoction that may as well be crack on a mound of rice. On any given lunch hour at Archi's Thai Bistro, 215 and Rainbow, you'll see 80% of their diners imbibing in its deliciousness. Not to be outdone, a new restaurant called Gaati Thai, 10545 So. Eastern, also whips up a very respectable twist on the same fare.  You'll have to specifically ask for it since it's not on their current menu, but the stylish décor and friendly staff at Gaati make it well worth a visit.    
More restaurants, both old and new, are bringing an endless list of great-tasting authentic dishes into town. East Coast Eats, 50 Valle Verde Dr., has Steak Bomb and Three-Way Roast Beef sandwiches flying off the flat top griddle to droves of sub sandwich aficionados. The busiest lunch spot in the District at GVR, The Crazy Pita, serves up tried and true selections like the Kefta pita, rotisserie chicken or creamy hummus.  Catfish and gouda spiked grits or unbelievably tasty charbroiled oysters are served up to the tune of Zydeco music at Lola's Louisiana Kitchen, 241 W. Charleston Blvd, adjacent to a trendy art district. I could go on, and I know I'm missing more than just a few, because there's some great digs off the  beaten path in this town.  I hear about them all the time and I'd love to hear about some of your favs.  Send me a note at Editor@ppplv.com. I'm hungry and always looking for something good to eat.