Haute Spot: The Secret's Out – Naga Thai Dining
By Aly Wagonseller
It's hard to "out" one of your favorite restaurants. On the one hand, you want to scream it from the rooftops when you find a local hole-in-the-wall gem that serves excellent food in above average surroundings, and with price points that are more than fair for the quality of food offered. On the other, though, why spill the bean sprouts if all this newfound popularity is sure to have you waiting longer for a table? It's not for me to decide, as the secret is definitely out on Naga Thai Dining, and although the service has gotten a bit slower than on previous visits, the food is undeniably worth the wait.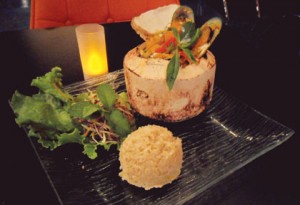 Located up the hill (not on the Eastern Ave. front) at 76 W. Horizon Ridge Parkway, Naga has a spirited vibe in more ways than one. Modern yet unpretentious décor dictates a space that includes bright colors, a soothing water feature, stainless steel decorator touches and mood music appropriate for casual, date night dining – as long as you don't mind rubbing elbows with your neighbors. Once you're seated, the staff brings out a tasting of fried wontons with sauces that illustrate the spice levels of the food via a story of "spirits" designed to gauge intensity based on mood. From the quiet Absent Spirit (no spice) to the Walking Spirit (medium intensity) to the fiery Angry Spirit (pretty darn spicy), it's a nice way to introduce Thai cuisine newbies to traditional ordering protocol. Soulful details continue with owner Supanee Janko overseeing the creation of her own vegan and meat dish recipes, many of which she developed while cooking in Thailand and California. Particular about what's on the plate, Janko insists on fresh vegetables and ingredients, often handpicking and purchasing from local Asian vendors.
You really can't do Thai without Tom Kah soup, and Janko's rendition is simply outstanding. Bright, flavorful and fresh only begins to describe this coconut milk based soup, the preparation of which successfully balanced the richness of the coconut with the tang of lime and lemongrass.  Not overly heavy, the vegetables were exceptionally crisp and the chicken perfectly poached, a nice beading of chili oil adding the perfect amount of heat to finish the dish. Sublime…really. Moo Ping, a skewered pork satay served with sticky rice (cleverly plated in a cute banana leaf cone), proved to be an excellent appetizer, the caramelized meat respectably exhibiting the Thai sweet, spice and salt trinity.
Entrees include all the norms in Thai cuisine including Stir-Fry (the basil version made with ground beef was a winner), Pad Thai and Curries. We'd heard some buzz on the drunken noodles, aka Pad Kee Mao, and ordered them with beef at Running Spirit spice intensity. Whew…this was some hot stuff! The thick rice noodles held firm and soaked up all the flavors (and spice) the dish had to offer while the baby corn, green beans, red bell peppers and onions provided farm fresh, crunchy textural contrast. Really nice dish. My favorite, though, was the Red Chicken Curry, a designation attributed to my love of worldwide comfort food and the aforementioned Tom Kah Soup, something I could literally eat every day of my life. Made with many of the same flavors including coconut milk, lime, galangal root (much like ginger) and lemongrass, the addition of matchstick bamboo shoots and basil made for a tasty concoction that was even better the next day as leftovers.
Naga Thai is teeny tiny, a true mom and pop endeavor, and as word has traveled about just how good this place is, the service has become a bit frenetic. Growing pains aside, this is one kiss and tell restaurant secret that deserves to be told. For takeout or reservations, call them at 508-2008.