Haute Spot: Tradition Finds Las Vegas – East Coast Eats
By Aly Wagonseller
I'm a West Coast girl, born and raised right here in Las Vegas.  Food, and what it means to us, is different on this side of the country.  Vegas foodie history is…to say the least…not overwhelmingly rich in tradition, running the gamut from oversized shrimp cocktail at the Four Queens to all-you-can eat buffets or 2.99 steak dinners at Binion's Horseshoe.  Good deals, late night dining, but nothing we can truly call our own.  Even now, with all the world famous chefs and excellent dining to be found here, if you pick up and hit the road, chances are you wouldn't give your favorite hamburger or sushi roll a second glance in the rear view mirror, let alone dream, fantasize or downright brag about it.  That's where East Coasters have one up on us, with East Coast Eats, located at 50 Valle Verde Dr., giving New Englanders more to boast about than baseball, hockey or football championships.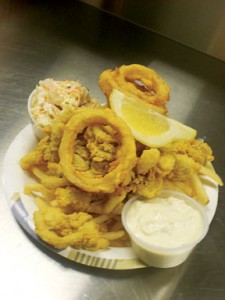 There's nothing fancy or particularly charming about ECE. There's no beer or wine, you order at the counter and the décor is average strip mall chic meshed with a testosterone sensibility; a sprinkling of New England sports paraphernalia, a few flat screens tuned to ESPN, and a flat top griddle rendering its magic.  Still, just because the place doesn't feel like a dank, old school joint from the neighborhood, it has no bearing on the authenticity of the food. I say this not because I'm an expert on fried clams with bellies (huh?), steak bomb sandwiches and something they call a "three way," because I'm not.  But I do have an ear for a Massachusetts accent, and that, along with the majority of the clientele nervously speculating about the chances of Boston garnering a wildcard seat in the MLB playoffs, was enough proof for me. This is MA transplant heaven, and the word about food from "home" is getting out.
The menu is pretty classic and quite large, offering modestly priced burgers, wings, pizza (with and without red sauce), pasta, salads and, of course, sandwiches.  Surprisingly, they also offer pricier (in the $20-25 range) specials Wednesday through Sunday that include fresh seafood flown in directly from Ipswich, MA.  We tried the Fishahmen's Plattah, a combination of fried haddock, shrimp, clams and scallops.  I've never dreamed of battering and frying a scallop likened to fish and chips, but I have to admit it was pretty good stuff. Sweet, juicy, perfectly cooked and not in the slightest bit greasy, you could tell this was made in-house, not only because of the freshness and texture, but also because, unlike battered frozen fish, the coating didn't completely adhere.  A bit messy and somewhat of a cooking faux pa? Perhaps, but that didn't stop me from eating every morsel, picking up the latent pieces of  tasty batter and wiping the cup of deliciously creamy homemade tartar sauce clean. 
Their claim to Bostonian fame is a Roast Beef Sandwich (served "two way" or "three way" depending on the toppings), and a huge steak sandwich known as a Steak Bomb. Both sandwiches are a serious bargain, priced from $4.29 to $7.99. The roast beef is the real deal, nothing pressed and overly salty here, served juicy and pink.  We went with the three way as suggested by the staff, receiving a sandwich dripping with mayo, a slice of white American cheese, and a mesquite style barbecue sauce that added nice acidity and kick to the sandwich.  Still, as good as this roast beef sandwich was, the Steak Bomb was something I'll go back for again and again, especially during playoff season.  Amazing quality beef here, no gristle or fat, just melt-in-your mouth tender meat.  It's fried up on the grill with fresh mushrooms, bell peppers and sweet onion, then topped with more of that American cheese which melts into a kind of sauce that binds the ingredients together. The soft and airy hoagie style roll it's served on is what sends this sandwich over the top, soaking in all the juices and flavors while holding this monster of goodness together. It's better than any Philly Steak sandwich I've ever tasted, which I'm sure is why the Massachusetts owners shudder if you call it such.  
East Coast Eats is open for both lunch and dinner, and they also cater–something to keep in mind for the upcoming season. With sandwiches like these, I'm happy to be a part of some serious East Coast tradition, even if it's only for one meal.    For more info, call them at 834-4444.