Haute Spot: A Welcoming Elegance – Wine 5 Café
By Aly Wagonseller
In a flashy town that houses an array of haute cuisine prepared by celebrity chefs that sometimes lose their soulful intent due to the almighty dollar, it's incredibly satisfying to stumble upon a tiny, neighborhood restaurant whose mantra encompasses a respect for culture, food and, most importantly, the dining experience in general. I'm not talking pomp and circumstance or trendy fads – I mean, American/African fusion isn't exactly on every street corner – simply a culinary team comprised of mom and son in the kitchen; offering an eclectic menu and wine list that's influenced by a culture they're proud of; in a setting that obviously revolves around making their customers happy, satisfied and dare I say, feeling a little loved at the end of the day. This is the beauty of Wine 5 Café, located at 3250 N. Tenaya Way, at Cheyenne.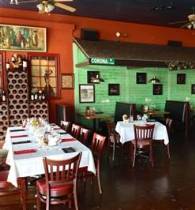 Not knowing what to expect from a restaurant located in a Target anchored strip mall, we were pleasantly surprised with the tasteful décor. Nothing too themed or cheesy as you might have experienced in other mom and pops. Rather, it was a quirky, elegant mish mash of design that included artful, wine inspired posters mounted behind window and antique door facades reminiscent of a stroll down a city sidewalk. Distinctly African or American as might be implied? Nope. But charming, yet lively enough for both a romantic dinner or, as was taking place the night we dined, birthday celebration with a large group of friends.
Much like the décor, the menu is diverse. Deemed the aforementioned fusion by the proprietors, it's really not so much that American dishes have been spiked with African flair but, rather, that you can choose from a vast selection of cuisine from both cultures. Kind of nice, as instead of compromising one cuisine at the expense of another, adventuresome eaters can try something new, while those who prefer a burger (which are as big as a hubcap and served on a buttery, brioche roll), fish or steak dish can live their culinary life on the tamer side. We chose to embark on the wild side of the globe, starting with the Samosa Situa Surprise appetizer for two. Highly recommended by James, our multi-talented waiter who not only provided exceptional service but also presented us with a frame worthy to-go bag artfully "painted" with African frescos he fashioned from the ink of multi-colored Sharpie pens, they didn't disappoint. Crisp, lightly fried pillows of dough were generously stuffed with exotically spiced beef containing hints of curry, greens and tomatoes and served with spicy piri piri sauce and onion marmalade. The absolute perfect bite of spicy, sweet and savory, these ample morsels are a must try.
Main dishes were of epic proportions and could easily have been split between two (maybe three) people, yet were reasonably priced. The Traditional Nayama and Ugali is a go to dish for those who relish an amalgamation of textures on the palate. Humble, yet exceedingly tasty braised beef is served with Ugali -a white, creamy polenta- and a delish spinach, tomato and ground beef stew that adds just the right acidic element to brighten the rich dish. Lightly battered sweet potato logs, prepared somewhat more underdone than you might expect, and triangles of addictive bread rounded out the meal. The Taste of Nairobi Chicken Curry is also quite nice. Not as spicy as an Indian curry, the flavors in the gravy are well developed and served with enough chicken legs, thighs, vegetables and a grilled flat bread known as chapati to feed an army. Pair it with one of their organic wines from the homeland and you've got something special.
Regardless of what you choose, know that Wine 5 Café is all about soulful, simple food, thoughtfully presented in a sophisticated way not unlike some of the best restaurants on the Strip. When you add charming details including live music on Wednesday night and expert wine pairing events from passionate proprietors that strive hard to personalize your dining experience, you'll see why their motto Karibuni Wageni Wetu (welcome our guests) rings true. For reservations call 462-9463.