Local Artisan: Fara Thomas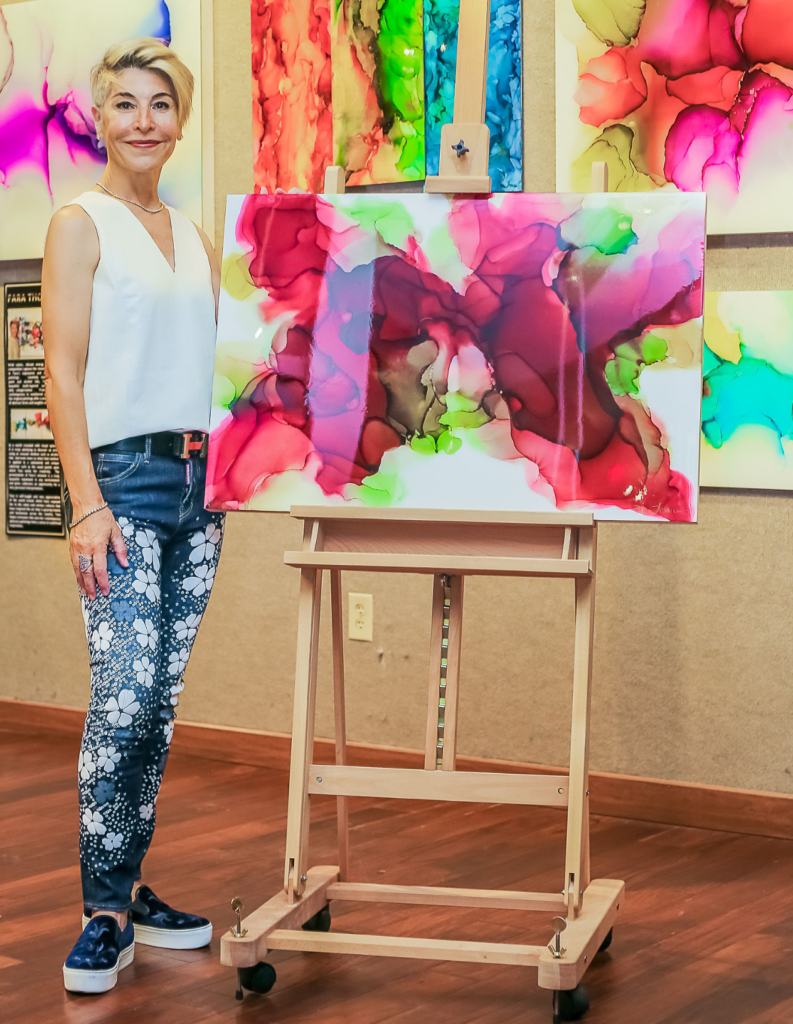 Local Artisan
Fara Thomas
farathomasart.com
Instagram page: fara.thomas.art
"My art is about life, with all its textures and layers, expressing love of the movement, energy and depth that exists in our everyday lives."
There are people who wish they could pursue their dreams, while others simply listen to an inner passion that allows nature to take its course. This kind of trust in the universe requires courage, confidence and a unique perspective to intuitively know that where you stand in the moment is fluid and ever changing, yet ultimately leads to exactly where you're meant to be. This is what artist Fara Thomas is all about. Discovering a true calling to create beautiful paintings that mimic the movement and energy paralleled in her own existence, Fara's thought provoking pieces are complex, vibrant and filled with a peaceful spirit that quiets the soul while lifting the spirit. We asked her about her artistic drive, the process of creating and how intuition plays a role in her finished pieces.
You didn't train to be an artist. How did this life change come about?
This decision did not come in a structured or carefully thought-out step in my life. It appeared spontaneously, and I cannot even define its timing with precision. This transformation was not driven by my educational background either. With years of graduate studies, and after extended years of professional experience in a totally different field of occupation, I have gradually discovered a true calling and realized my passion for painting. In my case, I guess, it was reflective of a natural flow of events and my life experiences.
You're passionately connected to your work. What do you hope to communicate through your paintings?
I want to somehow communicate my sense of the world– that way of understanding, engaging, and experiencing the world as I see it. Something that resonates with life and speaks to our experiences as humans. That universal desire to connect with other people in some way, to tell them about myself or my experiences.
Artistic inspiration comes from many places. Is there anything in particular that speaks to your creative process?
Nature is the core of most of my creations. It's not only a theme of my work but, remarkably, a driving force as well. As an artist, I work hard to develop paintings that speak to me and others about the beauty that exists around us by combining color and texture to represent a liberating moment in time. My paintings include natural environments and objects, single elements of natural phenomena and geographical ambiance, panoramic view and wildlife. I try to embrace and show the captivating power that color lends to landscapes, desertscapes and seascapes, and the light refractions exhibited in the texture of flowers, mysterious fluctuations of water and deviational patterns of moving natural forms. I work from spontaneity and intuition to explore a variety of compositions from molecular worlds to the expansive rocky desert that surrounds us.
The visual stimuli of nature is certainly present in your work, but how does intuition play a part in the finished product?
I love to start a painting, that's my favorite part! Finding the image, giving it life, living with it and then finishing the work is the hardest part, the exhausting and fulfilling part.
Sometimes I start a project with one idea, but my intuition and emotions lead me through the process. The paintings can start as chaotic and uncontrolled, using a contemporary palette and methodical layering technique, but as I continue, I become so focused on the present moment that things quickly settle into a calmness I can see in the finished pieces. It's a function of creative originality, something that's of utmost importance to me. I think my process definitely ensures that my work is original. Since I work completely by intuition, there is no way that even I can copy a painting I have made.
Las Vegas has it's share of glitz and glamour, yet you see something different. How does living here impact your painting?
We live in one of the most beautiful areas of this country. The natural beauty that lies just outside Las Vegas Boulevard encompasses acres of remarkable beauty and surprising diversity. The desert offers different stages of life, experiential intricacies, positive and negative events, advantageous or disadvantageous encounters, a living environment and people that surround me–all that shapes and forms our mentality and emotional state of mind. I am fortunate that my environment, my ambiance, is very positive and encouraging, with great support from Signature Galleries, located at the Grand Canal Shoppes at the Venetian, which displays my art and allows me to enjoy the creation process in a fully imaginative way.