Meet Your Neighbor: Meet the Neighbor – Trey Louis Noran
By Callie Thomas
"Love isn't an emotion or an instinct – it's an art." – Mae West
The American Film Institute listed Mae West fifteenth among the greatest female stars of all time. The actress, singer, playwright and screenwriter made a name for herself in vaudeville and became best known for her bawdy double entendres. While West may have had less than pure thoughts behind the quote above, it is certain that her godson, 89117 resident Trey Louis Noran, has taken the art of love for helping others to another level.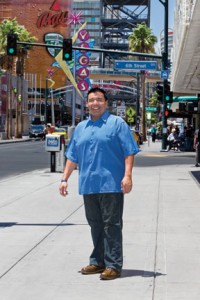 Noran may have followed his godmother's footsteps in the entertainment industry by landing small acting and commercial parts, singing backup vocals and traveling between Las Vegas and Hollywood, but he also knew a thing or two about lending a hand to those in need.
Born Louis Anthony Olguin to parents Gloria and Louis Olguin in Denver, Colorado, he spent his first years in west Denver, an area known for despair. His widowed mother eventually placed him in a private boys school called Clayton College for Boys, and he later graduated from Rose Ministry. His passion for helping the homeless led to creating a nonprofit organization called His Love Street to provide those on the streets with food, clothing, shelter, education, career development and health care. Noran moved to the community last year when he saw that the needs were sadly twice as prevalent in Las Vegas. His Love Street – Nevada was born, and Noran has already amassed several events with local media and those in the entertainment field to help change things for the better here in Nevada.
Noran is not only raising funds to help the immediate needs of the local homeless population, but also to realize a dream of developing a homeless hotel in Nevada. He talks with us about those aspirations and his passion for making a difference.
What is the mission of His Love Street?

"I started the nonprofit organization to transform our inner city and the lives of those facing homelessness, poverty and hopelessness. I believe together, as a community, we can end chronic homelessness and reduce the number of people on the streets in Las Vegas."
Meeting so many in need, you must have many memorable experiences.
"Seeing so many homeless people in Vegas and learning that they are living under the city in sewers has been difficult, but knowing we'll be able to make a huge difference has made a significant impression on me."
How are you currently raising funds to help?
"Through my Love Corporation, we are marketing my trademark 'Real Men Love 2 Cuddle' T-shirts and opening a restaurant called Ice/Mex Takeout this winter, which combines Mexican food and twenty flavors of ice cream. All proceeds from sales of T-shirts and Ice/Mex will go to feeding the homeless and construction to build the multimillion dollar hotel. I'm also working on a giving back concert at the end of August at the Wolf Theatre featuring musical performances by newcomer Brett Mikels plus Luggnutt Keyz, Jennifer Knight and Supreme Reflections to raise money to open not only a hotel but also several outreach centers to give that helping hand to those that are seeking a second chance in life."
What do you envision for the His Love Street Hotel?
"The hotel will include a clinic, commercial kitchen, private showers, a barber, laundry facilities, a library, dentist, counselors and a beautiful outdoor courtyard. We intend to employ our guests in several areas, such as our hotel tower, clinics, book store, clothing store, and our 700-seat state of the art Olguin's Restaurant. We anticipate serving more than 10,000 people each year."
That's an enormous undertaking. How do you unwind after a busy day?
"With a glass of wine and the thought that I am very blessed."
 "Is there anything besides being the godson of Mae West that others may not know about you?
"When I set my mind on anything, I don't ever give up until I reach my goal."
1 Comment