Livin' Local: A Bite of Old Las Vegas – How to Eat Like a Native
By Mike Sweeney
With the rapid rise of trendy restaurants from all star celebrity chefs, the Las Vegas Strip has become a nerve center for new culinary creations. Foodies from around the globe may flock to upscale eateries, but true natives know that some of the best food in Vegas lies hidden among the neon, where tantalizing menus filled with classic fare will transport you back to another era.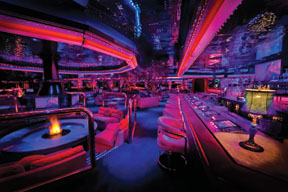 The Old Guard
During the 1950s, Las Vegas experienced a building boom that gave birth to many legendary landmarks, including Bob Taylor's Ranch House (6250 Rio Vista St). A veteran of World War II, Bob Taylor built the Ranch House in 1955, where he cut and cooked the meat himself over a mesquite coal fire, drawing guests from all over the city. Elvis and Ann-Margret even filmed a scene from Viva Las Vegas here. Cowboy movie posters and memorabilia encircle the dining room, while the aroma of seared meat fills the air as you can still watch thick cuts of beef being grilled right before your eyes. City slickers can opt for a chicken or seafood entrée, but steak is what they're known for: ribeye, sirloin, prime rib and more, including the monster 32 ounce "Diamond Jim Brady" New York cut. The Wild West may be long gone, but the classic cowboy grub is still here. Call 645-1399 or visit www.bobtaylorsranchhouse.com for more information.
Glitz meets kitsch at The Peppermill (2985 Las Vegas Blvd.), a Las Vegas institution featured in TV shows and films such as Casino and Showgirls. Built in 1972, the restaurant and lounge has endured amid the closing of many neighboring establishments, including the legendary Silver City casino, and its upscale diner vibe has long been a favorite of locals and tourists. Celebrities such as Robert DeNiro, Debbie Reynolds and Holly Madison have all been guests; Penn Gillette of Penn & Teller even replicated one of the restaurant's booths in his kitchen. Mirrored ceilings, fake cherry blossoms and neon lighting dominate the chic décor, while the menu features over 100 delectable food choices and signature desserts, from burgers and sandwiches to full entrees. You don't need to go digging around in your closet for that old leisure suit to have a groovy time here, baby. Call 735-4177 or visit www.peppermilllasvegas.com for more information.
Downtown Destinations
No trip down memory lane is complete without a visit downtown, where you'll find some of the best Mexican food in the city at Doña María's (910 S. Las Vegas Blvd.). The casual and brightly colored cantina setting reflects the down home atmosphere of this family owned restaurant that has employed three generations of the Martinez family. From its humble beginnings as a quick bite taco shop in 1969, the business expanded into a full restaurant in 1990 that has long been known for its selection of hand crafted tamales, from spicy to cheesy to sweet dessert variations on this southwest classic. And don't you dare run out that door before trying the juicy, tender beef fajitas. There's no pretension here, no desire to be hip or trendy. Just good, timeless Mexican food done right. That's the spirit that Doña María's has been bringing to Las Vegas for decades. Call 382-6538 or visit www.donamariatamales.com for more information.
A favorite lunch spot for downtown employees is Chicago Joe's (820 S. 4th St.), where the flavors of old world Italy come to life in a distinctly Vegas setting. While this quaint little brick house looks like anybody's uncle could live there, it was converted into a restaurant over thirty years ago. Take a step inside and you'll discover a cozy dining space with all the flair of the old country. As with Doña María's, the menu doesn't put on airs; it's just old fashioned Italian food that makes you want to mangia to your heart's content on lasagna, mussels or just plain pasta with garlic and oil thanks to recipes owner Joe Collura inherited from his grandmother. While the frills are minimal, the flavors are big, and the intimate setting is perfect for conversation. Bask in the warm candle glow and enjoy a feast of Italian flavors that only old Vegas can bring. Call 382-5637 or visit www.chicagojoesrestaurant.com for more information.
Gone But Not Forgotten
Once a fixture of the downtown scene for decades, the original Andre's closed several years ago, but you can still enjoy the same great food that made chef Andre Rochet famous at their Monte Carlo location (3770 S. Las Vegas Blvd.). Ask anyone who's been around Vegas for long and they'll vouch for Andre's, where you can find a touch of class combined with the spirit of traditional French cuisine such as pan seared foie gras and roasted venison. Rochet was one of the city's original celebrity chefs, long before there was anything called the Food Network, and he's still serving up ample appetizers, magnificent main courses and decadent desserts, along with a wine list full of over 15,000 legendary vintages. It's a great taste of France and old fashioned Vegas all in one. Call 798-7151 or visit www.andrelv.com for more information.
Las Vegas continues to stand at the forefront of culinary innovation, but if you yearn for the days of good old fashioned food and the spirit of local institutions that have been feeding the residents of our fair city for generations, you won't be disappointed in what's still hanging around. Let your nose and stomach be your guide, and you'll find yourself eating like a native in no time!