For the Love of Food: A Different Kind of Bubbly – Pairing Beer with Food
By Aly Wagonseller
Wine and champagne have long been an integral part of the dining experience; diverse varietals lending complexity, dimension and the necessary balance to take ordinary cuisine to extraordinary places.  But wine isn't the only libation fit for the table, especially with a growing number of craft beer artisans producing tasty lagers, IPAs, pilsners and stouts eons more refined than a pop top can of Bud in a koozie.  That's right! Suds are suddenly she-she, with foodie connoisseurs trading their stems for frosty mugs and taking food and beer pairing to an entirely new level of sophistication.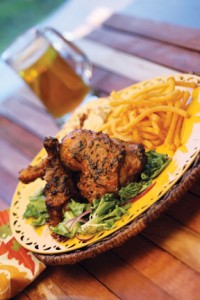 Much like wine, you should always drink what you like, foregoing passé, hard fast rules in favor of personal enjoyment.  Still, with variations on body, bitterness, hop intensity and fruitiness, some beers are simply better suited for certain flavor profiles.  In general, light ales and lagers are a nice accompaniment to salads, light appetizers, fish and other seafood. For more filling foods such as pizza, pork dishes and anything fried, IPAs and pilsners are wonderful choices. Additionally, this style of beer is exceptional for pairing with spicy fare, as it provides a cooling kick to balance all that torches the tongue. Amber and lighter brown ales are great middle of the road beers and add a wonderful dimension to a variety of cuisine from roast chicken to prime rib, barbecued steak to creamy pasta. And finally, the full-bodied stout and porter beers. Famously served with heavy English pub food like Steak and Kidney pie, these darker beers are obviously suitable for meatier dishes, smoky barbecue ribs and brisket, and thick stews. But don't discount these hearty suds as the dessert tray is passed. With notably distinct chocolate and coffee undertones, stouts are simply fabulous with brownies, ice cream and other rich confections.
Summer is the perfect time to test your palate with a variety of specialty beers, many of which can be found at specialty stores including Khoury's Fine Wine, World Market and Trader Joes. Whether you enjoy a light chicken, rice and mango lettuce wrap or a hearty steak sandwich with roasted corn mayonnaise, you're certain to find a hoppy mug of ice cold beer that perfectly complements any meal.
African Red Devil Chicken
Serves 4
3 Tbsp. butter

¼ cup plus 3 Tbsp. cilantro chopped 

5 garlic cloves

½ cup plus 2 Tbsp. piri-piri sauce or other hot pepper sauce

1/4 cup plus 2 Tbsp. fresh lemon juice

1 (2-inch) piece fresh ginger, peeled and thinly sliced

1 large shallot, peeled and quartered

1/4 cup extra-virgin olive oil plus additional for brushing

1 tsp. coarse kosher salt

1 tsp. freshly ground black pepper

3 1/2 to 4 pounds bone in, skin on chicken pieces

 

In a small saucepan over medium-high heat, melt butter.  Add 3 Tbsp. cilantro and 2 minced garlic cloves; cook until garlic begins to brown, about two minutes. Add 2 Tbsp. each of hot sauce and lemon juice. Reduce heat to medium-low; simmer 2 minutes. Can be made ahead and reheated.Finely chop remaining cilantro and garlic, ginger and shallot in a food processor. Add remaining hot sauce and lemon juice, 1/4 cup oil, coarse salt and pepper; process marinade to blend.Place chicken, skin side up, on work surface.  Pour half of marinade into 11x7x2-inch glass baking dish. Place chicken, skin side down in single layer in dish. Cover with remaining marinade, spooning it under the skin if desired. Cover; chill overnight, turning chicken occasionally.

Prepare barbecue (medium heat) for indirect heating method (half or two thirds of grill burners on, the rest unlit). Place disposable aluminum pan under the rack with no heat.  Brush rack with oil. Remove chicken from marinade. Arrange skin side up on grill rack above drip pan (not over the heat). Cover barbecue; grill until skin is browned and instant-read thermometer registers 165°F. Transfer to platter. Pour warm glaze over.  Serve with Kronenbourg 1664 Lager or your favorite IPA beer, including Deschutes Inversion or Nectar IPA .

 

Chicken, Rice and Mango in Lettuce Wraps

Serves 4

1 envelope Trader Joe's frozen organic jasmine rice 

1/2 cup seasoned rice vinegar

1/2 cup vegetable oil

6 Tbsp. mayonnaise

1/4 cup soy sauce

1/4 cup finely chopped peeled fresh ginger (from a 2- by 3-inch piece)

2 garlic cloves, chopped

1/2 tsp. Asian sesame oil

1/4 cup fresh lime juice

1 ½ tsp. mild honey

1/4 tsp. dried hot red pepper flakes

1 tsp. salt

1/2 cup olive oil

2 chicken breasts, shredded

1 large head iceberg or romaine lettuce, leaves separated

1/2 seedless cucumber cut into 1/8-inch thick matchsticks

½ red bell pepper, cut into 1/8-inch thick matchsticks

3 scallions, cut into 3-inch long thin strips

1 firm, ripe mango, peeled, pitted and cut into 1/8-inch thick matchsticks

1/2 cup chopped fresh cilantro

 

Prepare rice as directed on package.  Set aside.

 

Purée rice vinegar, oil, mayonnaise, soy sauce, ginger, garlic and sesame oil in a blender. Set aside. 

 

In a separate bowl, whisk together lime juice, honey, red pepper flakes, salt and olive oil.  Mix enough of the lime mixture with the shredded chicken to generously coat, but not to over saturate. Spoon chicken mixture, vegetables, mango and cilantro into lettuce cups.  Drizzle with ginger/mayonnaise dressing.   Serve with light brews such as Lagunitas Pale Ale,  Japanese Kirin or Sapporo.
Chocolaty Stout Dessert Floats
Makes enough syrup for 16 floats
Syrup:
1 cup sugar                                                                                                                                                                                                                                                   1 (12 oz) serving chocolate stout (recommend Rogue or Young's Double Chocolate Stouts)
Float:
1 (12 oz) serving chocolate stout                                                                                                                                                                                                       2 large scoops ice cream (Toffee or Coffee works well)
In a small, heavy saucepan, stir together syrup ingredients and bring to a boil. Reduce heat and simmer until thick, about 5-7 minutes.  Cool. 
For each float, drizzle 1 Tbsp. syrup into a tall glass or mug.  Add stout and top with ice cream.  Serve with toffee style cookies if desired.  
Skirt Steak Sandwiches with Corn Mayonnaise  
Serves 62/3 cup mayonnaise

1 1/2 Tbsp. red wine vinegar

1 Tbsp. fresh oregano, chopped

1 Tbsp. fresh basil, chopped

1 small garlic clove, minced                                                                                                                                                                                                                     2 small red bell peppers, quartered lengthwise

1 large red onion, cut into 1/3-inch rounds

1 1/4 to 1 1/2 pounds skirt steak, cut crosswise into 6-inch pieces                                                                                                                                                2 ears of corn, husked                                                                                                                                                                                                                                 6 ciabatta or French rolls, cut in half                                                                                                                                                                                                Salt and pepper                                                                                                                                                                                                                                     Olive oil (for brushing)Heat barbecue over high heat. Whisk mayonnaise, vinegar, herbs and garlic in medium bowl. Set aside.

Brush corn, peppers, onion, cut sides of bread and steaks with olive oil. Sprinkle with salt and pepper. Grill vegetables until charred and just tender and steaks until charred and cooked to medium-rare. Let steaks rest 5 minutes. Grill bread, cut side down, until charred, about 2 to 3 minutes.

Cut corn from cobs; add 1 cup to bowl with mayonnaise mixture and stir to coat. Season to taste with salt and pepper. 

Cut steaks diagonally against the grain into 1/3- to 1/2-inch thick strips. Arrange steak slices, peppers, and onion over bottom halves of bread. Spoon corn mayonnaise over. Top with bread, pressing slightly to compact.   Serve with pilsners or ales like Alaskan Amber Ale or Newcastle Brown Ale.