Decorating Secrets: A Feast for the Eyes – Perfect Plates, Platters and Presentation
By Aly Wagonseller
The house is decorated, menu finalized and it's time to enjoy the spirit of the holidays. Yet, with all the effort we put into making our home sparkle and shine this time of year, we sometimes forget about one of the most visual elements of the festivities…the food.  Hors d"oeuvres tossed haphazardly onto mismatched platters or colorless potatoes next to a drab-looking turkey slice are the usual offenders. Throw in silverware displayed in plastic cups more appropriately used for poker night and you've got a table that shouts anything but holiday glam.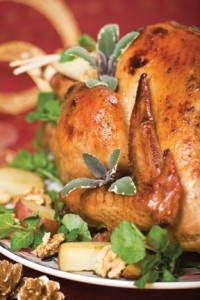 Still, with shopping, cooking and simply finding the time to take a shower before your guests arrive, how can you possibly gourmet-up the presentation of your meal without incurring a major meltdown?  It's easier than you might think. With a few simple rules, tools and creative ingenuity, you can make even the simplest of culinary offerings look like artful displays. 
 Elements of Style
When it comes to garnishing and plating food both individually and on platters, there's no need to go overboard.  The goal is to add color, dimension and symmetry to the plate, all within a timeframe that keeps food hot and appetizing when it reaches the table.
 Color
Most proteins are lacking in the color department.  Arranging at least one brightly colored vegetable between like colored meats will help liven up the plate, but there are other options.  Consider making a colorful sauce  that compliments the meat or fish you're serving. A vivid cranberry coulis, for example, could work with poultry, while an orange ginger sauce might be perfect for ham or fish. Spoon the sauce onto the plate, nestle the meat overtop, and you've got something special.
Strategically placed sprigs of leafy herbs like parsley and cilantro, or chives and green onions crisscrossed atop or placed vertically within softer foods like mashed potatoes, are a simple way to add colorful impact and height to a plate. Thinly sliced julienne carrots and red bell peppers add a pop of color and texture when neatly piled atop main entrees; a mélange of finely chopped herbs, citrus fruit and cranberries, or brightly colored spices like paprika create a colorful frame when dusted on the outer rim of the plate. Serving food in edible fruit or vegetable "dishes" like hollowed out oranges or bell peppers is also a fun way to add interest, especially as a centerpiece.  Whatever you choose, the garnish should compliment the flavors in the dish and always be edible. 
 Dimension
You'll be amazed at how merely adding height to the food on your plate can make you look like a culinary superstar. One simple, yet effective method is to mound your starch to create a base for showing off proteins. Pile potatoes, rice pilaf or pasta onto the back third of the dinner plate (in the center if using a larger platter). Prop up whole cuts of meat like pork and lamb chops (bone up, and preferably crisscrossed) against the mound, or fan thinly sliced meats artistically at the base. A drizzle of sauce or a twist of thinly sliced lemon will give this display a "wow" factor.  
Symmetry
Location of the food on a plate also matters. Avoid overcrowding your food by using the largest plate practical for your table setting.  Plate the tallest item (starch) at the back of the plate, your focal point slightly off center, and sauces and smaller vegetables along the side or front of the plate, making sure to keep the rim free of stray food.  Using the chef's clock formation (starch at ten o"clock, meat at two o"clock, and vegetables at six o"clock) is always a safe bet. 
For platters, create visual division by compartmentalizing the food. For example, if you want to plate three different kinds of appetizers on one platter, neatly arrange rows of like appetizers on one third of the platter, another kind of appetizer in the next segment and so on.  On circular platters, arrange like items along the outside rim, another item inside of this, all spiraling around a centerpiece or container with dipping sauce.
Tools of the Trade
Having a few basic items at your disposal can go a long way in speeding up your food beautification mission. Many items can be found at discount retailers including Home Goods and Smart and Final.
Plates
In general, white or lightly colored plates and platters are optimal.  Patterns tend to compete with the food, while brightly colored dishes make food appear muddy and lifeless.  This doesn't mean you should throw away grandma's elaborate china.  Instead, consider using fanciful tableware as a base for simple white dinnerware to be stacked upon.  Choose interesting shapes and sizes of platters and bowls, and don't discount the use of footed cake plates for added height at the table.
In the Kitchen
Sure, you can go overboard purchasing fancy gadgets at Williams-Sonoma, but some of the most valuable plating instruments cost just a few cents.  A plastic squeeze bottle with a small opening or a simple pastry bag with varying styles of tips are perfect for strategically drizzling sauces onto plates, creating designs of crème fraiche or putting sour cream in soups. Metal egg rounds, cookie cutters with scalloped edges or ramekin cups make it easy to mound your starches.  Simply place the cutter in the desired position, scoop in your filling, smoothing off the top if desired, then remove the round for a beautiful clean line. For taller mounds, use the ramekin as a mold, making sure to add a light coat of cooking spray for the easy removal of particularly sticky food items.  A vegetable peeler is a kitchen staple equally adept at making Parmesan cheese and chocolate curls as it is at creating citrus peel spirals. And don't discount the power of the fork. When placed with the tines against the peel of vegetables like squash or cucumbers, you can score the peel before slicing to create a professional-looking scalloped edge.  For more ideas on garnishing food, check out Garnishing: A Feast for Your Eyes by Francis T. Lynch.
Table Dressing
Table cloths are, of course, a wonderful touch, but here again, you'll want to keep things simple so as not to compete with your beautifully plated food. Table cloths with plain centers and colorful borders keep the room from feeling stark while also allowing a neutral place to display your food.  Layering an opulent table runner over a solid colored cloth is another great idea. Elevate platters and plates by simply stacking a few books or sheets of cut Styrofoam underneath your table cloth.  Create height randomly, with balance from one end of the table to the other, or elevate dishes in the middle of your table to the highest level, graduating downward as you near the edge.  The resulting look is fantastic, keeps all the food easy to reach, and prevents Aunt Mary's blouse sleeve from creeping into the cranberry sauce.
Creative Ingenuity
Creative ideas off the plate can also make your table, and the food that's on it, look much more appealing.  Instead of using tacky plastic cups for displaying silverware, glue filigree ribbon onto the outside top portion of a medium sized glass cylinder. Partially fill with cranberries and insert silverware in an upright position amongst the fruit. Decorate the table with pinecones, unscented votives, rosemary sprigs and more cranberries for understated, yet colorful glamour. Make large platters that hold smaller items like baked brie festive by adhering a ring of cranberries along the rim with corn syrup. Finish with a "bow" made of three or four green onions cinched in the middle with another onion. Create edible holly by bunching endive along the side of the plate and sprinkling with pomegranate seeds. The possibilities are endless! 
Don't leave your table in decorating doldrums this holiday season. With a tiny bit of effort and minimal planning, you can create a feast that's as friendly to the eyes as it is to the stomach.