Family Ties: A+ for Home Economics – Back to School Savings
By Jennifer Vandenberg         
Even though summer is in full swing, stores started planning for the return to school months ago. Now it's time for families to start thinking about it too. But don't let your back-to-school budget cut into end-of-summer fun. Every year parents waste tons of money on unnecessary school supplies. Over-zealous supply lists and a misunderstanding of what is really necessary in schools today contribute to all this overspending. Don't get caught in the supply list "must-have" trap! Follow these trusty, teacher-approved tips on what to buy and where to save.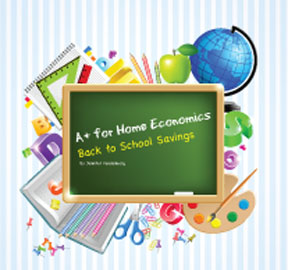 Never-Ending Supply Lists
Office supply stores create long lists of what students "need". Don't even look at these lists; they're created to generate profit, not help out parents. It's also wise to avoid the outdated district-wide list on the Clark County School District website (although www.ccsd.net is useful for other information). The only list you should adhere to is the one that comes directly from your child's teacher. Still, if a teacher has a long list (seven or more items), proceed with caution. Some teachers list every possible supply they can conjure up on the off chance that students might need them. It's best to double check with her at open house or by email to see if all those items are really necessary.
Back to Basics
Elementary teachers commonly request that students bring boxes of tissue, crayons, snacks, paper and other supplies to be shared with the whole class. It's important to contribute to the classroom stockpile, but you shouldn't feel like you need to buy it all. Get to know a few parents in your child's class during orientation and make plans to divide and conquer. It's cheaper and easier for each parent to buy one or two supplies in bulk rather than a little bit of everything.
When the sharing of supplies comes to an end in 6th grade, parents are expected to provide their children with some basic supplies. The following are a few essentials that can be purchased at those early-bird sales that, unbelievably, started in June.
Binders
For whatever reason, carrying a 3-inch binder in middle school is social suicide. Save your pre-teen the embarrassment and buy a 1-inch. Find them on sale and buy three or four because they fall apart every few months. Some schools have binder-color restrictions, so play it safe and stick with white. Make sure it has inside pockets for storage and a clear plastic cover that allows your child to slip pictures or artwork over the cover to dress it up.
Dividers
A separate space for each subject is important, but dividers aren't the only option. Many students prefer to keep several plastic sheet protectors (one for each class) in their binder for papers. This allows students to stay organized without having to hole-punch everything. Pre-hole-punched folders that can fit inside binders are another option.
Paper
Paper is an absolute necessity. Stores such as Target and Wal-Mart supply the cheapest year-round, but office supply stores also have great back-to-school deals. Buy several packets of lined, loose leaf paper. (College ruled for high schoolers and wide ruled for elementary. Anything goes in middle school.) Dole out paper in small quantities throughout the year; this will save your child from supplying classmates with paper or wasting it making paper airplanes.
Pens and Pencils
While pens and pencils are another necessity, it's not always necessary to buy them, particularly expensive brands, as they will likely just get lost. Sift through your junk drawer or purse for extra pens and pencils. Collect free pens wherever you can–hotels, casinos, festivals–and hand them off to your kids. Even middle schoolers don't make fun of someone who's writing with a non-brand-name pen.
Hold Off on the Extras
As a general rule, after acquiring a binder, dividers, paper, pens and pencils, don't buy anything else until you get a supply list from the teacher. "I hate when kids show up with weird pencil sharpeners and markers," says 4th grade teacher Allie Pokornik, "It's such a distraction." Many teachers keep classroom sets of highlighters, glue sticks, pencil sharpeners, staplers, scissors and the like, so check with the teacher before buying any of these extras. If you do choose to purchase them, save some cash by sticking to off-brand supplies. Crayola color pencils are twice the price of RoseArt with no quality difference. Have your child label their personal items, but even with this safeguard they will more than likely get lost before Christmas. It's best to keep these supplies at home.
Check with the school before purchasing a backpack as well. Due to budget cuts, many schools don't have enough textbooks to go around. Without books to carry, there really is no need for a backpack. Also, a higher density of students per school means there are not enough lockers for backpack storage, and they are often disallowed in the classroom due to safety and space concerns. If this is the case for your school, buy a pencil pouch that fits inside a binder to keep any loose items secure. Items to skip altogether include permanent markers (schools don't allow them due to tagging concerns); white out, which is often used solely to paint fingernails; and Clorox wipes, as they are banned in the Clark County School District.
Back-to-school shopping boils down to two principles: shop savvy and save where you can. Better to pinch a few pennies for that last summer fling than buy a bunch of stuff that will be relegated to the back of the closet.