For the Love of Food: A Little Taste of Sunshine – The Vibrant Flavors of Orange
By Aly Wagonseller
Ever since Christopher Columbus brought the first oranges to North America in 1493, Americans have forged an ongoing love affair with this bright and flavorful fruit.  In fact, the orange finishes only behind chocolate and good old fashion vanilla as America's favorite flavor, and with good reason.  Fresh tasting and not overly sweet, the essence of orange brings out the best in a variety of foods, livening up fish, beef and pork dishes, as well as creating a delicious base for drinks, desserts and even side dish recipes. And, although this little globe of goodness is as succulent as it is versatile, there's more beneath the peel than just good taste.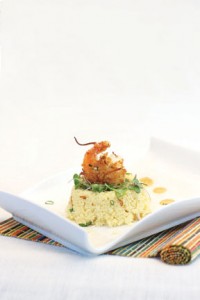 From a nutritional standpoint, oranges are quite the super fruit.  Numerous United States and World Health Organization studies have shown that by adding more citrus to our diets, as little as one orange per day, we can dramatically reduce the onset of several forms of cancer, significantly lower cholesterol levels and diminish the risk of having a stroke by up to 19%. Other positive effects include reduced risk or progression of arthritis, asthma and Alzheimer"s and Parkinson's diseases, just to name a few. As an added plus, the antioxidant properties of citrus fruits even reduce the propensity for wrinkles! It's a body beautiful fruit both inside and out!
With all the proven health benefits this fruit has to offer, adding oranges to your diet should be a no brainer.  We've provided some "thinking out of the glass" ways to get your orange on throughout the day.  Whether you add them to a beautiful parfait of yogurt for breakfast, serve them in a delicious salsa with chicken later in the day or spruce up salad and a side dish at dinner, enjoying a little taste of sunshine has never been so easy.
Crunchy Coconut Shrimp with Orange Ginger Sauce
Serves 4
 1 1/2 cups orange juice, divided
1 Tbsp. and 1 tsp.  chopped cilantro, divided
2 Tbsp. mayonnaise
1 1/2 tsp.  grated ginger, divided
1 tsp.  fresh lime juice
1/2  tsp.  ground cumin
1/4  tsp.  ground red pepper
Salt and pepper
1 cup uncooked couscous
1 1/2 cups and 1 Tbsp. chicken broth, divided
1/3 cup chopped green onions
2 Tbsp. sliced almonds, toasted
1 Tbsp. unsalted butter   
20 jumbo shrimp, peeled and deveined (about 3/4 pound)
1 large egg white, lightly beaten
1/2 cup panko (Japanese breadcrumbs)
¼ cup shredded coconut
Canola oil
2 cups trimmed watercress
 Orange Ginger Sauce – Bring 1 cup orange juice to a boil in a small saucepan over medium-high heat; cook until reduced to 1/4 cup. Remove from heat; cool completely. Stir in 1 Tbsp. cilantro, mayo, 1 tsp. ginger, lime juice, cumin, red pepper and salt and pepper to taste.  Set aside.  
In a large nonstick skillet over medium-high heat, toast couscous for three minutes, stirring constantly. Add 1 1/2 cups broth, 1/2 cup orange juice and 1/2 tsp. salt; bring to a boil. Remove from heat; cover and let stand 5 minutes. Fluff with a fork; add onions, almonds and butter, stirring until butter melts. Keep warm. 
Combine shrimp and egg white in a large bowl, tossing to coat. Mix together panko, coconut, 1 tsp. cilantro, 1/2 tsp. ginger and black pepper in a large zip-top plastic bag. Add shrimp to the bag, seal and shake to coat. Press breading around shrimp if necessary.  In a nonstick skillet, heat oil over medium high heat. Add shrimp in a single layer and cook approx. 2 minutes per side, or until shrimp is done.
Place 3/4 cup couscous on each of 4 plates; top each with 1/2 cup watercress and 5 shrimp. Drizzle with 1 1/2 Tbsp. sauce.
Orange, Blueberry and Vanilla Cardamom Yogurt Parfaits  
Serves 4
 1/2 tsp. grated orange rind
¼ tsp. cardamom
1 (16 oz) container vanilla, Greek-style yogurt
2 cups fresh blueberries
2 cups orange sections (about 2 large)
1/2 cup granola
Combine first 3 ingredients in a small bowl, stirring until blended.  Spoon 1/4 cup blueberries into each of 4 tall glasses. Spoon about 2 1/2 Tbsp. yogurt mixture over blueberries in each glass. Sprinkle with 1 Tbsp. granola.  Add 1/4 cup orange to each serving. Repeat layers with remaining blueberries, yogurt mixture, granola and orange. Top with additional yogurt and granola if desired.
 Agave Grilled Chicken with Citrus Mint Salsa    
 Serves 4 
2 large oranges
1/4 cup extra-virgin olive oil
1/4 cup fresh lemon juice
1/2 cup chopped Italian parsley
2 green onions, finely sliced
3 Tbsp. mint, chopped
2 Tbsp. capers, rinsed, drained and coarsely chopped
2 Tbsp. orange zest
1 tsp. lemon zest
1 tsp. crushed red pepper flakes
Kosher salt and freshly ground black pepper
 4 boneless, skinless chicken breasts
2-3 Tbsp. amber agave nectar (found at Trader Joe's)
Salt and freshly ground black pepper
Citrus Mint Salsa -Peel and trim the ends from each orange. Separate the segments by cutting along the membranes between each segment with a paring knife. Place in a medium bowl. Add the olive oil, lemon juice, parsley, green onion, mint, capers, orange zest, lemon zest and red pepper flakes. Toss lightly and season with salt and pepper to taste. Set aside.
Heat a grill or grill pan over medium-high heat. Brush the grilling rack with vegetable oil. Brush the chicken on both sides with the agave nectar and season with salt and pepper to taste.  Grill chicken until done.   Spoon salsa over chicken.  
Herb and Sesame Scallops with Orange and Fennel Salad
Serves 4
1 navel orange, supreme
1 medium head fennel, thinly sliced, including fronds
1/2 lemon, zested and juiced
Salt and freshly ground black pepper
Extra-virgin olive oil
3 Tbsp. finely chopped parsley
2 Tbsp. finely chopped fresh thyme, 6 sprigs
6 Tbsp. toasted sesame seeds
1 Tbsp. lemon zest
12 sea scallops, patted dry
Orange and Fennel Salad – Place the orange supremes and sliced fennel bulb (no fronds) into a bowl. Zest and juice the lemon over the orange and fennel. Season to taste with salt and pepper and drizzle with 2 Tbsp. olive oil. Toss gently and place onto serving plates.
Combine parsley, thyme, sesame seeds, lemon zest and remaining chopped fennel fronds. Season scallops with salt and pepper. Roll the sides of the scallops in herb mix. Coat a cast iron skillet or a nonstick pan with olive oil. Place scallops in hot skillet and sear about 2 minutes per side until the scallops are opaque and firm. Serve atop orange salad.