Mind Body and Soul: A Mental Tune-Up – Mood Music for a Happy Life
By
Michelle Vessel
We've all had experiences that underscore the profound connection between music and mood. Think of that final stretch of an arduous jog, when your jelly-like legs feel like they just can't take anymore… until your playlist delivers the theme from Rocky to help carry you past the finish line. Or perhaps you're stuck in traffic, craving some mindless bubblegum pop, only to turn on the radio and find Eric Clapton's melancholy "Tears in Heaven" melting your heart. Situations like these prove that music can do more than just entertain us. It has the power to change attitudes and outlooks and give a much needed boost to our lives and overall well being.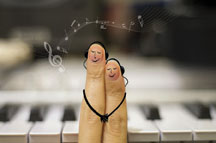 Facing the Music
The complex relationship between music and human emotion has been a puzzle for thousands of years. From the days of Aristotle to the emergence of psychology and beyond, great thinkers and researchers have long studied and pondered the way music affects our lives. In recent years, scientists have examined scenarios ranging from music's potential for stress relief to the optimal tunes for boosting athletic performance. Other research has highlighted the use of music in conquering depression, enhancing surgical recovery and stimulating endorphin levels.
Thanks to the wealth of recent research on this subject, as well as the unprecedented access to tunes old and new through services such as iTunes and Amazon, it's easier than ever before to use music to tweak your mood. Whether you need a stiff dose of classic rock to pump you up on a Monday morning or a soothing sonata to help you drift off to dreamland at night, today's technology makes it easier than ever to create a custom playlist with just a few clicks of the mouse. Here are some guidelines you can follow to find the right song to shift your mood.
TIP: Most popular media players such as iTunes and Windows Media Player let you add descriptive keywords known as "tags" to music in your library. Every time a song shuffles up that perfectly captures a particular mood, tag that track so you can easily find it at any time.
Exercise
The effect of music on human performance is one of the most well studied aspects of the music-mood connection. Researchers have found that music can help people who are engaged in exercise feel less tired, work harder and improve their motor skills. An exciting trend that has emerged from this research is the increasingly popular practice of using songs of certain tempos to regulate speed and exertion during exercise regimens. Focusing on maintaining a steady rhythm while you burn calories can not only improve your form but increase speed as well. The website jog.fm (www.jog.fm) categorizes popular workout songs according to their beats per minute (BPM) so you can develop a custom fitness playlist based on your desired pace. Here's a sampling of some tunes that can help take your ordinary day at the gym to the next level:
 "We Will Rock You" – Queen (164 BPM)
"The Middle" – Jimmy Eat World (162 BPM)
"Run-Around" – Blues Traveler (151 BPM)
 "Fly Away" – Lenny Kravitz (160 BPM)
"Hey Ya!" – OutKast (160 BPM)
Relaxation
Whether you need to unwind after a tough day at work or you're looking for some pre-bedtime bliss to ease you into a good night's sleep, the right music can definitely do the trick. According to researchers, the most relaxing music has a slow, steady tempo and a soothing, harmonious melody. Finding the right combination can mean the difference between forty winks and forty minutes of tossing and turning. If pure relaxation is your goal, steer clear of songs that have rapid or sudden changes in rhythm or volume. If music with lyrics turns out to be too distracting, consider slow paced classical music (try Debussy or Ravel), nature sounds or white noise. If you want to chill out for the night, here are some easy listening sounds to help you drift off:
"Watermark" – Enya
"Come Away With Me" –  Norah Jones
"I'm Only Sleeping" – The Beatles
 "Saeglopur" – Sigur Ros
"Fade Into You" – Mazzy Star
Mealtime Music
Dinner prep can be a major source of stress for busy families. Getting everything chopped, cooked and on the table in a timely manner can drive you crazy without something else to occupy your mind. Diffuse the tension and enjoy your time in the kitchen more by cooking up a playlist that's peppy but not too over-the-top energetic. Once dinner's on the table, take things down a notch and choose slightly slower, sweet, soothing sounds that will encourage conversation, relaxation and a measured pace of chewing. Here's a list of easy going but upbeat songs that should be able to carry you through both cooking and enjoying a nice dinner:
 "Kiss Me" – Sixpence None the Richer
"There She Goes" – The La's
"Put Your Records On" – Corinne Bailey Rae
"Beyond the Sea" – Bobby Darin
"Three Little Birds" – Bob Marley & The Wailers
Meditation
Having trouble getting into the groove when it comes to meditation? Music can help you calm your "monkey mind" and get your "om" on. Depending on what your meditation goals are, you can select from a wide variety of tracks ranging from playful songs that can encourage contemplation while you clean up around the house to specialized chants and chimes to guide more structured sessions. Whether you're a beginner or a seasoned pro, utilizing a cross section of several different styles of music can enhance your meditation practice. Nirvana is barely a breath away with these mindful tracks that will help keep you focused and self aware:
"Sonata for Harp, Op. 127: Lento Misterioso" – Yolanda Kondonassis
"Breathing Meditation" – Deepak Chopra
"Three Buddhas" – Xumantra
"Improperia: Popule Meus" – Capella Gregoriana
"Shanti/Ashtangi" – Madonna
When it comes to regulating your mood, you don't have to let your emotions get the best of you. Changing your outlook can be as simple as skipping to a new track on your MP3 player. So jump into the proverbial driver's seat, crank up some carefully selected tunes and let the age old connection between music and the mind take over and change your day for the better.
Tech Tools
If you're looking for help building your mood boosting playlists, here are a few websites and tools to help put the right music at your fingertips whenever you want it.
Pandora (www.pandora.com)
This website lets you create a personal radio station based around any artist or song you choose. Just plug your favorite tunes or singers into their search engine and you're all set.
Stereomood (www.stereomood.com)
Choose from hundreds of mood based playlists that other users have submitted, ranging from "optimistic" to "busy" and everything in between to find the right tunes for you.
Moodstream (www.moodstream.gettyimages.com)
This cool web-based tool from Getty Images is a mood enhancing dashboard that includes sounds and images designed to provide creative inspiration.
Musicovery (www.musicovery.com)
A colorful dose of fun, this site lets you chart your mood on a grid, then helps you create a vibrant looking "family tree" of mood music that's color coded according to genre.