Haute Spot: A Neighborhood Staple – Juan's Flaming Fajitas & Cantina
By Aly Wagonseller
It's the simple things that make a restaurant memorable and worth returning to on a regular basis. Fancy food and décor, if done correctly, is certainly worth the price tag. But the name of the game in a locally owned neighborhood restaurant is consistently good service; food that's prepared well and is fairly priced; and the presence of a very likable owner who's in the trenches making sure his customers feel welcome and happy with their overall dining experience. This is exactly what we found at Juan's Flaming Fajita's & Cantina, located at 9640 W. Tropicana.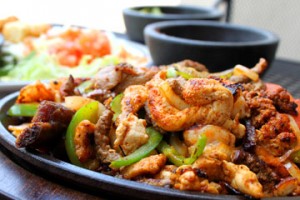 The restaurant's namesake, Juan Vazquez, has assembled a team that old time Las Vegas natives might recognize. The main man in the kitchen worked at Viva Mercado's Mexican restaurant for more than eighteen years, while other staff members (including Juan) worked there in various service positions, many until the iconic establishment suffered its demise a few months ago. This may explain why the Flaming Fajita runs like a restaurant that's been open for years as opposed to only a few weeks. The service is organized and remarkably friendly; the ambiance, while somewhat cliché, inviting and comfortable; and the food… well… honestly some of the best I've had for the genre.
You won't find Nuevo cuisine ala Border Grill or Mundo (a personal favorite) on the menu, but that in no way means that the classic fare Juan's is dishing out doesn't compare. It starts with sauces that are incredibly complex in flavor; for me, the reason why this place is so noteworthy. The kind of red chili sauce so earthy and robust it transforms a simple cheese enchilada into a masterful bite you just can't stop thinking about. Expertly prepared mole that's deep and soulful, yet doesn't finish like a brick on the palate, a trait that's given mole a bad rap in many a Mexican establishment. Verde sauce that's tart without being abrasive, balanced with just the right amount of heat to accentuate ingredients like the tender chunks of pork found in their exceedingly flavorful pork chili verde. Because these sauces are the backbone of pretty much every burrito, enchilada or tamale on the menu, I doubt you'll go wrong with anything you order; they're really that good.
But as the name implies, fajitas are Flaming's big draw. I've never really understood the affection for this particular dish, since to me there's nothing interesting about a DIY preparation of minimally dressed meat and vegetables wrapped in a tortilla. Still, a lot of people love 'em, and like the rest of their food, Juan's does them right. When they say flaming, it's literal; huge (translation: plenty of leftovers) portions of well executed chicken, steak, pork or shrimp come to the table in an iron vessel that sits atop a fondue pot style heating source. Unlike most restaurants, where the requisite  fajita Pavlov dog-like reaction is set in motion by way of the sizzling sound of meat as it makes its way through the dining room,  Juan's flambés your entrée at the table; a detail that, while entertainingly showy, actually serves a purpose to render  off  grease and sear the meat. Condiments including sour cream, guac, and salsa are plentiful, making for a very respectable version of this south of the border classic.
Velvety bean dip, blistered jalepenos and caramelized onions served with the obligatory basket of chips are an original touch, as is the option to order fresh from the skin guacamole, made to your liking tableside. It's worth the extra $7.95 if you're a fan. Round it out with a variety of margarita and drink specials (happy hour deals are served between 3-7pm) and a separate bar with plenty of tables and TVs and you're good to go for dinner or cocktails.
I love the heart and work ethic that Juan Vazquez brings to the Flaming Fajita, his first restaurant venture, and obviously a true labor of love. With the food and service expertise he's showing already, I think the future is certainly bright for this neighborhood must try. For hours and information, call them at 823-1400.