Cultural Scene and Heard: A Night at the Opera – Tosca in Las Vegas

by Chad Felix
Let's be honest; we haven't exactly been fair to the opera.  The form, once a hugely popular and respected means of art and entertainment, has fallen out of favor in our time.  The question is "why?"  Is opera obsolete?  Should it just be left to those late-night public broadcast specials and the dusty bins of used record stores?  Well, no and no.  Contrary to popular belief, opera is not intended for a select few, nor is it some lumbering relic of yesteryear.  It is, rather, a timeless expression of the human spirit through song, accompaniment and drama; a veritable tour de force of emotion to be enjoyed by all.  But none of this means anything until you experience it first-hand.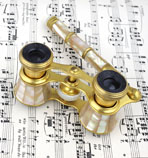 Maestro, bring on Opera Las Vegas, our city's foremost purveyors of the operatic arts.  Established back in 1999, the nonprofit has been putting on productions for the Las Vegas Valley for over a decade now and shows no signs of stopping.  If anything, they are speeding up.  Under the guidance of the newly appointed artistic director Gloria Marinacci Allen, who has herself acted in nearly sixty musical theatre and operatic roles, the entity is preparing to tackle their first ever complete season for 2011-12, featuring three world-class productions: Tosca, The Barber of Seville and Carmen.
The Season Begins
First up is Tosca (1900).  Come September, Opera Las Vegas will produce the work that is, according to a poll of the American people, among the ten best loved operas.  It's no surprise.  Written by Giacomo Puccini with some help from librettists Luigi Illica and Giuseppe Giacosa, the opera couples intense drama and melody for an experience that is as entertaining as it is infectious. The year is 1800. The setting: embattled Italy. Napoleon Bonaparte of France, newly anointed (in blood), has engaged in the Battle of Marengo.  Tosca's main characters–the opera's namesake, Floria Tosca, alongside Baron Scarpia and Mario Cavaradossi–find themselves to be merely players in a world dictated by political differences, rebellious convictions and revenge.
The Talent
Now, taking on Tosca is no minor feat. It demands period costumes, multiple sets and stages, and of course, talented performers capable of bringing the drama and music to life.  Thankfully, Opera Las Vegas has all their bases covered.  The production will be put on by two highly-respected opera mainstays: Opera Las Vegas' aforementioned artistic director Allen and acclaimed director Zeffin Quinn Hollis, whose resume boasts performances at some of the country's most significant opera houses.  In addition to this behind the scenes talent, Opera Las Vegas welcomes four (yes, four!) Metropolitan Opera House veterans to their Tosca team. Maestro Gregory Buchalter will handle conducting duties; baritone Daniel Sutin will play the menacing Baron Scarpia; soprano Elizabeth Blancke-Biggs acts as the unfortunate Floria Tosca; and tenor Raul Melo plays the painter Mario Cavaradossi.  Such are the ingredients for an unforgettable performance.  To be sure, this is one production you don't want to miss.
For the uninitiated, a night at the opera may feel foreign and unfamiliar.  For others, the experience may seem just out of reach.  For Opera Las Vegas, on the other hand, it's a passion, and one they'd love to share with you.  So garner some spirit and witness as this classic comes to life.  The curtain rises for Tosca on both September 9th and 11th at College of Southern Nevada's Nicholas Horn Theater at the Cheyenne Campus (3200 E. Cheyenne Ave.).  English subtitles will be provided at the showing.  Ticket prices range from $35 to $50. For updates on upcoming productions, tickets and any other information, visit www.operalasvegasnv.org.