For the Love of Food: A Season to Celebrate – Festive Finger Foods for Holiday Entertaining
 By Aly Wagonseller
From now until New Year's Eve, it's party time, with food, wine and festive cocktails capturing center stage. And, while elaborate sit down dinner parties are certainly an option, many modern day hosts prefer a more casual approach to entertaining; one that allows for informal mingling and a variety of "small plate" offerings that pack a big flavor punch, sans fork and knife fuss.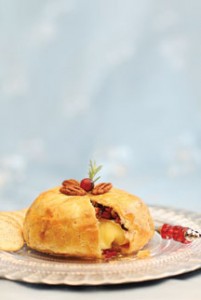 When planning your finger food extravaganza, a few tips can help keep your stress level to a minimum.  Choose appetizers that can be made ahead of time and either finished with garnishes or heated at the very last minute.  This is especially important since your guests want to spend time with you, and not get the feeling that you're working the kitchen more than the crowd. For large groups, augment homemade appetizers with store bought cheese and vegetable platters, fresh rolls, antipasto that includes a variety of brined olives and peppers, as well as spiced or savory nuts. Make sure that finger foods are easy to eat, keeping them bite sized and serving with toothpicks when necessary to prevent that stray meatball or two from rolling onto the floor.  Finally, serve enough appetizers, about 12-14 pieces per person, per hour to keep your guests' appetites satiated and their alcohol content at a responsible level.
We've provided some delicious, finger food options that will wow your guests while still allowing you to enjoy their company. After all, good food, holiday cheer and spending quality time with friends and family are what this season is all about.     
Cranberry, Pecan and Rosemary Brie en Croute
Serves 12
1/3 cup cranberries
1 sheet Pepperidge Farm Puff Pastry 
1 egg
1 Tbsp. water
1/4 cup chopped toasted pecans
1/4 cup honey
1/2 tsp. chopped fresh rosemary
1 (13.2 oz) round Brie cheese
 Serving crackers
Soften cranberries by mixing them with ½ cup hot water in a small bowl.  Let stand for 1 minute, drain and pat dry. Thaw the pastry sheet at room temperature for 40 minutes or until easy to handle. Heat the oven to 400°F. Beat the egg and water in a small bowl with a fork.
Unfold the pastry sheet on a lightly floured surface. Roll the pastry sheet into a 14-inch square. Transfer pastry to a parchment paper lined baking sheet. Stir the cranberries, pecans, honey and rosemary in a small bowl. Spread the cranberry mixture into the center of the pastry square. Top with the cheese round. Brush the edges of the pastry with the egg mixture. Fold two opposite sides of the pastry over the cheese. Trim the remaining two sides of the pastry square to 2-inches from the edge of the cheese. Fold the sides up onto the cheese and press the edges to seal. Place the pastry-wrapped cheese, seam-side down, onto the baking sheet. Decorate with pastry scraps if desired, then brush the pastry with the egg mixture.
Bake for 20 to 25 minutes or until the pastry is deep golden brown. Let stand for 45 minutes to 1 hour. Serve with the crackers.
Roast Beef, Arugula and Parmesan Potato Rounds with Lemon Aioli
Makes 30 pieces 
1/2 cup mayonnaise
Zest of one lemon
½ tsp. Dijon mustard
10 frozen hash brown patties, slightly thawed
1 Tbsp. freshly cracked pepper (optional)
¼ pound thinly sliced deli roast beef 
Arugula leaves
1/8 pound Parmesan cheese, thinly shaved
Olive oil for frying
Combine mayonnaise, lemon zest and mustard with a whisk. Refrigerate.
With a 2 inch circular cookie cutter, cut three rounds from each hash brown patty. Heat the oil over medium-high heat in a heavy frying pan. Cook potato rounds until golden, approximately 3-4 minutes per side.  Remove from pan and blot slightly on a paper towel. While still hot, roll edges in freshly cracked pepper if desired. Place on paper towels and cool slightly.
Cut roast beef into 2 inch wide strips.  Place one or two arugula leaves and one or two slivers of shaved Parmesan cheese along the edge of the beef. Roll the roast beef around the filling, forming individual cylinders. 
Assemble by placing a dollop of the lemon, mayonnaise mixture in the center of each potato round.  Top with roast beef rolls.  Garnish with additional shaved Parmesan and cracked pepper if desired.
Cranberry, Crab Meat and Cream Cheese Tartlets
Makes 15 pieces
1/2 cup Ocean Spray whole berry cranberry sauce
1/3 cup cream cheese, softened
1/4 cup minced crab meat
2  Tbsp. green onion, white and green parts, sliced
15 Pre-made phyllo cups, thawed
Heat the oven to 375°F.    
Place cranberry sauce in a small mixing bowl; beat with a fork or wire whisk until smooth. In a separate bowl, combine cream cheese, crab meat and green onion.
Fill each shell with about 1 tsp. of the cream cheese mixture. Top with 1/2 tsp. of the cranberry sauce. Bake for 10 minutes or until heated through.
 Linguica Sausage and Shrimp Skewers with Smoky Paprika Dipping Sauce
Makes 30 pieces
1/2 cup mayonnaise
1/4 tsp. ground cumin
5 ½ tsp. smoked paprika, divided
3/4 cup olive oil
4 large garlic cloves, pressed
2 Tbsp. fresh thyme, chopped
4 tsp. sherry wine vinegar
3/4 tsp. salt
1/2 tsp. freshly ground black pepper
1/2 tsp. dried crushed red pepper
30 uncooked, medium size shrimp, peeled & deveined
1 (13 oz) pkg. cooked Linguica sausage, cut into 1-inch-long pieces  
30 2-layer sections of red onion wedges
Nonstick vegetable oil spray
Make the dipping sauce by combining mayonnaise, cumin and ½ tsp. of smoked paprika. Refrigerate.
Whisk together the olive oil, garlic, thyme, remaining paprika, vinegar, salt, and black and red peppers until combined.  Place shrimp and sausage slices into separate, one gallon sized, resealable plastic zipper bags. Divide the oil mixture between the two bags and marinate in the refrigerator for at least one hour, longer if desired.
Heat a grill pan sprayed lightly with cooking spray over medium high heat.  Grill the onion wedges until slightly charred but not wilted. Remove from pan and set aside. Grill the sausage until heated through, set aside. Finally, grill the shrimp until slightly opaque.
Skewer one of each item onto a small, decorative skewer.  Serve with smoked paprika sauce.