Livin' Local: Adventure on the Fringe – Spring Mountain Ranch
By Lisha Ross
With all the new fangled bars, restaurants, spas and shops in the city, we so often forget about, or just don't make time for, the natural treasures that exist on the fringes of town. One such largely untapped gem is the Spring Mountain Ranch nestled in the Red Rock Conservation area. Super Summer Theatre fans have known about the ranch for years and stirred up quite an uproar when proposed state budget cuts threatened to close down the beloved outdoor theatre and ranch in 2010. The park managed to survive, but the question on everybody's mind is still: for how long? If nothing else, the situation served up a reality check; it's now more important than ever to show support for their public programs and take advantage of this pleasant oasis before it's too late.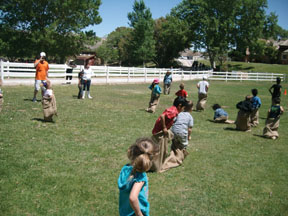 A Walk to Remember
Spring Mountain Ranch is only 15 miles west of town, but it might as well be a world away. Shadowed in late afternoon by the colorful cliffs of the Wilson Range and sitting high at about 3,800 feet, the temperature is 10-15 degrees cooler, the air a bit cleaner, the scenery spectacular and the quiet complete. Once a working ranch and luxurious retreat for previous owners like German actress Vera Krupp and millionaire Howard Hughes, its rich history is preserved wonderfully and shared with the public through guided and self-guided tours, historical re-enactments and family events.
On any given day, a stroll through the park should begin at the main house, where you'll find information on the ranch and the surrounding area, as well as artifacts, old photographs and historical documents. Once you've learned the intriguing story of the ranch, particularly the eccentric life and death of Ms. Krupp, an exploration of Wilson Cemetery, Board & Batten Bunkhouse, Sandstone Cabin, Two-Hole Outhouse, Chinchilla Shed and several other buildings that dot the property is surely in order. Guided tours are offered daily at 12 p.m., 1 p.m. and 2 p.m. with an additional tour at 3 p.m. on weekends, but visitors may take a self-guided tour anytime the park is open.
Picnics, Productions and All That Jazz
The ranch, with its expansive grassy acreage surrounded by desert scrub, pinyon-juniper woodlands and shade-bearing trees is excellent picnicking property. Picnic areas are open from 8 a.m. to dusk and replete with tables, benches, restrooms and plenty of lawn for blankets, Frisbee and family fun. For a picnic experience you won't soon forget, visit the ranch in the summer months, as Super Summer Theatre celebrates 36 years of providing the best seats under the stars and monthly productions on their outdoor stage. Annie opens the season June 8th, followed by The Drowsy Chaperone in July, Fiddler on the Roof in August and Five Guys Named Moe in September. Shows begin at 8 p.m. and run Wednesday through Saturday. Visit www.supersummertheatre.org for a complete schedule and ticketing information. Blankets or folding chairs, picnic dinners, snacks and beverages are all encouraged, but for a no-fuss trip, concessions are available for purchase as well as $1 chair rentals. Seating fills up quickly, so if you want a good spot, consider arriving as soon as the parking lot opens at 5 p.m.
Characters Welcome
While Super Summer Theatre may bring in the most characters, costumed role players breathe life into both Nevada history and the ranch all the year through via living history programs and other exciting events.
On May 1st, the ranch goes wild from noon to 4 p.m. as cowboys round up city slickers for a day of ranch activities the whole family can enjoy. Members of the Sandy Valley 4H Club will be giving demos throughout the day and cowboy style games will be open for all to participate. And what would a ranch day be without the lively sounds of a few acoustic instruments? Old Time Fiddlers will be spinning out their own brand of country fried tunes until 2 p.m.
Fourth of July comes a day early, Sunday, July 3rd, when the ranch celebrates our country's independence Old World style…sort of. Get ready to be part of the action! Visitors will be invited to join historic characters and dress up in full uniform for a battle reenactment royale. You, thankfully, won't hear any cannon blasts but water sponges will surely fly! Free refreshments will be available on a first come, first served basis. Stay tuned at www.parks.nv.gov/smr.htm to learn more about these events and upcoming programs in the fall, such as Pioneer Day in September.
A perfect, quaint retreat from the hustle and bustle of the city, Spring Mountain Ranch is that place between here and there where you can slow down, relax and experience history in motion. Don't worry if you forget where and when you are…you'll return to the current decade soon enough feeling just a bit more renewed and invigorated, I promise.