Livin' Local: Adventure on the Fringe – Spring Mountain Ranch
By Lisha Ross
With all the new fangled bars, restaurants, spas and shops in the city, we so often forget about, or just don't make time for, the natural treasures that exist on the fringes of town. Places in the Red Rock Conservation area like Spring Mountain Ranch. Super Summer Theatre goers have known about the ranch for years and stirred up quite an uproar when proposed state budget cuts threatened to close down the beloved outdoor theatre and ranch. The park managed to survive but the situation offered up a reality check–it's now more important than ever to show support for their public programs and take advantage of this oasis while the opportunity lasts. Fortunately, the Nevada Division of State Parks, along with some tirelessly creative docents and volunteers, make it easy to love this luscious bit of land by offering a number of unique and exciting ways to enjoy it long after theatre season comes to a close.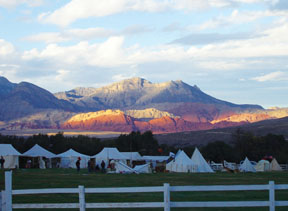 Spring Mountain Ranch is only 15 miles west of town, but it might as well be a world away. Shadowed in late afternoon by the colorful cliffs of the Wilson Range and sitting high at about 3,800 feet, the temperature is 10-15 degrees cooler, the air a bit cleaner, the scenery spectacular and the quiet phenomenal. Once a working ranch and luxurious retreat for previous owners like German actress Vera Krupp and millionaire Howard Hughes, its rich history is preserved beautifully and shared with the public through docent guided and self-guided tours, historical re-enactments and family events.
On any given day, a stroll through the park should begin at the main house, where you'll find information on the ranch and the surrounding area, as well as artifacts, old photographs and historical documents. The secret passage through the wardrobe is a treat for all. Once you've learned the intriguing story of the ranch, particularly the eccentric life and death of Ms. Krupp, an exploration of Wilson Cemetery, Board & Batten Bunkhouse, Sandstone Cabin, Two-Hole Outhouse, Chinchilla Shed and several other buildings that dot the property is surely in order. Guided tours are offered daily at 12 p.m., 1 p.m. and 2 p.m. with an additional tour at 3 p.m. on weekends, but visitors may take a self-guided tour anytime the park is open.
The ranch, with its expansive grassy acreage surrounded by desert scrub, pinyon juniper woodlands and tall trees is excellent picnicking property, but keep in mind that the weather will get pretty chilly in the coming months, so bundle up! Picnic areas are open from 8 a.m. to dusk.  
Warm jacket weather, the occasional snow shower and all, fall and early winter is an excellent time to visit the ranch, as costumed role players, demonstrations and re-enactments bring history to life through the park's Living History programs. Why, even President Lincoln, Robert E. Lee, and Ulysses S. Grant will make a rare appearance on October 29-31 from 10 a.m.-4 p.m. each day for SMR's Nevada Day celebration in the "Battle Born" state. North and South troops once again will meet in battle daily at a sizeable Civil War re-enactment, and families will be invited to participate in period activities.
Saturday, October 23, pack up the kids and head to the ranch from 2-6 p.m. for the Halloween Spooktacular and Pumpkin Carving Contest. Costumes, snacks and prizes will abound while SMR docents tell ghost stories by candlelight.
Get ready to go native Saturday and Sunday November 6 & 7 at the Mountain Man Rendezvous. Primitive camps and a trading post will help guests feel right at home in the time period as they have a go at tomahawk, knife and atlatl throwing, archery, a black powder competition, blacksmithing and children's activities.
Rounding out the year, December ushers in Christmas at the Ranch on Saturday 11. Something you simply can't find anywhere in city limits, the old fashion Christmas celebration promises to warm some hearts with hot beverages, holiday music, treats, prizes and more kid's activities. The ranch house will be lit up with holiday cheer and Santa will be available for snapshots with the kiddies. For more information on camping, park entry fees and activities, visit http://parks.nv.gov/smr.htm or call 875-4141.
A perfect, quaint retreat from the hustle and bustle of the city, Spring Mountain Ranch is that place between here and there where you can slow down, relax and experience history in motion. Don't worry if you forget where and when you are…you'll return to the 21st century city soon enough, just a bit more renewed and invigorated, I promise.
1 Comment