Cultural Scene and Heard: Art for the Masses – The Dorothy and Herbert Vogel Collection
By Mike Sweeney

When we think of art collectors, our minds probably reflect images of snooty high society types on the Upper West Side debating the suggestive dichotomies of Jean-Michel Basquiat. Dorothy and Herbert Vogel feel like a breath of fresh air in that respect. Once described as "proletarian art collectors," this humble married couple from New York built an impressive assembly of modern art with a sharp perspective and a notable lack of pretension. Local residents now have a chance to examine stunning pieces from the couple's diverse art holdings at UNLV's Barrick Museum.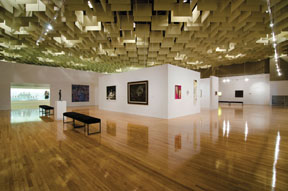 Meet the Vogels
Before you venture into the main gallery, treat yourself to an intimate look at the Vogels themselves with a viewing of the award winning documentary Herb & Dorothy in the museum's theater. The Vogels certainly didn't fit the typical image of the modern art collector. Herb was a clerk with the Postal Service while Dorothy worked as a reference librarian in Brooklyn. Both began as artists themselves but later gave it up in favor of collecting. Starting in 1962, the couple used Dorothy's income to cover living expenses while Herb's salary was dedicated to procurement. Within a few decades, their collection had amassed some 4,000 works. Motivated by their desire to share their passion, a program was developed where fifty works from the collection would be shared with one institution in each of the fifty states, with UNLV chosen as the site for Nevada.
Mixed Media
One of the most interesting things about The Vogel Collection comes from its variance of media. From graphite and watercolor to paper mache and charcoal, a diverse range of form represents Herb and Dorothy's eclectic tastes. Some works are as simple as ink, marker or colored pencil on paper, such as the cartoon like figures in Mark Kostabi's "The New Irascibles." Bettina Werner's "Campi Neri de Pensiero" features salt and resin on a plastic panel, reminiscent of a carved out chunk of highway with stylistic imperfections. Martin Johnson's "Take a Chance on Being Here" combines logos, ads, lottery tickets and more in a pop culture explosion reminiscent of Warhol at his most trenchant. One of the most fascinating uses of media is Stephen Antonakos's untitled Greek travel collages. Seven small frames incorporate items such as hotel soap, stamps, coins, twigs, pull tabs and more, turning the detritus of a Mediterranean visit into an artistic travelogue.
Color and Style
Looking at the collection as a whole, there are common threads that stand out, one of which is the dynamic use of color. Bright hues shine on Michael Lucero's untitled butterfly watercolor, so much so that you can almost feel it flying out of the frame, while Daryl Trivieri's luminous Picasso like ornithological renderings seem imbued with a life both natural and surreal. The colored pencils of Richard Tuttle's "Happy Birthday Herb" series are as much about the space between the pastel lines as the lines themselves. Even Claudia DeMonte's paper mache and acrylic family life scene seems to come alive through the artist's vibrant expression.
The collection also celebrates minimalism in many of its works, with simple approaches yielding bold artistic dividends. Edda Renouf's "Mahan-Iran" may seem like a blank sheet of paper at first glance, until you notice the intricate incised marks that bisect the canvas. The inscriptions are so slight, yet there is elegance in their symmetry. The same goes for the unadorned charcoal and pencil lines of Steve Keister's untitled work or the straightforward pastels of Mark Kostabi's "Nose Off," both of which evoke boldness and self assurance. Others play with language, such as Robert Barry's untitled piece with words inscribed at its edges in graphite: "evidently," "partial," "internal." All of them etched in faded strokes, giving the work an ephemeral quality. These examples prove that you don't have to fill up all the white space on your canvas to stir the soul.
Modern art may not be everyone's cup of tea, but Dorothy and Herbert Vogel certainly had a good eye for artistic quality and expression that was at once minimalist and multifaceted. Take some time out to judge for yourself and you're sure to find something that captures your fancy.
For more information on The Dorothy and Herbert Vogel Collection, visit barrickmuseum.unlv.edu.