For the Love of Food: Back to the Basics – One Recipe – Four Gift Worthy Variations
 By Aly Wagonseller
Holiday baking and candy making is as traditional as Santa on the rooftops, but it can be time consuming, not to mention expensive. Creating an array of sweets without having to purchase every ingredient on the baking aisle is the challenge. Wouldn't it be great if you could turn a few basic staples into a variety of confections that would round out the most elaborate of gift baskets? It may be easier than you think.
The trick to keeping the cost of baking reasonable while still turning out a variety of mouthwatering treats lies in using a basic recipe that can be transformed with the addition of a few ingredients. Much like accessorizing that favorite little black dress, one cookie or bread recipe that starts with inexpensive items readily available in the sparsest of pantries becomes a decadent delight when adorned with just a handful of indulgent ingredients. Besides the amazing amount of time you'll save in the kitchen, you'll save a significant amount of money as well, since the more expensive additions such as chocolate chunk or cinnamon chips, coconut, Craisins or pecans are used in small quantities and can be utilized for several different recipes.
We've provided basic recipes for cookies, breads, popcorn and homemade marshmallows. While vastly diverse, both visually and on the palate, these delightful treats contain many of the same ingredients, and in quantities that will stretch your baking dollar to the maximum. They're fancy enough for gift giving, easy enough to keep you sane in the kitchen and will have you looking like a gourmet aficionado to everyone on your holiday list.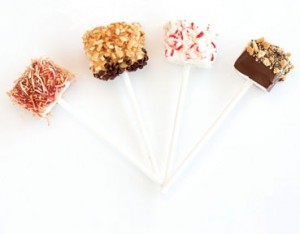 Homemade Marshmallows
3 packages unflavored gelatin
1 1/2 cups granulated sugar
1 cup light corn syrup
1/4 tsp. kosher salt
1 Tbsp. pure vanilla extract
Confectioners' sugar, for dusting
Combine the gelatin and 1/2 cup of cold water in the bowl of an electric mixer fitted with the whisk attachment and allow to sit while you make the syrup. Meanwhile, combine the sugar, corn syrup, salt, and 1/2 cup water in a small saucepan and cook over medium heat until sugar dissolves. Increase heat to high and cook until the syrup reaches 240 degrees. Remove from the heat. With the mixer on low speed, slowly pour the sugar syrup into the dissolved gelatin. Put the mixer on high speed and whip until the mixture is very thick, about 15 minutes. Add the vanilla and mix thoroughly.
Lightly oil an 8×12 inch metal pan and generously dust with confectioners' sugar. Pour the marshmallow mixture into the pan, smooth the top, and dust with more confectioners' sugar. Allow to stand uncovered overnight until it dries out. Peel the edges and turn the marshmallows onto a board. Cut into squares with lightly oiled pizza cutter. Dust with more sugar and let dry.
Insert cookie stick by dipping the edge into chocolate or candy melts and pushing into center of marshmallow.  Freeze prior to dipping. Freeze after dipping to set and then wrap.
Peppermint Twists
Dip into melted and slightly cooled white chocolate or candy melts. Roll in crushed peppermint candies.
S'Mores
Dip into melted and slightly cooled dark chocolate. Roll in crushed graham cracker crumbs.
Peanuty Pillows
Dip into melted and slightly cooled peanut butter chips. Roll in crushed peanuts and mini chocolate chips
Raspberry Snowballs
Dip into melted and slightly cooled raspberry jam.  Roll in toasted coconut.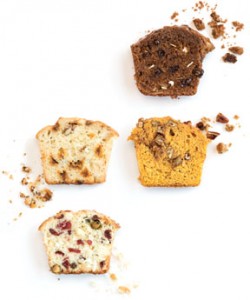 Basic Bread Recipe
2 cups flour
1 cup sugar
2 tsp. baking powder
1/2 tsp. salt
1 egg
3/4 cup milk
1/4 cup plus 2 Tbsp. vegetable oil
Stir together dry ingredients in a large bowl. Add wet ingredients and any optional ingredients and stir just until moistened. Adjust amount of milk depending on how moist your add-ins are – add less for moist things like banana, crushed pineapple, or pumpkin and add a bit more if needed for dried fruits.
Divide between three mini loaf pans or one large loaf pan. Sprinkle tops with sugar if desired. Bake at 400 degrees for 25 to 30 minutes or until done.
Pumpkin Streusel Spice
Add 1 cup canned pumpkin and 1/2 tsp. pumpkin pie spice to batter. Combine 1/3 cup sugar, 3/4 cup pecans and 1 1/2 tsp. cinnamon. Layer batter and cinnamon nut mixture, ending with nut mixture.
Cherry White Chocolate Pistachio
Add 1/2 cup each of dried cherries and white chocolate chips. Add 1/3 cup each chopped pistachio nuts and coconut. Sprinkle top with coconut.
Rocky Road
Add 1/4 cup cocoa powder, 1/2 tsp. vanilla and 1/2 cup chocolate chips. Add 1/3 cup each sliced almonds and chopped mini marshmallows.
Cinnamon Apple
Add one diced apple, 1/2 cup cinnamon chips, and 1/3 cup chopped pecans. Glaze if desired.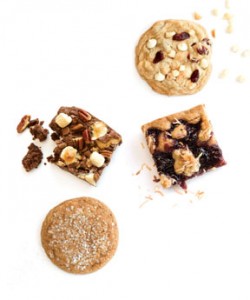 Basic Cookie Dough
1 cup butter, softened
3/4 cup granulated sugar
3/4 cup packed light brown sugar
1/2 tsp. baking soda
1/4 tsp. salt
2 large eggs
1 tsp. vanilla extract
2 1/2 cups all-purpose flour
Put butter, granulated and light brown sugar, baking soda and salt in a large bowl. Beat with mixer on medium speed for 3 minutes or until fluffy. Beat in eggs and vanilla until well blended. Reduce mixer speed to low; gradually beat in flour until blended. Divide dough in half (about 1 3/4 cups per portion). Prepare each portion as directed in recipes. For bars, use a 9 inch pan lined with foil that extends above the pan on opposite sides. Bake 350 degrees.
Berry Crumb Bars
Pat 1 1/4 cups dough over bottom of prepared pan. Blend 1/2 cup dried cranberries and 1/3 cup raspberry preserves in a small bowl. Spread on dough to within 1/2 inch of edges of pan. Add 1/4 cup each coconut and chopped pecans to remaining 1/2 cup dough. Break off small pieces and place randomly on cranberry mixture. Bake 25 to 30 minutes until top is browned.
Chocolate Toffee Brownies
Add 6 oz. melted and cooled chocolate to 1/2 recipe basic cookie dough. Coarsely chop three, 1.4 ounce Skor bars. Add 2/3 of the chopped candy bars to dough mixture and spread in pan. Combine remaining candy bars, 1/3 cup each milk chocolate chips and chopped pecans and 1/4 cup mini marshmallows. Sprinkle over dough. Bake 20 to 25 minutes or until done.
Spicy Snickerdoodles
Combine 1/2 recipe basic cookie dough with 3 Tbsp. cornmeal, 2 Tbsp. molasses, 1 tsp. cinnamon, and a 1/2 tsp. each of nutmeg and ginger. Chill. Shape dough into balls and roll in sugar. Bake 8 to 10 minutes.
Cranberry White Chocolate Macadamia Nut
To one portion (1/2 recipe) basic cookie dough, add 1/2 cup each chopped macadamia nuts, Craisins and white chocolate chips, and 1/4 cup coconut. Bake 12 to 15 minutes.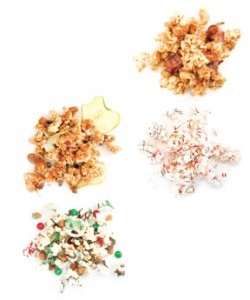 Basic Caramel Corn
12 cups popped popcorn
1 -14 oz.bag Kraft caramels
2 Tbsp. butter, melted
1 Tbsp. water
Preheat oven to 300°F. Spray large baking sheet with cooking spray. Melt caramels, butter and water in a microwave safe bowl for 2-3 minutes, stopping and stirring after each minute. Toss with popcorn to coat. Spread onto prepared baking sheet. Bake 20 min., stirring after 10 min. Spoon onto sheet of waxed paper; cool completely. Break into clusters.
Apple Pecan Caramel Corn
Remove  basic caramel corn from the oven and let set for 2-3 minutes. Sprinkle 1 cup each of cinnamon chips, Heath toffee bits, whole pecans and dried apple chips onto slightly warm popcorn.  Allow to cool and break into bite sized pieces.
Spicy Bacon and Cashew Caramel Corn
Prepare basic caramel corn recipe, adding 1/4-1/2 tsp. cayenne pepper to melted caramel. Sprinkle 3/4 cup roasted whole cashews and 10 oz. cooked and chopped bacon onto popcorn; toss and bake as directed.
Pink Peppermint Popcorn
Pulse 8 large candy canes in a food processor until finely crumbled. Melt 12 oz. white chocolate, adding 1/3 cup of the crushed candy canes. Toss with 10 cups plain popcorn and spread on a large baking pan. Drizzle with melted chocolate and pink candy melts, and sprinkle with remaining candy canes. Break into pieces.
Christmas Party Corn
Dip12-15 mini pretzels into 1/2 cup melted white chocolate and sprinkle with red or green sugar. Let dry. Spread 8 cups plain popcorn on greased baking sheet. Sprinkle with 1/2 cup each honey roasted peanuts and green and red M&Ms. Drizzle with 1/2 cup melted chocolate candy melts. Sprinkle with salt. Drizzle with 1/2 cup red or green candy melt. Sprinkle with decorative sugar or nonpareils. Cool and break into pieces.