Meet Your Neighbor: Barbro Eastling
Imagine what it would be like to travel to another country without knowing anyone and with nothing but one suitcase and a twenty-dollar bill in your wallet. For many of our ancestors, this tale rings true as their first trip to America. For 89135 resident Barbro Eastling, it's exactly how she entered her new home in the United States in 1966.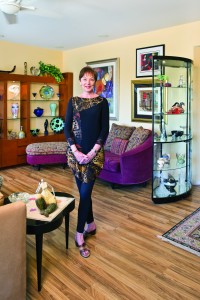 By: Callie Thomas
Barbro grew up in Western Sweden with two younger brothers. At the age of fourteen a teacher encouraged her to contact a pen pal in order to refine her English skills. Not only did Barbro become fluent in English, she has remained friends with her pen pal to this day. In her early twenties she made the trip to America by securing a position as an au pair in Los Angeles. Eventually she took a position with the Swedish Consulate there, and served as the Swedish Consul to fifteen Western U.S. States for thirty years. During that time she met and married her husband Wendell and was welcomed by his son and daughter into the family. In 1992 she proudly became an American citizen.
A few years (and earthquakes) later, the family moved to Las Vegas. Barbro wanted to become involved in her new hometown and discovered the Women's Club of Summerlin (WCS). After a luncheon with members of the organization, Barbro became a member in 2000 and has been very active ever since. Using her meticulous organizational skills and creativity, she continues to chair and co-chair on the many raffle/silent auction committees for the group's Annual Charity Event. For all of her efforts, Barbro Eastling was given the WCS 2013 Award of Excellence. She talks about her work with the group, coming to America and being a consul to so many other newcomers to the United States.
What was it like when you first came to America?
"When I look back at my life I am proud of the fact that I was brave enough to move to the United States. I had not travelled at all before and it was actually my first time on an airplane. All I thought was Stockholm to Los Angeles, here I come!"
Your work with the Consulate General of Sweden must have been memorable.
"Since the Internet, cell phones and email did not yet exist, my job was to assist Swedish citizens as a contact link with their families in Sweden in case of emergency. This involved everything from Swedes in hospitals, runaways, jail and death cases. I never knew what the day would bring. I met many interesting people during that time: royalty, government officials, actors and artists. Several times I would help organize their official visits. I think it made me become what I am today."
Tell us how you became involved in the Women's Club of Summerlin.
"I had heard about WCS and the work they do to benefit women and children in the community. I felt that this would be a new challenge for me. I had never been involved in fundraising before I moved here."
What is your role within the organization?
"I have chaired and co-chaired the auction committees to benefit our Annual Charity Event for many years, organizing and coordinating all the donations. I have also been in charge of special fundraising events and fashion shows for the Dare to Dream program, which provides grants to local women who are trying to better their lives. I've also volunteered in a variety of places including cooking dinners at Ronald McDonald House and assisting at charity sports."
Any other organizations where you are involved?
"I am a founding member of SWEA, Swedish Women's Education Association, a global networking group that gives grants to women in a variety of fields. There are now 73 chapters around the world and 7,500 members. Knowing that you can make a difference is very important to me and it is so rewarding."