For the Love of Food: Breaking Out of its Shell…Eggs for Any Meal
By Aly Wagonseller
As sure as the rooster cock-a-doodle-doos, eggs have been a mainstay ingredient on most American breakfast tables for decades – and for good reason! Besides having amazing flavor and versatility, these perfect little packages of protein, healthy fats and essential vitamins satisfy hunger, are relatively inexpensive and pack serious nutritional punch over many of their carbohydrate laden competitors. Still, it wasn't long ago that our friend the egg suffered from major public relations setbacks. New research has finally debunked many of the myths associated with egg consumption and elevated cholesterol, liberating our menu planning restrictions and allowing us to drop the guilt and include them in our diet any time of the day.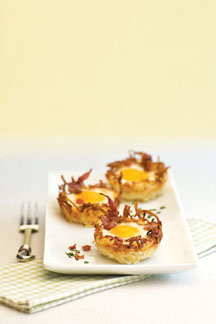 Although eggs are high in cholesterol, studies have shown that our mere consumption of that particular substance doesn't necessarily produce the fatty residue that clogs our arteries. Place the blame on saturated and trans fats for that phenomenon. The reality is that eggs are one of the purest forms of protein in the food chain, allowing us to absorb 94% of their nutrients for easy digestion and immediate use in our bodies. This includes good stuff like choline, a nutrient linked with preserving memory, and lutein and zeaxanthin, both attributed to protecting against vision loss. You're even more apt to lose weight cracking that egg in a pan for breakfast than eating cereal or chowing on carb heavy staples like bagels or toast.
With all the good news on eggs, there's no reason to limit them to the a.m. hours either.  Recipes like Cilantro Chile Pesto Frittata, Egg Baskets with Maple Proscuitto, Israeli Eggs Poached in Spicy Tomato Sauce or Knife and Fork Mediterranean Egg Salad Sandwiches will see to that. So make friends with the hen and get crackin'!  Your body and taste buds will thank you for it.
Israeli Poached Eggs in Spicy Tomato Sauce
Serves 4 to 6
1/4 cup olive oil
4 Anaheim chiles, stemmed, seeded and finely chopped
1 small yellow onion, chopped
5 cloves garlic, crushed then sliced
1 tsp. ground cumin
1Tbsp. paprika
1 28 oz. can whole peeled tomatoes, undrained
Kosher salt to taste
6 eggs
1/2 cup feta cheese, crumbled
1 Tbsp. chopped flat-leaf parsley
Warm pitas or crusty bread, for serving
Heat oil in large skillet over medium-high heat. Add chiles and onions and cook, stirring occasionally, until soft and golden brown, about 6 minutes. Add garlic, cumin and paprika and cook, stirring frequently, until garlic is soft, about 2 more minutes.
Put tomatoes and their liquid into a medium bowl and crush with your hands. Add to skillet along with 1/2 cup water, reduce heat to medium and simmer, stirring occasionally, until thickened slightly, about 15 minutes. Season sauce with salt.
Crack eggs over sauce so that eggs are evenly distributed across sauce's surface. Cover skillet and cook until yolks are just set, about 5 minutes. Using a spoon, baste the whites of the eggs with tomato mixture, being careful not to disturb the yolk. Sprinkle with feta and parsley and serve with bread for dipping.
Recipe Adapted from Saveur
Eggs in a Basket with Maple Prosciutto
6 servings
1 bag Simply Potatoes fresh hashbrown potatoes
1/2 stick unsalted butter, melted
Kosher salt and freshly cracked black pepper
6 slices prosciutto, about 2 1/2 oz, chopped
2 Tbsp. maple syrup
6 eggs
3/4 cup shredded provolone
Preheat oven to 350 degrees. Spread hashbrowns in a thin layer on paper towels and dry thoroughly. Add the potatoes to a large bowl, stir in the melted butter and season well with salt and pepper to taste.
Spray a six cup, jumbo sized muffin tin lightly with nonstick cooking spray. Press the grated potatoes evenly into the cups being sure the potatoes go up the sides covers the bottom in a thin layer. Bake until the top edges turn light golden brown and the potatoes are cooked through, about 35 to 40 minutes. Meanwhile, in a small bowl, toss together the prosciutto with maple syrup and a few grinds of freshly ground black pepper. Set aside.
Remove the potatoes from the oven and gently crack an egg into each cup. Bake until the egg whites set but the yolk remains runny, about 6 to 8 minutes. Remove from the oven and set the oven to broil. Top the eggs with grated cheese and put the maple prosciutto on another sheet tray. Broil both until cheese melts, and prosciutto crisps slightly, about 1 minute. Top the eggs with crispy prosciutto and serve immediately.
Recipe from Sunny Anderson, Foodnetwork.com
Cilantro Pesto Frittata 
Serves 2-4
2 large cloves garlic
1/2 cup + 1 Tbsp. extra virgin olive oil
2 Tbsp. fresh lemon juice
1 small bunch cilantro
1 serrano chile, seeds removed
1/4-1/2 tsp. ground cumin
6 large organic eggs
1/2 small yellow onion, chopped
2 small purple or white potatoes, sliced very thin
1/2 cup yellow zucchini
1/4 cup goat or feta cheese, crumbled
1/4 cup pumpkin seeds, toasted
Salt
Preheat oven to 450F degrees. Prepare the cilantro chile pesto by pureeing garlic, ½ cup olive oil, lemon juice, cilantro, chile, cumin and salt until very smooth. Taste and add more salt if needed. Set aside.
In a medium bowl, whisk the eggs with a small pinch of salt. Set aside. In a 8 1/2-inch ovenproof nonstick skillet, heat remaining tablespoon of olive oil over medium-high. Add onion and another pinch of salt. Saute, stirring constantly, until the onion starts to brown, 5 – 7 minutes. Add the potatoes and zucchini, cover and cook until tender, about 3-5 minutes. Slide everything out of the skillet onto a plate and set aside.
Using the same skillet, add the egg mixture and cook over medium-low heat, running a spatula underneath the sides of the frittata and tilting the pan to allow uncooked egg to run to the underside to cook.  Cook until the eggs are just set and very little liquid remains. Drizzle the eggs with a few tablespoons of the cilantro pesto and sprinkle the potato onion mixture over the top. Bake for about nine minutes, or until set and puffy. Crumble cheese and sprinkle pumpkin seeds over the top of the frittata in the final two minutes of baking. Cut into wedges and serve.
Recipe adapted from 101Cookbooks.com
Fork and Knife Mediterranean Egg Salad Sandwich
Serves 2-4
8 hardboiled eggs
½ cup mayonnaise
1 tsp. yellow mustard
¼ thinly chopped green onion
¼ tsp. smoky paprika
Salt and pepper to taste
1-2 Tbsp. olive oil
Garlic salt
Trader Joe's Red Pepper/Eggplant Garlic Spread
Leaf  lettuce
Ciabatta bread
Combine eggs, mayo, mustard, onion and paprika. Season with salt and pepper to taste and refrigerate for at least one hour.
Slice bread into thick slices.  Brush with olive oil, sprinkle with small amount of garlic salt and grill until warm through.  Cool bread slightly and then coat with a generous amount of red pepper/eggplant spread. Top pepper mixture with a few slices of leaf lettuce.  Scoop egg salad mixture over the lettuce.  Garnish with additional paprika if desired.