Where Are They Now?: Bryce Smith
Sierra Vista High School
Class of 2008
This lover of numbers went on to study engineering and math at Northern Arizona University and still maintains the same drive and love for the moment that he had when we met him in high school. He currently lives in Flagstaff and works for a leading supplier of tissue, personal care, and forest products. He credited Las Vegas for challenging him and preparing him for his destined future, and discussed with us how his outlook has changed since graduation day.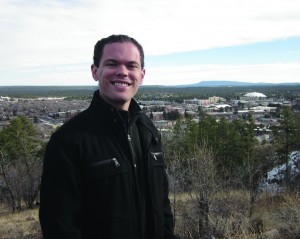 Where are you currently living?
I am currently living in Flagstaff, Arizona.
What field are you working in and how did you end up doing what you're doing?
I am working as an operations support at SCA, which is one of the world's leading suppliers of tissue, personal care, and forest products.
What achievements/recognitions are you most proud of since graduation?
After Sierra Vista High School I studied at Northern Arizona University, where I earned my bachelors degree in Mechanical Engineering with a minor in Mathematics.
Are you married? Children? Pets?
I am currently single and have no pets. However, my roommates have 2 dogs and a cat.
How did growing up in Henderson/Las Vegas have an impact on the person you are today?
The opportunities that I have had growing up in Las Vegas have helped me be ready for the challenges of life in the future.
Has your outlook on life and/or work changed since high school? If so, how?
I am just beginning to understand to not take life for granted and enjoy every experience given. There is no way of knowing what will happen tomorrow so take pleasure in the world today.
How did you feel when you were featured as A Step Above and what kind of feedback did you receive?
I was thrilled being featured as A Step Above Student. Every person that has been interviewed greatly deserved this honor. My family and friends were proud that I was a part of it.
Favorite Quote to Live By:
"How often do we try to cross off the days and wait for "the next big thing" or our "next day off?" Our time is limited here, so let's not waste any day. Find enjoyment even in your hardships and mundane tasks. It's all part of the experience." -April Cheung