Where Are They Now?: Carolyn Linck
Coronado High School
Class of 2007
Although in her A Step Above profile, Carolyn described herself as "shy" and "reserved," it doesn't show in her position as a public relations Account Executive at a technology-focused agency in the Bay Area! Maybe it was her experience studying in South Africa, or cheerleading and participating in Greek life at her alma mater, Santa Clara University that brought her out of her shell! Whatever it was, it didn't shadow her true strength – multi-tasking – as she managed to graduate Magna Cum Laude (with distinction) with two majors and a minor.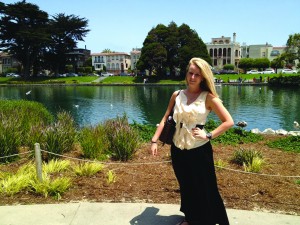 Where are you currently living?
I've been living in San Francisco since the summer of 2012.
What field are you working in and how did you end up doing what you're doing?

I work at a global public relations/communications agency, primarily serving technology clients. In college, I double majored in history and communications and knew I wanted a job that involved a lot of writing, critical analysis and interpersonal communications. I found just that after graduating from Santa Clara University in June 2011 when I received my first job offer from a PR agency.
What achievements/recognitions are you most proud of since graduation?

I was extremely fortunate to have an excellent college career while at Santa Clara, filled with opportunities to grow intellectually, personally and spiritually. I'm very proud that I was able to graduate Magna Cum Laude with two majors and a minor in four years – all while holding down an on-campus job, completing an internship, studying abroad in Cape Town, South Africa, participating in Greek Life and representing SCU as a cheerleader. Since starting my professional career, I've been able to put everything I learned at Santa Clara into practice, particularly the time management skills I first developed while a student at Coronado High School.
Are you married? Children? Pets?
No – I'm currently single and live with two roommates. While I don't have pets in San Francisco, I truly love and miss my three dogs, who live with my parents in Henderson.
How did growing up in Henderson/Las Vegas have an impact on the person you are today?
People are always surprised when I tell them I was born and raised in Las Vegas, and I've definitely found it to be a good conversation starter. While there are certain aspects of this city that are unquestionably unique, I think my parents would have raised me the way they did whether we were in Henderson or Hong Kong, and I can honestly only thank them and the rest of my family for making me the person I am today.
Has your outlook on life and/or work changed since high school? If so, how?
I think people grow up a lot during their twenties, becoming more independent and gaining a new perspective on the world. Through my studies, the people I've met and the places I've traveled, I have learned so much. More than any other experience, I think my semester studying abroad in Cape Town truly showed me how big the world is and how narrow my experience in it had been to that point. There are so many people out there with problems and triumphs that I had never even imagined. Seeing those things first hand and developing friendships with people of such different backgrounds definitely changed my worldview forever.
How did you feel when you were featured as A Step Above and what kind of feedback did you receive?
I feel like it's been so long now, but I can remember being really honored to be chosen for "A Step Above." Some teachers and adults I knew told me they saw the story and congratulated me, which was really neat. I was – and still am – very grateful to have been profiled by the magazine.
Favorite Quote to Live By:
"For what it's worth: it's never too late, or in my case, too early to be whoever you want to be. There's no time limit, stop whenever you want. You can change or stay the same; there are no rules to this thing. We can make the best or the worst of it. I hope you make the best of it. And I hope you see things that startle you. I hope you feel things you never felt before. I hope you meet people with a different point of view. I hope you live a life you're proud of. If you find that you're not, I hope you have the strength to start all over again." – The Curious Case of Benjamin Button