Where Are They Now?: Carter Jones
Coronado High School
Class of 2007
After graduating Summa Cum Laude from Samford University with a Bachelor's degree in Business Administration and getting a Master of Arts degree in Policy Economics, Carter has returned to Henderson to pursue a unique and challenging position with the Station Casinos as an operations analyst. Just like when we interviewed her as she graduated from high school, Carter still puts people and virtue above all else. She remembers how her move to our community changed her life.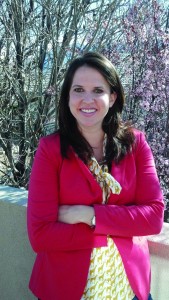 Where are you currently living?
I moved back to Henderson this past May after six years of school in Birmingham and New Orleans. Since my parents no longer live in town, I have a great opportunity to get to know Las Vegas as an independent young adult. The most exciting thing about being back home is seeing the revival of downtown. Las Vegas seems to be developing a new cultural identity outside of suburbia and the strip, and I love that young adults are at the forefront of creating this community and infusing new energy into the city.
What field are you working in and how did you end up doing what you're doing?
I am working in the gaming industry; specifically, I am an operations analyst for a casino in town. After I finished my masters in May, I wanted to find a job where I could use my economics, mathematics, and analysis skills. In high school, I never pictured myself working in gaming; however, I now consider myself extremely blessed to work in such a unique, fun, and challenging industry where I can learn and grow professionally.
What achievements/recognitions are you most proud of since graduation?
I graduated from Samford University summa cum laude with a Bachelor's of Science in Business Administration degree. Two years later, I earned my Master of Arts degree in policy economics. While I excelled in school, I am most proud of the friendships that I developed while in college and graduate school; they are relationships that I believe I'll have for the rest of my life.
How did growing up in Henderson/Las Vegas have an impact on the person you are today?
When I moved to Henderson during high school, I experienced an initial welcoming and friendliness from my classmates and teammates that I never expected. A town is all about its people, and in my experience, I have met some of the most genuine, kind, and fun individuals while living in Henderson. I made incredible friends who, despite their own busy schedules, were willing to invest time into getting to know me. Las Vegas is a city of 'transplants,' people from elsewhere looking for a place to fit in. My friends from Coronado High School showed me what it means to really care about a person and what it takes to develop deep friendships.
Has your outlook on life and/or work changed since high school? If so, how?
My outlook on life has changed from focusing on 'what I do' to 'who I am.' In high school, I thought that success in life was defined only by what I could become. Jobs change and hobbies become boring but who I am, what I stand for, and who my friends are remain throughout life.
And when my life is over, I don't want people to remember me for some laundry list of my accomplishments and jobs; I want them to recall that I treated people with respect and kindness and had strong values and integrity. Living a happy life isn't only about achieving great professional success, but instead it's about having a positive influence on those around you every day.
How did you feel when you were featured as A Step Above and what kind of feedback did you receive?
I felt very honored to be featured as 'A Step Above'; it was a goal of mine in high school to make the magazine as a student, and my friends and family were all proud of me. The best feedback I received after the magazine came out was from my parents: I was allowed to be excited about the article for only a few days, but I couldn't rest on my laurels. I used the article as motivation to work harder and accomplish more. Every day is a chance to fulfill another goal and push toward becoming a better person.
Favorite Quote to Live By:
"Courage is not simply one of the virtues, but the form of every virtue at the testing point."
-C.S. Lewis