Meet Your Neighbor: Debbie Roxarzade
By: Callie Thomas
Restaurateur and Las Vegas neighbor Debbie Roxarzade has the recipe for success.  The 89135 resident is the founder and developer of the popular Rachel's Kitchen franchise, which has grown to five locations in Las Vegas with another slated to open in the McCarran Airport D Gates at the end of this year.  Not only has she set a trend in fresh, wholesome food with a gourmet twist, she's used her success to support a variety of non-profit organizations that impact our community.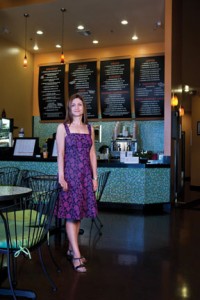 Roxarzade's been in the restaurant industry for nearly 20 years, turning her passion for cooking into owning and operating multiple dining venues both in Los Angeles and Las Vegas.  What started with a small coffee shop in L.A. has grown into a popular franchise now in Las Vegas featuring sandwiches, salads, pastas and more to please every palate.
Debbie has always felt it was important to give back for the successes she has attained, and it has been a priority in her hometown since moving to the community seven years ago.  She is a Board member of the Court Appointed Special Advocates or CASA Foundation, which identifies and funds the needs of abused and neglected children in foster care.  She's also donated to several organizations including Three Square, Smiles for Survivors, Communities in Schools, Baby's Bounty and St. Balderick's Foundation. Roxarzade and the Rachel's Kitchen franchise owners have also come together to create a website that offers information to online guests about the various organizations they support throughout the year and to educate visitors about the impact of these non-profits in the community at www.friendsofrachels.com. Debbie Roxarzade gives us an inside look at Rachel's Kitchen and tells us why she feels giving back is so important.
How did the concept of Rachel's Kitchen come about?
"It is actually named for my daughter Rachel.  Rachel's Kitchen has many of the same menu items from my restaurants in Los Angeles.  I had a vision that this café would be warm and inviting where people would feel comfortable and want to return."
What do you think makes it so special? 
"It's where people can eat regularly and find something different to try.  We pride ourselves on wholesome food and delicious recipes that are easy to enjoy."
What are the challenges (and rewards) of developing a franchise compared to a stand-alone restaurant?
"The challenges are that I need to relinquish some control, while the rewards are watching something that I created grow and expand in the hands of others."
Is opening a restaurant at McCarran Airport different then a neighborhood franchise?
"It's been a learning experience. It's definitely more challenging and different than a regular storefront. I am proud to say I am now an official airport badge holder.  I am still finalizing the menu as a grab & go location but we will have many of the same smoothies and juices, salads and sandwiches."
Why are you so passionate about giving back?
"For me and my family, giving back means being thankful for all the things we have in life and remembering those who are less fortunate- especially children.  I am trying to teach my children daily to be grateful for what they have, and to understand the challenges that some children face. I try to include my children in some of the events that I do so they can see how they can personally make in impact in the lives of others. It's heartbreaking for me when I meet these children who don't have a stable home life.  I want to do whatever I can to help them."
What accomplishments are you most proud of?
"My strong marriage to my husband Jon and raising my two children Rachel and Ryan while building my business."
How do you unplug after a busy day?
"Dinner with my family and a glass of Pinot Noir.  We talk about our favorite and least favorite parts of our day."
1 Comment