For the Love of Food: Dinner on the Patio – Summertime Meals… Alfresco Style
By Aly Wagonseller
Summertime and the livin' is easy… especially when the sun goes down.  Unlike daylight hours when work, kids and blistering conditions all take their toll, evening is a time when the scorching heat of the day has tempered, tepid waters of the swimming pool beckon for a twilight soak or float and a casual sense of relaxation and escape from the stresses of the day settles in. What better way to extend the carefree vibe of a gorgeous summer night than by enjoying a simple yet flavorful dinner outdoors.
It doesn't take much to make your alfresco dining experience special; the treat of eating in the peaceful setting of nature as opposed to in front of a blaring TV or in the back seat of the car takes care of that formality. But a few easy ideas can make for a fuss free yet memorable ambiance your family will appreciate. Candles, tiki torches and mini white lights are simple lighting solutions that make a huge statement with little effort. Try placing candles in bowls, jars, flower pots and vases of varying size, shape and color for an eclectic look. Citronella candles do double duty for pesky insects, but don't overdo them as the smell can be a real turn off at the dinner table. Ditch paper and plastic; disposable plates and silverware are great for a big crowd or rowdy pool party, but the genuine article conveys a vacation resort feel that suggests a family getaway in the making.  Finally, music is a must. Whether you choose Rock Lobster party tunes, the reggae and island beat or soft jazz doesn't matter. The idea is to create a chill atmosphere that encourages relaxation, conversation and a desire to hang out and unwind.
Outdoor dining doesn't need to wait for the weekend! With easy recipes that marinate while you're on the daily run and cook within a half hour or less, you can make any summer evening a special event – alfresco style.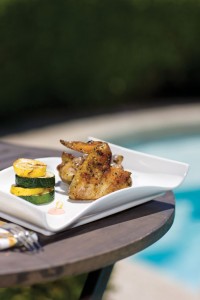 Lemon Yogurt Chicken with Harissa Sauce
Serves 6
Chicken Marinade
1/2 cup plain low-fat Greek yogurt
1/2 lemon, juiced
1 Tbsp. lemon zest
1 Tbsp. olive oil
4 cloves garlic, crushed
1 Tbsp. paprika
1 tsp. Herbes de Provence
1 tsp. salt
1 tsp.  ground black pepper
1 (5 pound) whole chicken, cut into 8 pieces
Harissa Sauce
1/2 cup plain low-fat Greek yogurt
1 Tbsp. lemon juice
1 tsp. harissa
1 pinch salt
Combine harissa sauce ingredients and set aside.
Whisk together the first nine ingredients of the chicken marinade. Pour into a resealable plastic bag. Add chicken, coat with the marinade, squeeze out excess air, and seal the bag. Refrigerate for at least 3 hours.
Preheat an outdoor grill for medium-high heat, and lightly oil the grate. Remove chicken from bag and transfer to a plate or baking sheet lined with paper towels. Pat chicken pieces dry with more paper towels. Season with pinch of salt. Grill chicken, skin-side down, on the preheated grill for 2 minutes.
Turn each piece and move to indirect heat. Grill, turning often, with lid down until well-browned and meat is no longer pink in the center, 30 to 35 minutes. Serve with yogurt harissa mixture on the side.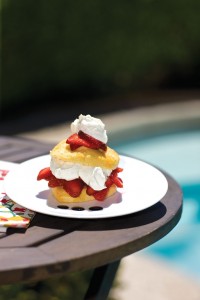 Strawberry Shortcakes with Balsamic and Black Pepper Syrup
Serves 8
Biscuits
2 cups all purpose flour
5 Tbsp. sugar, divided
2 1/2 tsp. baking powder
1/4 tsp. salt
1/2 cup chilled unsalted butter, cut into 1/2-inch cubes
1 cup chilled heavy whipping cream
1 large egg, beaten
Filling
8 cups fresh strawberries, hulled and quartered
6 Tbsp. sugar, divided
3 Tbsp. balsamic vinegar
1 large pinch freshly ground black pepper
1 cup chilled heavy whipping cream
1 tsp. vanilla extract
Make biscuits by preheating oven to 425°F. Line baking sheet with parchment paper. Place flour, 4 Tbsp. sugar, baking powder and salt in processor. Using on/off turns, process to blend. Add butter; cut in using on/off turns until butter resembles large peas, about five 1-second intervals. Add cream; using on/off turns, process until moist clumps form. Transfer dough to lightly floured work surface. Gather dough into ball; flatten into 8 x 4-inch rectangle (about 1 1/4 inches thick). Cut lengthwise in half, then crosswise into 4 equal strips, forming 8 square biscuits. Transfer biscuits to prepared baking sheet and chill 20 minutes. Brush top of biscuits with egg glaze; sprinkle with remaining sugar. Bake until biscuits are golden brown, about 15 minutes. Transfer to rack and cool.
Mix strawberries, 5 Tbsp. sugar, vinegar and black pepper in medium bowl. Let macerate 30 minutes, stirring occasionally. Using electric mixer, beat cream, vanilla and remaining sugar in another medium bowl until peaks form.
Cut biscuits horizontally in half. Place bottom half of each biscuit, cut side up, on plate. Using slotted spoon, divide strawberries among biscuits. Spoon dollop of whipped cream atop strawberries. Cover each with top half of biscuit. Drizzle some of juices from strawberries around shortcakes.
Recipe from Bon Appétit Magazine.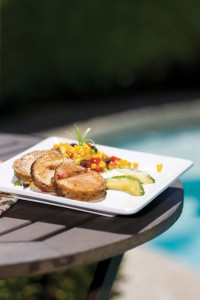 Grilled Chipotle-Stuffed Pork Tenderloin
Serves 6-8
 2 – 15-ounce pork tenderloins
2 Tbsp.  finely chopped canned chipotle chiles
1 Tbsp. adobo sauce from the canned chilies
1 pound bacon
1/4 pound Manchego cheese, cut into chunks
1/3 cup plain whole-milk yogurt
1 Tbsp. olive oil
1 tsp. ground cumin (more to taste)
Avocado slices or guacamole
Prepare barbecue to medium heat. Place tenderloins on work surface. Starting at 1 long side, cut each horizontally to within 1/2 inch of opposite side. Open like book and sprinkle with salt. Spread 1 Tbsp. chopped chiles and half the cheese down center of each tenderloin. Close tenderloins, pressing to adhere, and sprinkle with salt. Wrap tightly with bacon slices, using toothpicks to secure ends if necessary.
Whisk yogurt, olive oil, cumin and adobo sauce in small bowl to blend. Transfer tenderloins to plate and brush each heavily with some yogurt sauce. Set tenderloins aside for 15 minutes. Brush grill rack with oil. Grill tenderloins, brushing occasionally with remaining yogurt sauce, until just cooked through and thermometer inserted into thickest part of meat registers 145°F, about 10 minutes per side. Transfer tenderloins to platter. Let stand 5 minutes, then cut crosswise into 1/2-inch-thick slices. Serve with avocado or guacamole.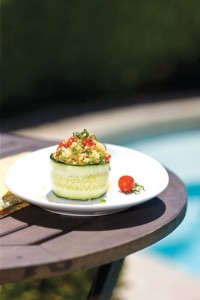 Tomato Basil Couscous Salad
Serves 6
 2  1/4 cups chicken broth
1 – 10 oz package couscous
1 cup green onions, chopped
1 heaping cup seeded plum tomatoes, diced
1/3 cup thinly sliced fresh basil
1/2 cup olive oil
1/4 cup balsamic vinegar
1/4 tsp. dried crushed red pepper
Cherry tomatoes for garnish
Bring broth to boil in medium saucepan with lid. Add couscous, stirring to blend, and remove from heat. Cover and let stand 5 minutes. Transfer to large bowl, fluff with fork and let cool.
Combine remaining ingredients,  except garnish, into the cooled couscous. Season with salt and pepper.  Chill to blend flavors. Garnish and serve.