For the Love of Food: Eating Healthy – The Mediterranean Way
By Aly Wagonseller
There's been plenty of buzz about the Mediterranean Diet lately. Based on the food choices of people from the 1960s living on the Greek island of Crete, the rest of Greece and Southern Italy, the plan has been touted by US World News as one of the three best diets for losing weight and maintaining a healthy heart and lifestyle.
It's not really a diet per se, but more a lifestyle change that deviates from eating fatty meats, processed sugars and other terrible things the typical American might pile on his plate. The Mediterranean way encompasses plenty of oily fishes like sardines, mackerel and salmon; plant based fruits and vegetables including kale, spinach, avocados and tomatoes; and a healthy dose of nuts and olive oil for optimum fat intake. Pasta, grains, beans and breads are in, with red meat limited to one or two T-bones a month at best. One to two glasses of red wine a night is also A-okay; while not a necessity, it helps make this method of dining both enjoyable and flexible in terms of entertaining and eating out.
The "diet" is beneficial for the diverse health needs of both men and women. Scientifically proven to be good for the heart due to lower saturated fat intake and higher fiber content, the eating plan is rich in potassium and iron, a combination that supports muscle development, lower blood pressure and keeps anemia at bay. A recent study observing more than 1.5 million adults who ate a Mediterranean style diet also reported reduced rates of cancer and cancer mortality, as well as a reduction in the number of cases of Parkinson's and Alzheimer's diseases. Good news for a diet that allows for some tasty options!
Get on your way to a living a healthy lifestyle with menu mainstays that include a tasty spinach and olive Greek Lasagna, Lemon Thyme Salmon and Asparagus that's pretty enough to serve to company, or a delicious grilled veggie Fattoush salad. Finish your meal with baked peaches with citrusy cardamom and honey ricotta filling for a yummy way to fight off disease and excess baggage the Mediterranean way!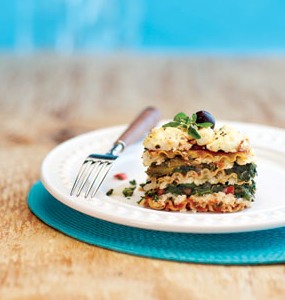 Greek Vegetarian Lasagna
Serves 8-10
1 lb. whole wheat lasagna noodles
2 Tbsp. extra virgin olive oil
1 onion, diced
4 cloves garlic, minced
2 – 10 oz. packages frozen chopped spinach, thawed, excess liquid squeezed out
2 medium zucchini, sliced
1 tomato, chopped
1 tsp. ground oregano
1 – 16 oz. jar marinara sauce
1/2 cup kalamata olives, sliced
1 cup part-skim ricotta cheese
2/3 cup crumbled feta cheese
1 egg, beaten
Freshly ground black pepper
Preheat oven to 350 degrees. Cook lasagna noodles until still a little chewy in the middle (more firm than al dente). Set aside to drain. Meanwhile, in a large skillet, heat olive oil over medium heat and add onion. Sauté three minutes. Add garlic and oregano, sautéing for two minutes more. Add the zucchini and sauté until beginning to soften, another two minutes. Add the spinach, chopped tomato and all but ½ cup of the bottled marinara sauce, reserving the plain tomato sauce for the topping. Cook one minute. Turn off heat, cover, and set aside.
In a medium bowl, mix the egg, ricotta, and feta cheese and a generous amount of black pepper. In a 13 x 9 inch baking pan, spoon a little of the spinach/sauce mixture into the bottom of the pan. Place a layer of the cooked lasagna noodles across this sauce. Ladle a generous helping of the spinach/sauce over this and spread 1/2 of the feta-ricotta mixture over the sauce. Sprinkle 1/4 cup of the kalamata olives over this. Repeat layering, finishing with ½ cup reserved marinara sauce and cheese. Sprinkle with oregano and pepper if desired.
Cover pan with aluminum foil and bake at 350 degrees for 20 minutes. Remove foil and cook uncovered for another 15 – 20 minutes until lasagna is bubbling and cheese is browned on top. Allow lasagna to rest for 20 minutes or so before serving.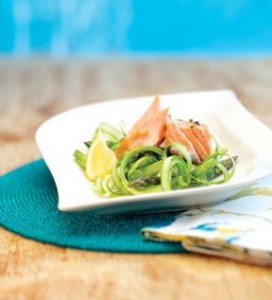 Lemon Thyme Salmon with Shaved Asparagus Salad
Serves 4
2 1/2 Tbsp. extra virgin olive oil, divided
4 – 6 to 8 oz. boneless salmon fillets, skin on
1 Tbsp. chopped fresh thyme
Juice and zest of 1 lemon
¼ cup finely chopped walnuts, toasted
1 pound fresh asparagu
Sea salt and freshly ground pepper to taste
1 Tbsp. grated Parmesan
4 lemon wedges
Preheat oven to 275 degrees. Line a rimmed baking sheet with aluminum foil. Brush with ½ Tbsp. oil. Place salmon fillets, skin side down, on prepared baking sheet. Mix 1 Tbsp. olive oil, thyme, and lemon zest in a small bowl. Spread thyme mixture over salmon fillets. Season with salt and pepper. Let stand 10 minutes to allow flavors to meld. Bake salmon until just opaque in center, 15 – 18 minutes.
Meanwhile, wash and snap the asparagus spears at their base. Upend a small bowl, place a spear on the flat bottom, and using a vegetable peeler, gently shave into long thin slices. Mix the lemon juice with remaining 1 Tbsp. olive oil and season with salt and pepper. Just prior to serving, toss the dressing with the walnuts and asparagus. Sprinkle with Parmesan and serve with salmon and lemon wedges.

Grilled Zucchini and Bell Pepper Fattoush
Serves 4- 6
3 medium orange or red bell peppers, stemmed, seeded, quartered
4 to 5 slender zucchini, cut lengthwise in half
2 – 6-inch pita breads, each cut horizontally in half
1/2 cup olive oil, plus more for grilling
1 – 8 oz. peeled cucumber, seeded and cut into 1/2-inch cubes
12 cherry tomatoes, halved
3 green onions, thinly sliced
1 cup (scant) pitted kalamata olives, halved
1/2 cup fresh mint leaves
1/3 cup chopped fresh cilantro
1/4 cup fresh lemon juice
1 tsp. ground cumin
4 oz. feta cheese, cut into 1/2-inch cubes (optional)
Ground sumac (optional)
Brush peppers, zucchini, and bread on both sides with oil. Sprinkle lightly with salt and pepper. Grill over medium heat until slightly charred and vegetables are just tender. Cool. Tear bread into 1-inch pieces.
Cut bell peppers and zucchini into 1/2-inch pieces. Place in large bowl. Add cucumber, tomatoes, green onions, olives, mint, and cilantro and toss to combine. Add bread pieces. Whisk 1/2 cup oil, lemon juice, and cumin in small bowl to blend. Season to taste with salt and pepper. Add dressing to salad; toss to coat. Add feta and gently mix into salad. Sprinkle with sumac if desired.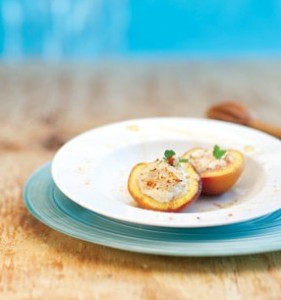 Baked Honey Almond Peaches
Serves 4-8
4 peaches, pitted and halved
2 Tbsp. honey
1/2 cup ricotta cheese
1/4 tsp. cardamom
1/4 cup almonds
Mint for garnish (optional)
Preheat oven to 400 degrees. With a small spoon, scoop out a portion of the peach center to create a small indentation. Arrange peach halves face up on parchment lined baking sheet. In a small bowl, combine ricotta, honey and cardamom. Spoon the honey/ricotta mixture into center of prepared peaches, dividing equally. Bake for approximately 15 minutes or until peaches are soft. Remove from oven.
Meanwhile, grind almonds in a food processor until coarsely ground. Gently toast in a skillet over medium heat until golden. Sprinkle almonds over baked peaches, serving with chopped mint if desired.