For the Love of Food: From Farm to Fork – Making the Most of Farmer's Market Finds
By Aly Wagonseller
There's nothing tastier than a fresh tomato straight from the garden. Sweeter, firmer and distinct in flavor, they run culinary circles around the more bland versions found at your local grocer. Other fruits, vegetables and herbs certainly follow suit, making the burgeoning trend of farmer's markets coming to our city a welcome sight for demanding cooks who settle only for the best.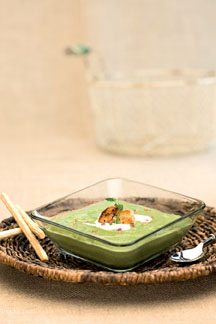 Farmer's markets signify an evolution born from America's desire to get back to basic food that's minimally processed, seasonally foraged and void of dangerous pesticides. Markets that include Downtown 3rd , Bet on the Farm at the Springs Preserve and Fresh52, with locations near Henderson and in Tivoli Village, allow the home cook to garner the same quality ingredients that celebrity chefs  like Mario Batali and Rick Moonen have been using for years. Naturally grown specialty citrus, fresh herbs or heirloom varieties of tomatoes, carrots, radishes and beets are the surprising secret to elevating simple recipes to sheer heaven on a plate, and now it's easier than ever to get your hands on them.
Still, for some cooks, an outing at the farmer's market can quickly turn into the kid in a candy store scenario, something that can waste both money and food if you're not careful. Plan your purchases based on the shelf life of the ingredients and the weekly food needs of your family.  Refrain from filling your basket with a glut of different varieties as well, sticking with what you know you'll use and buying only small quantities of that intriguing mystery produce you've been dying to try. Finally, have a menu plan in mind before you're off and running, making sure that herbs and items prone to speedy spoilage can be purposed in more than one recipe.
We've got some fresh and tasty dishes ready to make the most of your farmer's market finds.  From a veggie packed pasta to a stunning roasted beet and goat cheese salad, you'll see why the best of cooks believe that farm to fork is the only way to dine.
Spinach and Sweet Pea Soup with Mint Cream
Serves 6
2 small onions, coarsely chopped
1 leek, cleaned and chopped, white and pale green parts only
3 Tbsp. butter
2 cloves garlic, coarsely chopped
1 ¼ pounds fresh spinach, rinsed
2 ½ cups fresh or frozen petite peas
3 cups chicken stock
½ cup half and half cream
½ cup finely chopped mint
1 cup crème fraiche
¼ – ½ cup half-and-half
Salt and pepper
Garlic croutons and crisp pancetta
Prepare mint cream by combining mint, crème fraiche and enough half-and-half to reach desired consistency. Salt and pepper to taste.
In a large soup pot, sauté butter, onion and leeks over high heat, stirring occasionally to prevent onions from sticking until they begin to soften, about 10 minutes. Add garlic, lower the heat to medium and continue cooking for another 10 minutes until onions are translucent. Stir in spinach and sauté until wilted, about 5 minutes more. Add peas, stock and 1 Tbsp. of salt, bringing to a boil over high heat. Lower the heat and simmer, uncovered, for 10 minutes. Allow soup to cool for a few minutes, then puree in small batches with a food processor or immersion blender.
Serve hot or cold, garnishing with mint cream, croutons and pancetta.
Beet and Goat Cheese Salad with Pistachios
Serves 8
3 large red beets (1 2/3 lb without greens)
2 large golden beets (1 lb without greens)
¼ cup minced shallot
2 Tbsp. fresh lemon juice
¾ tsp. salt
¼ tsp. black pepper
¼ cup pistachio oil
4 oz. soft goat cheese
3 Tbsp. salted, shelled pistachios, coarsely chopped
Baby micro greens
Preheat oven to 425°F. Separately wrap red and golden beets tightly in double layers of foil and roast in middle of oven until tender, 1 to 1 ½ hours. Unwrap beets.
While beets are cooling slightly, whisk together shallot, lemon juice, salt and pepper in a small bowl, then add oil in a stream, whisking. When beets are cool enough to handle, slip off and discard skins. Separately cut red and golden beets into ¼-inch dice and put in separate bowls. Add 2 ½ Tbsp. dressing to each bowl and toss to coat.
Place a 2 ½ inch ring mold in center of 1 of 8 salad plates. Put one eighth of red beets in cutter and pack down with your fingertips. Crumble 2 tsp. goat cheese on top, then one eighth of golden beets, packing them down. Gently lift cutter up and away from stack. Make 7 more servings in same manner. Drizzle each plate with 1 tsp. dressing and scatter with some pistachios.
Toss micro greens with just enough remaining dressing to coat and gently mound on top of beets. Serve immediately.
 Farmer"s Market Pasta
4 servings
3 cloves garlic, peeled and finely sliced
2 pints cherry tomatoes, on the vine
¾ cup extra-virgin olive oil, plus more as needed
Kosher salt and freshly ground black pepper
1 pound penne or similar pasta
1 Tbsp. sugar
¾ pound Italian sausage, sliced2-3 small zucchini, sliced
2 globe artichokes, trimmed to the hearts, cut into quarters
¼ cup freshly grated Parmesan
¼ bunch fresh basil leaves
In a large heavy sauté pan, add the sliced garlic and the clusters of cherry tomatoes. Drizzle with the olive oil and season with salt and pepper. Put the pan over low-medium heat on the stove top and cook slowly until the tomatoes are just about falling apart and their juices have been extracted into the olive oil, forming a nice sauce, about 45 to 50 minutes.
Bring a large pot of salted water to a boil over medium heat. Add the pasta and cook until al dente. Reserve 2 to 3 clusters of roasted tomatoes for garnish. Discard the vine stems and puree or squash the remaining tomatoes in the pan, with a spoon, so you have nice chunky pieces of tomato in all the delicious tomato juice and olive oil. Stir in the sugar.
While sauce is cooking, in a large sauté pan, heat 2 Tbsp. olive oil and sauté the loose sausage until brown and caramelized. Remove and set aside on a plate while you cook the zucchini. To the same pan, add some more olive oil if needed and sauté zucchini until caramelized around the edges, about 2 minutes. Add the artichokes and cook for 2 to 3 more minutes. Add the sausage back to the pan and toss in pasta and the tomato mixture. Mix well over high heat to ensure everything is heated through and evenly coated.  Serve, sprinkle with Parmesan, basil leaves and top with a cluster of roasted cherry tomatoes.
Lemon Arugula Pizza
Serves 4
1 pound premade pizza dough
4 cloves garlic, sliced
5 sprigs fresh thyme
¼ teaspoon crushed red pepper flakes
3 cups grated Italian fontina cheese
1 ½ cups grated fresh mozzarella cheese
11 ounces creamy goat cheese, crumbled
1 cup olive oil, divided
¼ cup freshly squeezed lemon juice
Salt and freshly ground black pepper
8 ounces baby arugula
¼ cup pine nuts, lightly toasted
Remove dough from package and cut into four equal pieces. Form each piece into a small, round disk. Place on a floured surface, cover with a clean towel, and let rest for 30 minutes. While pizza dough is resting, combine ½ cup olive oil, garlic, thyme and red pepper flakes in a small saucepan and bring to a simmer over low heat. Cook for 10 minutes, making sure the garlic doesn"t burn. Set aside.
Preheat the oven to 500 degrees, or heat the barbecue to the same temperature. Stretch the dough, and form into four circles, each about 8 inches in diameter. Brush the pizzas with the garlic oil, and sprinkle liberally with salt and pepper. Sprinkle the pizzas evenly with fontina, mozzarella and goat cheese. Drizzle each pizza with 1 Tbsp. more of the garlic oil and bake or grill on a pizza stone for 10 to 15 minutes, until the crusts are crisp and the cheeses begin to brown.  Meanwhile, whisk remaining ½ cup of olive oil, lemon juice, 1 tsp. salt and ½ tsp. pepper until emulsified into a vinaigrette.
When the pizzas are done, place the arugula in a large bowl and toss with just enough lemon vinaigrette to moisten. Place a large bunch of arugula on each pizza and sprinkle with the toasted pine nuts. Serve immediately.