For the Love of Food: Give it a Twirl – Noodles with International Flair
By Aly Wagoneller
Whether twirled on a fork, slurped from a bowl or entwined within tiny fingers too small to navigate utensils, noodles are a mainstay ingredient in kitchens from Sicily to Beijing. It's really no wonder, considering pasta's remarkable knack for satisfying the hungriest of diners on a fraction of the total family grocery budget. But that's only half of their noodlicious appeal. The beauty of these silky strands of textural perfection lies in an ability to change their gastronomic personality with a simple swap of the saucepan.  Kid friendly, Ragu saturated cappellini takes on an exotic, Spanish influence when paired with mussels bathed in saffron infused broth.  A variety of meats, tofu and vegetables are the perfect noodle combination when dressed with the spicy hot, sweet and sour essence of Asian cuisine. Even plain olive oil, fresh herbs and a sprinkling of Parmesan cheese can transform this understated culinary canvas into a memorable work of art fit for family or friends.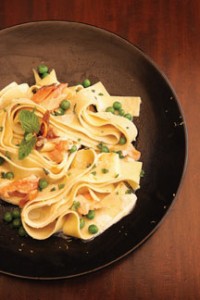 The importance of successfully executing even the simplest of noodle dishes stems from proper preparation. With the exception of certain rice and Thai sweet potato noodles that need only be soaked in hot water to soften, wheat based noodles require boiling water…and lots of it.  A good rule of thumb is to allow a minimum of 6 quarts of water for a pound of pasta. Use a large, wide pot if possible and have a fork or tongs available for stirring the noodles as they cook.  This will allow the noodles to circulate freely, preventing the pasta from clumping and sticking together.  DO add salt to the water once it's boiling. It greatly enhances the flavor of the pasta while only adding negligible amounts of sodium to the recipe as a whole.  But DON'T add oil to the cooking water or rinse noodles after they've been cooked if you're saucing and eating the pasta right away.  Adding oil or rinsing noodles prevents sauces from attaching to the pasta, leaving you with a lot of sauce at the bottom of a bowl of flavorless noodles.
More and more grocery stores are carrying an array of noodles that include soba, Udon, rice and gluten free varieties.  Be bold, mixing and matching noodles, toppings and international flavor profiles. Soon you'll be twirling a forkful of flavorful, filling and economic meals that are anything but boring. 
Thai BBQ Beef and Rice Noodle Salad
Serves 4
1 lb. flank steak, left whole
7 oz. thin rice noodles 
1 medium cucumber, seeded and thinly sliced
1 cup shredded carrots
1/4 cup chopped basil (Thai basil is best)
1/4 cup chopped fresh cilantro
1/2 cup thinly sliced red onion
1 Tbsp. soy sauce
1 Tbsp. honey
1/4 – 1/2 tsp. Asian chili garlic sauce (optional)
1 Tbsp. Asian fish sauce
1/4 tsp. salt
Soy, fish and sriracha sauces for garnish (optional)
         Lime Dressing 
1 Tbsp. Asian fish sauce
1/4 cup fresh lime juice
1/4 cup rice vinegar
1/4 cup sugar
½ tsp. salt
2 tsp. minced garlic
1/2 tsp. crushed red pepper flakes
Whisk together lime dressing. Set aside.  Cook noodles per package directions.  Rinse with cold water; drain well.  Add cucumber, carrots, basil, cilantro and onion.  Toss with lime dressing. Cover and refrigerate at least one hour to blend flavors.
Meanwhile, in a large zipper lock bag combine soy sauce, honey, chili garlic sauce, remaining fish sauce and salt.  Add steak and let marinate at room temperature for 30 minutes.  Heat a lightly oiled grill pan or BBQ over medium high heat until hot. Grill steak, turning once, until desired doneness, about 8-9 minutes for medium rare.  Let rest for 5 minutes; thinly slice across the grain.
Lay warm beef slices over the cold noodle salad and serve with additional soy, fish or sriracha sauces if desired.
Creamy Lemon Tagliatelle with Salmon, Pancetta and Peas
Serves 4
1 lb. salmon, cooked and flaked
8 slices pancetta, cut into strips
4 Tbsp. butter
4 large shallots, minced
1 1/4 cup low-salt chicken broth
2 cups whipping cream
4 tsp. grated lemon peel
2 tsp. grated orange peel
1/4 tsp. cayenne pepper, more to taste
2 cups frozen green peas, thawed
3 Tbsp. thinly sliced fresh mint leaves
2 Tbsp. fresh lemon juice
12 oz. tagliatelle noodles
Salt and freshly ground pepper

Sauté pancetta, cooking until crisp. Drain on paper towel and set aside.

Melt butter in large nonstick skillet over medium heat. Add shallots and sauté until translucent, about 2-3 minutes. Add broth. Simmer over medium-high heat until mixture is reduced to 1/2 cup, about 5 minutes. Add cream, lemon peel and orange peels, and cayenne. Simmer and reduce until sauce thickens to desired consistency. Add peas; simmer just until heated through, about 2 minutes. Stir in mint and lemon juice. Season sauce to taste with salt and pepper.

Meanwhile, cook pasta per package directions. Drain; return pasta to pot. Toss pasta with sauce to coat.

Divide pasta among plates or bowls. Sprinkle with reserved pancetta and additional lemon zest if desired.

 
 

Spanish-Style Sausage and Mussel Noodle Bowl

Serves 4

8 oz. fideo or cappellini pasta
1-2 Tbsp. olive oil
1 cup chopped onion
½  cup chopped green bell pepper
6 oz. Linguica sausage or turkey kielbasa, cut into 1/2-inch-thick slices
3 garlic cloves, minced
½ tsp. sweet paprika
¼ tsp. saffron threads, crushed
2 cups chopped, canned plum tomatoes
½  cup dry white wine
¼  tsp. freshly ground black pepper
1  (14 oz.) can chicken broth
2 lbs. mussels, scrubbed and debearded
1/3 cup chopped fresh parsley

Cook pasta according to package directions; drain.  While pasta cooks, heat olive oil in a large nonstick skillet over medium-high heat. Add onion, bell pepper, sausage and garlic to pan; sauté 3 minutes. Add the paprika and saffron, sautéing until sausage is browned, about 3-4 minutes. Stir in tomatoes and cook 2 more minutes. Add wine, black pepper and broth; bring to a boil. Add mussels; cover and cook until mussels open, about 4-5 minutes. Remove from heat; discard any unopened shells. Stir in parsley. Serve mussel mixture over pasta, tossing gently to combine.

 
Honey-Jalapeno Chicken with Sesame Soba Noodles
Serves 4
12 oz. soba noodles
1 jalapeno, chopped w/seeds removed
1/3 cup honey
1/4 cup chopped cilantro
1/2 tsp. salt
1/2 tsp. ground black pepper
2 -3 Tbsp. water
2 tsp. olive oil
1/2 rotisserie chicken, shredded or sliced
4 1/2 Tbsp. soy sauce
1 Tbsp. sesame oil
1/3 cup chopped scallions, green part only
1-2 tsp. grated ginger, to taste
1 carrot, shredded
½ cup pea pods, thinly sliced
1/2 cup red bell pepper, thinly sliced
Cook soba noodles according to package directions. Drain and set aside.
In a blender or food processor, combine jalapeno, honey, cilantro, and 1/2 teaspoon each salt and black pepper. Puree until smooth. Add 2 to 3 tablespoons of water to the mixture until desired consistency is achieved. Pour the 2 teaspoons of olive oil into a preheated skillet. Add the shredded chicken and the blended sauce and cook until heated through.
In a medium bowl, combine soy sauce, sesame oil, scallions and ginger. Toss noodles, carrot, pea pods, bell pepper and noodles, adding the soy sauce mixture to coat.  Pour heated chicken and sauce over noodles.  Recipe adapted from Robin Miller.