For the Love of Food: Grillin' and Chillin' – Easy Recipes for the Barbeque
By Aly Wagonseller
It's the time of year we all wait for. Those fabulous Las Vegas summer evenings spent relaxing in the pool, lounging on the chaise, and enjoying an outdoor meal on the patio. The kids are out of school, and even though mom and dad may still have to punch the clock in the morning, the chill attitude of summer beckons all to take a break, enjoy the moment and spend each and every evening as if you're on vacation.
Heating up the grill is, of course, a given; the smoky aroma of burgers and hot dogs are as much a part of setting the mood as the raft that's afloat in the pool. Still, one can't subsist on burgers alone. Finding new meal ideas that remain a cinch to prepare during the week is key. Look for do-ahead recipes that permit easy prep work like mixing marinades and precooking vegetables and meats ahead of time, allowing everyone to enjoy the moment with minimal attention to cooking when fun time begins. Want the tender goodness of barbecued ribs, but don't want to watch the grill like a hawk for upwards of five hours? Marinate and bake in foil up to one day ahead, reheating and finishing with tasty barbecue sauce on the grill for 5-10 minutes at supper time. Looking to add healthy vegetables to your summer diet? Cut cooking time by parboiling or slightly microwaving thicker veggies like potatoes and bell peppers, then placing them in a baggie with minimal amounts of oil and your choice of herbs to coat. Simply remove from the fridge and slap on the grill or a skewer with your favorite meats for a savory yet super simple kabob. And don't forget dessert. Grilling any kind of fruit is not only easy but incredibly delish; the caramelized sweetness of fresh peaches, pineapple, and even strawberries pairs amazingly well with a scoop of vanilla ice cream or a dollop of Greek yogurt.
We've got some super simple recipes that are perfect for summer dining by the pool. Succulent ribs, rum spiked pineapple with creamy and sweet Thai sticky rice, healthy chicken kabobs and a sweet potato slaw that will perfectly complement the meat of your choosing. The beauty of it all is that most prepping can be done ahead of time, giving everyone (including mom) the chance to grill then chill the night away.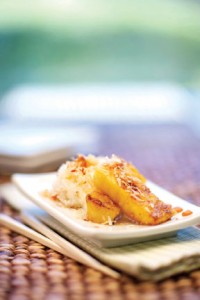 Grilled Pineapple with Toasted Coconut Thai Sticky Rice
Serves 6
 1/4 cup packed light brown sugar
1/4 cup dark spiced rum (such as Captain Morgan)
1 pineapple, peeled, cored, halved lengthwise, and sliced lengthwise into 12 wedges
1 tablespoon butter
2 tablespoons sweetened coconut, toasted
1/2 cup sweet or sticky rice, uncooked
1-14 oz can coconut milk
1/2 cup sugar
Toasted coconut
Toasted macadamia nuts
Caramel sauce (optional)
For sticky rice – cook rice according to package directions, but substitute coconut milk for half of the water and add half the sugar. Cook until fairly dry and no visible liquid remains. In a medium saucepan, boil remaining coconut milk with the second half of the sugar, reducing to a thick, syrupy consistency. Add rice and cover with plastic wrap. Let sit undisturbed at room temperature for ½ hour.
For pineapple – combine brown sugar and rum in a microwave-safe bowl. Microwave at high for 1 1/2 minutes or until sugar dissolves. Brush rum mixture evenly over pineapple wedges. Heat butter in a grill pan over medium-high heat. Add pineapple; grill 3 minutes on each side or until grill marks form and pineapple is thoroughly heated. Serve with rice, sprinkled with coconut and nuts, and garnished with caramel sauce if desired.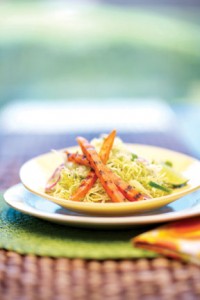 Grilled Sweet Potato and Napa Cabbage Salad with Lime Vinaigrette
Serves 6
3 medium sweet potatoes (2 pounds)
5 Tbsp. olive oil, divided
3/4 tsp. kosher salt, divided
1/2 tsp. black pepper, divided
1/4 cup fresh lime juice
2 Tbsp. warm water
2 tsp. honey
Dash of hot sauce (optional)
1 jalapeño pepper, seeded and minced
3 cups shredded Napa cabbage
1 cup sliced red onion
1/3 cup pumpkin seeds, toasted
1/4 cup chopped green onions
1/4 cup chopped fresh cilantro
Prepare grill for indirect grilling, heating one side to medium-high and leaving one side with no heat. Peel potatoes and cut lengthwise into ½ inch thick slices. Combine potatoes, 1 Tbsp. oil, 1/4 tsp. salt, and 1/4 tsp. black pepper; toss. Grill over unheated side, lid closed for approximately 15-20 minutes, or until tender. Move potatoes to heated side; grill 2 minutes on each side or until charred.
Combine 1/4 cup oil, 1/2 tsp. salt, 1/4 tsp. black pepper, juice, and next 4 ingredients (through jalapeño) in a large bowl. Slice potato slices into strips. Add potatoes, cabbage, and remaining ingredients to bowl; toss and serve.
Recipe from Cooking Light.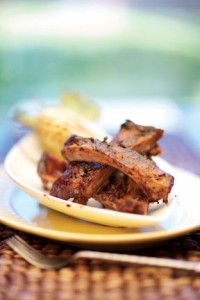 Bourbon-Glazed Baby Back Ribs
Serves 6
5 Tbsp. honey
1/4 cup bourbon
1 1/2 Tbsp. hoisin sauce
1 Tbsp. Dijon mustard
1 Tbsp. plum sauce
1 1/2 tsp. mild-flavored (light) molasses
1 1/2 tsp. soy sauce
1 1/2 tsp. Worcestershire sauce
3/4 tsp. hot chili paste
1/4 tsp. salt
1/4 tsp. ground black pepper
2- 2 1/4 to 2 1/2 pound racks baby back pork ribs
1 cup unsweetened pineapple juice
Whisk first 11 ingredients in small bowl. Preheat oven to 350°F. Place long sheet of heavy-duty foil on each of 2 large rimmed baking sheets. Sprinkle rib racks on all sides with salt and pepper. Place 1 rib rack on each foil sheet. Fold up sides of each foil sheet around rib rack to form boat-like shape. Pour 1/2 cup pineapple juice over each rib rack. Fold up foil to seal packets. Bake until ribs are tender, about 1 hour. Remove ribs from foil packets. Transfer to roasting pan; pour any juices from foil over and cool.
Heat barbecue to medium heat. Cut each rib rack in half. Grill until browned, brushing frequently with glaze and turning often, about 10 minutes. Cut racks between bones into ribs.
Recipe from Epicurious.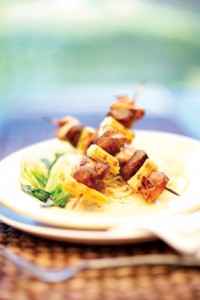 Asian Chicken Kabobs with Grilled Bok Choy
Serves 6
3 large garlic cloves
1/2 cup reduced-sodium soy sauce
1/3 cup dry Sherry
1/4 cup packed brown sugar
1 Tbsp. finely grated peeled ginger
2 tsp. Asian sesame oil
1 1/2 pounds skinless boneless chicken thighs, cut into 2-inch pieces
1 pound baby bok choy (5 to 6 heads)
1/2 pound large cremini mushrooms, stems trimmed flush with caps
1 can baby corn, drained and thoroughly dried
1/2 cup vegetable oil
14 (12-inch) wooden skewers, soaked in water 30 minutes.
Mince and mash garlic to a paste with a pinch of salt. Boil soy sauce, Sherry, and brown sugar in a small saucepan over medium heat, stirring occasionally, until reduced to about 2/3 cup, 5 to 7 minutes. Stir in garlic paste, ginger, and sesame oil. Cool to room temperature. Pour half of marinade into a large sealable bag and chill remainder for basting. Add chicken to bag and marinate, chilled, turning bag occasionally, at least 3 hours.
Prepare grill for direct-heat cooking over medium-hot charcoal (medium-high heat for gas). Oil lightly. Meanwhile, halve bok choy lengthwise and blanch in a large pot of boiling salted water (2 Tbsp. salt for 5 qt. water) until crisp-tender, about 2 minutes. Immediately transfer with tongs to an ice bath to stop cooking. Pat bok choy very dry, then, bending leaves, thread 3 or 4 halves (through bulb and leaves) onto each of 3 or 4 skewers. Put on a tray.
Toss mushrooms and baby corn with vegetable oil. Thread mushrooms, corn and chicken (discard marinade) onto remaining skewers. Grill, covered if using gas grill, 6 minutes. Turn and baste with remaining marinade, turning and basting occasionally for 6 to 8 minutes or until chicken is just cooked through. Lightly brush bok choy with oil and grill, covered only if using a gas grill, turning once, until grill marks appear, about 2 minutes total. Serve with kabobs.