For the Love of Food: Guess Who's Coming to Dinner? A Vegan!
By Jennifer Moore
When planning a holiday meal, most hosts would hate to hear the words, "I'm actually vegan now," from a guest. But when my cousin Emily informed my mom, Nancy, of her new lifestyle choices, mom got a gleam in her eye that could only be expected from a registered dietitian and sustainable food devotee. She enthusiastically spent last fall testing out recipes and waving off the skepticism of the rest of our carnivorous family. When the big family meal rolled around, we still had turkey, gravy and creamy sauces, but Emily left the table just as satisfied and full as the rest of us. And my brother didn't even know that half the food on his plate was vegan. Turns out cooking vegan isn't as complicated as it seems; all it takes is pre-planning, some alternative ingredients, and a little elbow, er, vegetable grease to find a place in the middle where a diverse family can always enjoy a meal together. The following recipes are just a few of our family favorites, along with tips to help you get started.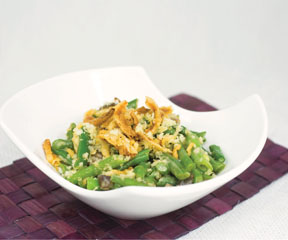 To Market
When shopping for vegan meals, remember that unlike vegetarians, who generally refuse just meat, vegans shun ALL animal products, which includes dairy and eggs. Some vegans have a more flexible definition of what constitutes an animal product, so check with your guest before planning your meals. A few common ingredients include unsweetened soy milk and creamer, egg replacers, vegetable shortening and margarine. Most margarines do contain trace amounts of dairy, so if you're cooking for a strict vegan, you'll have to find a 100% vegan version, such as that made by Earth Balance. Egg "substitutes" such as Egg Beaters are egg whites, which won't do for a strict vegan either. Look for egg "replacers" like Ener-G, which contain no egg product at all. Just as well, if you plan to make the Sourdough Mushroom Stuffing or Green Bean Casserole, know that most sourdough breads are naturally vegan, but some aren't. Be sure to read the labels before you purchase!
Tip: There are many replacements for eggs–banana, apple sauce, soy flour mixed with water. Choosing the right one depends on the purpose of the egg in that particular recipe. Check out http://www.fitsugar.com/Egg-Substitutes-Vegan-Recipes-19147998 for more egg replacement ideas.
In the Kitchen
If you're making a mix of meaty and veggie dishes, it's best to have one space in your kitchen cornered off for the preparation of vegan foods. In the case of smaller kitchens, be vigilant about using pot lids and screens to stop any meat splatter from jumping into your vegan dish. Set aside a few knives, bowls, spatulas and cutting boards designated as vegan-only and "label" each by tying a string around it.
Service with Style
A communication system is needed at the dining room table as well. Consider fashioning little "VEGAN!" flags out of toothpicks or go with a color-coded system by serving all vegan food on the same color plates. As far as serving spoons and forks go, give your vegan guest their own set, and warn guests not to absent mindedly put the ham fork in the Brussels sprouts bowl.
(*My thoughts are that the above text can be on one page, and on the bottom or somewhere it should say "See recipes on page 00".)
Vegan Recipes for Voracious Appetites
Mushroom Sourdough Stuffing
Serves 12
Courtesy of Nancy Vandenberg
1 ½ lbs. sourdough bread
2 Tbsp. olive oil
1 lb. mushrooms, quartered
3 leeks, sliced
½ cup diced onion
3 Tbsp. minced garlic
1 cup celery, chopped
2 cups vegetable broth
Egg substitute (equivalent of 2 eggs)
1 tsp. each salt & pepper
Cube the sourdough bread and let it sit, uncovered at room temperature for 24 to 48 hours.
Preheat oven to 350°F. Grease a 9" x 13" cake pan with vegetable shortening and set aside. Heat olive oil in a frying pan over medium-high heat. Stir in the mushrooms, leeks, onion, garlic and celery. Sauté until softened, about 5 minutes, then transfer to a large bowl. Mix in sourdough bread, broth, egg substitute, salt and pepper. Bake in the prepared pan until golden brown, about 45 minutes.
Caramelized Brussels Sprouts
Serves 4
Courtesy of Anthony Paden
1 lb. Brussels sprouts
2 Tblsp. olive oil
1 Tbsp. balsamic vinegar
1 tsp. each salt & pepper
Steam Brussels sprouts for 2 minutes until barely tender. Cut in half. Heat olive oil in a pan over high heat. Sauté for 3-4 minutes. Stir in balsamic vinegar, salt and pepper and sauté about another 10 seconds.
Vegan Green Bean Casserole
Serves 6-8
Reprinted with permission from Susan Voisin (www.blog.fatfreevegan.com)
1 ½ lbs. fresh green beans, trimmed and cut into bite-size pieces
1 Tbsp. salt
Sauce:
10 oz. mushrooms, chopped
3 cloves garlic, minced
Generous pinch cayenne pepper
Salt and fresh pepper to taste
2 Tbsp. flour
3/4 cup vegetable broth
1 Tbsp. dry sherry
3/4 cup soy creamer
Topping :
1  1/2 slices sourdough bread
1 Tbsp. margarine
1/8 tsp. salt
Pinch of freshly ground black pepper
1 (3 oz.) can French fried onions
Preheat oven to 425°F. Bring 2 quarts water to a boil in a large pot. Add green beans and salt and blanch for 6 minutes. Drain beans in a colander, then rinse for a minute with cold water to stop the cooking. Drain completely.
To make the sauce, spray a non-stick pan with canola oil and heat it. Add the mushrooms, garlic, cayenne, salt and pepper. Cook until mushrooms are very soft. Whisk flour into the vegetable broth and add to the mushrooms, along with the sherry. Simmer, stirring until mixture thickens. Add the soy creamer and simmer until thick, about 5 to 10 minutes. Adjust the seasonings to taste, stir in the beans and transfer to an oiled casserole dish.
For topping, put the bread, margarine, salt and pepper into a food processor and pulse until crumbly. Pour into a bowl and stir in the French fried onions. Spread over beans and bake for about 15 minutes.
Pumpkin Chocolate Cupcakes
Courtesy of Salina Pagan
2 cups pumpkin puree
1 1/4 cups flour
1/3 cup Canola oil
1/4 cup Young's Double Chocolate Stout
1 tsp. vanilla extract
1 tsp. cinnamon
1/2 tsp. baking powder
1/2 tsp. baking soda
1/2 cup chocolate chunks
Pinch of salt
Chocolate Whipped Buttercream Icing
1 cup Earth Balance or other vegan shortening
3 cups powdered sugar
1/2 cup Special Dark chocolate powder
1/4 cup Pinnacle Whipped Vodka (Replace with vanilla almond or soy milk for non-alcoholic version.)
Preheat oven to 325°F.  Line cupcake pan with paper liners. Combine all dry ingredients (except chocolate chunks) in a medium bowl; add pumpkin puree to dry ingredients and stir to combine. In a separate bowl, whisk together wet ingredients. Slowly add wet ingredients to dry ingredient/pumpkin mixture, mixing with a whisk or electric mixer on low speed.  Be careful not to over mix; batter should be slightly lumpy, not silky and smooth. Stir in chocolate chunks. Spoon cupcake batter into cupcake liners until they are 3/4 full.  Bake for 24 minutes. Prepare icing while baking.
To prepare icing, combine all dry ingredients in a mixer, slowly add vodka (or milk substitute) to dry ingredients while mixer is running. Additional vodka or milk substitute may need to be added to achieve desired consistency. Icing should be silky and smooth, but not runny.
Let cupcakes cool before icing, garnish with chocolate shavings.
To order these and other vegan cupcakes, visit www.YumiDirt.com or www.facebook.com/YumiDirtLV.