Making a Difference: Guns and Ammo Garage Supports Nevada Special Olympics
The Nevada Special Olympics seeks to teach sportsmanship and acceptance, while instilling valuable confidence in people with intellectual and physical disabilities. In a time where bullying is more rampant than ever and ignorance seems just as prevalent, the organization seeks to empower not only its athletes, but also thousands of volunteers, coaches, students and others through sports and local programs and by shining a light on the unique beauty of each human being.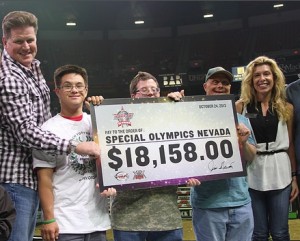 In October the PBR World Finals Rodeo celebrated its 20th year in Nevada, including its annual Celebrity Classic at Bear's Best Las Vegas, benefitting the Nevada Special Olympics. Specifically, funds were raised for the Special Olympics Schools Partnership Program, which connects disabled and non-disabled young students in the mission to spread understanding and acceptance. Local company Guns and Ammo Garage participated in the tournament as a Gold Sponsor, donating over $18,000 to the non-profit at a ceremony during the rodeo. "Because of the generosity of Guns and Ammo Garage, this money will allow us to sponsor 72 children and adults with special needs to be able to participate in various programs throughout the community," says Maggie Schwarz, Regional Vice President of Special Olympics Nevada. "We are so appreciative of their support and know that this money will go a long way."
This is the second year Guns and Ammo Garage has partnered to support the Nevada Special Olympics, which at its core, allows free participation for 3,000 disabled athletes to compete in 19 competitions around the region. To learn more about support the Nevada Special Olympics visit www.sonv.org. For more information on Guns and Ammo Garage visit www.gunsandammogarage.com.